1 'Full House' Episode Proved Uncle Jesse Will Never Have a Career in Hockey
Joey was a fan of hockey, while Uncle Jesse couldn't even stand on the ice. Here's what we know about these 'Full House' characters and one hockey-filled episode of the sitcom.
Jesse Katsopolis was a successful musician (and a great uncle) who made his mark on the advertising industry during Full House.
For one episode, though, this member of the Tanner family put on ice skates and showed just how little he knows about skating and ice hockey.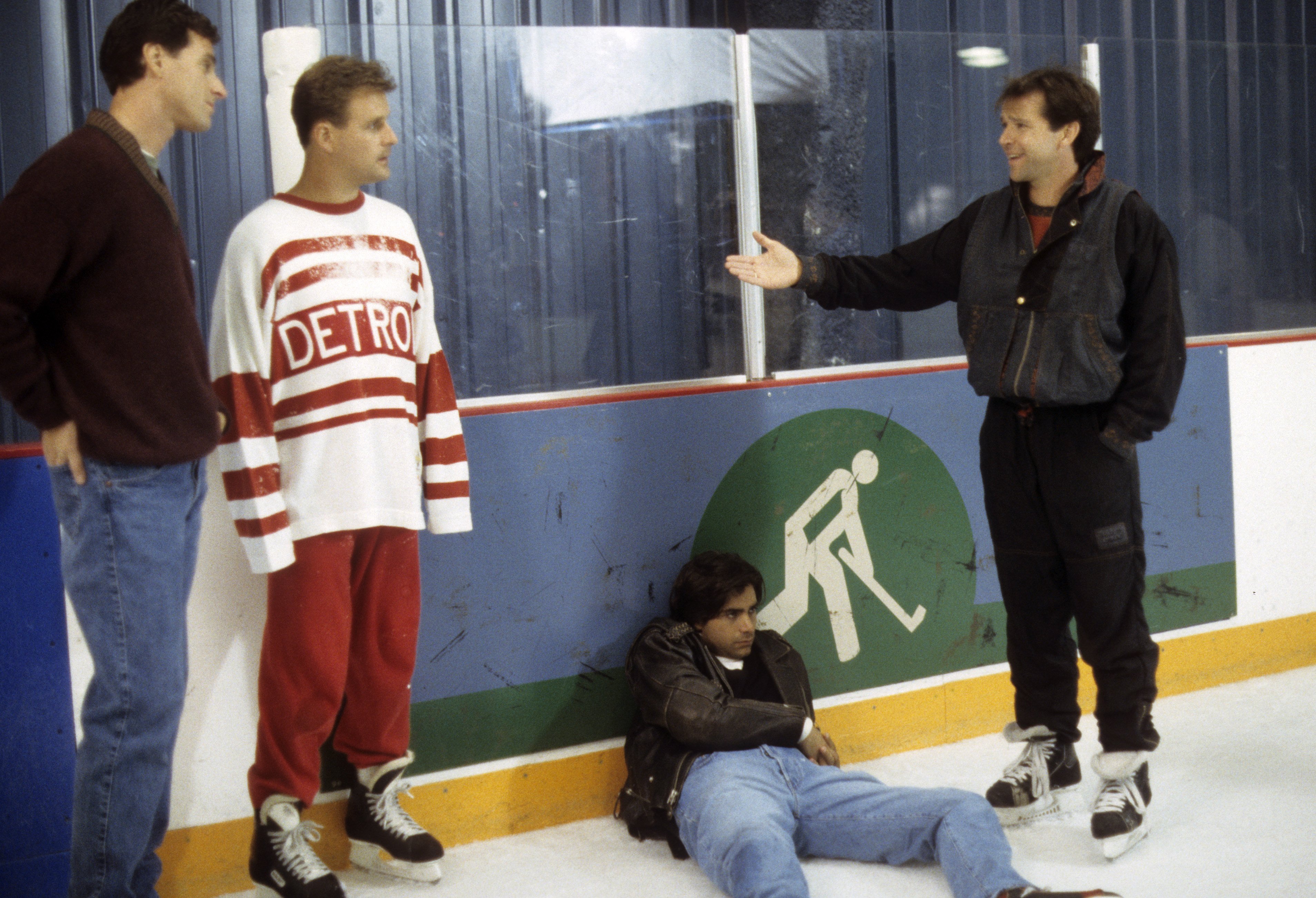 Joey played in a charity hockey game during the episode 'Nice Guys Finish First'
Joey is a comedian but, for fun, this character loved to play hockey. He even participated in a charity hockey game during the Full House episode, "Nice Guys Finish First," playing against his old college rival nicknamed Stonewall.
As a little warmup, the Tanner family went to an ice skating rink together. Stephanie Tanner showcased her skills while Danny and Rebecca helped Michelle skate.
Uncle Jesse just clung to the boards, unable to move his skates without falling. It got even worse for this character when the family decided to play "crack the whip." Uncle Jesse flew straight into a wall.
Joey promised Michelle he would play nice during the game
The day of the hockey game came and Joey was ready to beat his college rival. With a mouthpiece and a hockey stick in hand, Michelle ran away from Joey. He rushed to explain why he was acting scary. 
"Well, Michelle, that's a big part of playing sports," Joey said. "It's called being competitive. You see, you just pretend to be mean and scary so the players on the other team will be afraid of you."
When it came time for Joey to play in the hockey game, he had to keep his promise to Michelle and be nice to the other players. Unfortunately, even Uncle Jesse could see that he wasn't doing well. As his co-host on the Rush Hour Renegades, it was Jesse's job to call the game to the viewers. 
The only problem was that he knew nothing about the game, including what the "fire alarm" that kept going off meant. Thanks to Rebecca, the game was successfully narrated to the radio listeners and, after talking with Michelle, Joey started playing better. He eventually beat Stonewall. 
Uncle Jesse was a musician on 'Full House'
Hockey and ice skating may not be Uncle Jesse's strong suit, but the actor behind Uncle Jesse showcased his musical abilities on several episodes of this sitcom. He played the drums alongside Little Richard. He played the guitar alongside the Beach Boys. 
Uncle Jesse even sang with his own band, Jesse and the Rippers and, later, Hot Daddy and the Monkey Puppets. On the other hand, the actor who portrayed Joey showed of his many impressions in Full House.
Episodes of Full House, including "Nice Guys Finish First," are available for streaming on Hulu.