'Full House': How Many Instruments Did Uncle Jesse Play?
He was much more than just the leader of Jesse and the Rippers. Uncle Jesse is a talented musician, who preformed alongside the Beach Boy and Little Richard during 'Full House.'
Whether he's jamming with the Beach Boys, playing drums for Little Richard, or starring in Jesse and the Rippers, Uncle Jesse often showcases his love for music. The actor behind this character, John Stamos, even played several instruments while on Full House.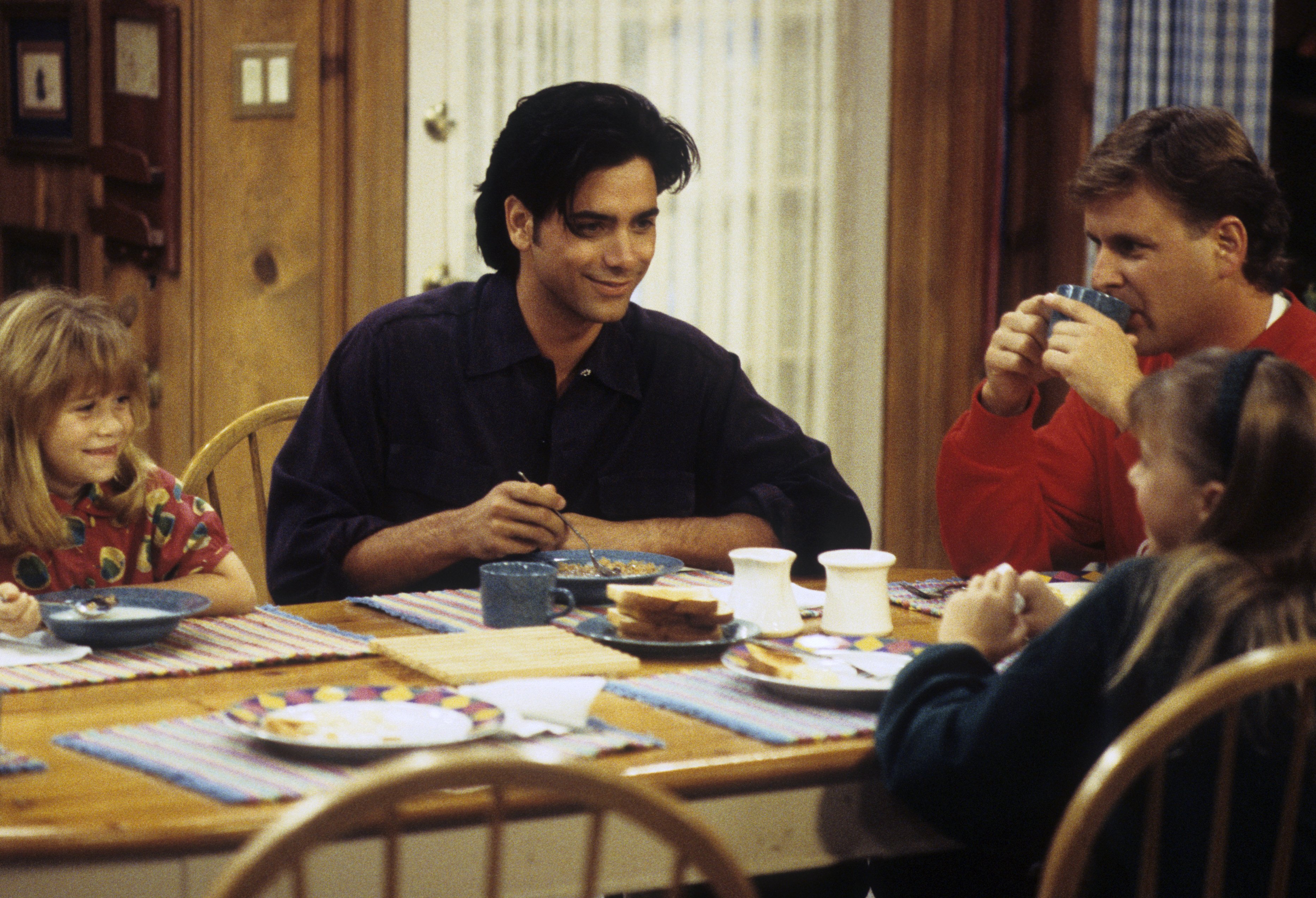 Uncle Jesse was a character on 'Full House' and 'Fuller House' 
More than his love of Elvis and his hair, Uncle Jesse loves performing music. This character performed with a few bands in this series. He was the star of Jesse and the Rippers, later performing with the band Hot Daddy and the Monkey Puppets. Even when he wasn't singing lead in a group, this character was incorporating music into his life. 
He used music while working in advertising with Joey Gladstone. He even sang to a donkey to help the rest of his family sleep during the "You Pet It, You Bought It" episode. This character, and the actor behind him, could play several instruments. 
What instruments did John Stamos play as Uncle Jesse on 'Full House'?
In this series, Uncle Jesse played instruments like guitar, piano, bass, and drums. Sometimes Joey even joined him with some harmonica playing. When jamming with Little Richard to the song "Keep a-Knockin," Uncle Jesse played the drums. 
Outside of this series, the actor even played the drums for the Beach Boys while they were on tour. In season three, episode 18, "Mr. Egghead," Jesse played the keyboard alongside Joey Gladstone. 
During the "The Heartbreak Kid" episode, Uncle Jesse shared with his niece that he performs with a synthesizer, stating, "I run a computerized synthesizer, I run a 24-track mixing board, I am no stranger to technology."
John Stamos reprised his role as Uncle Jesse for Netflix's spinoff series
Stamos returned to the Tanner household for the Netflix spinoff series, titled Fuller House. He reprised his role as Jesse Katsopolis, still a music-loving father, husband, and uncle to DJ and Stephanie Tanner. 
"No matter what the package or wrapping is, whether it's sophisticated or the writing's great, the message is what was important," Stamos said during an interview with WTOP News. "You heard it loud and clear because you needed it. 
"The reason why it's back now and still appreciated is because what we're talking about is family values and heart," he continued. "Those shows that were winning all of the awards and were on the covers of magazines 30 years ago, you don't hear from them now. [It's] Full House."
To watch John Stamos in Full House, fans can head to Hulu. There, every episode of the sitcom is available for binge-watching. Episodes of this Netflix original spinoff series, Fuller House, are available on the streaming platform.