'Full House:' Remember When 'Mr. Stephanie' Accidentally Cut Uncle Jesse's Hair?
Uncle Jesse loves Elvis, his family, and above all, his hair. During one episode of Full House, however, Uncle Jesse got an unwanted haircut from one of his nieces. (It was an accident, though — Mr. Stephanie was very distracted.)
Here's what we know about the episode of Full House where Stephanie accidentally cut her uncle's hair.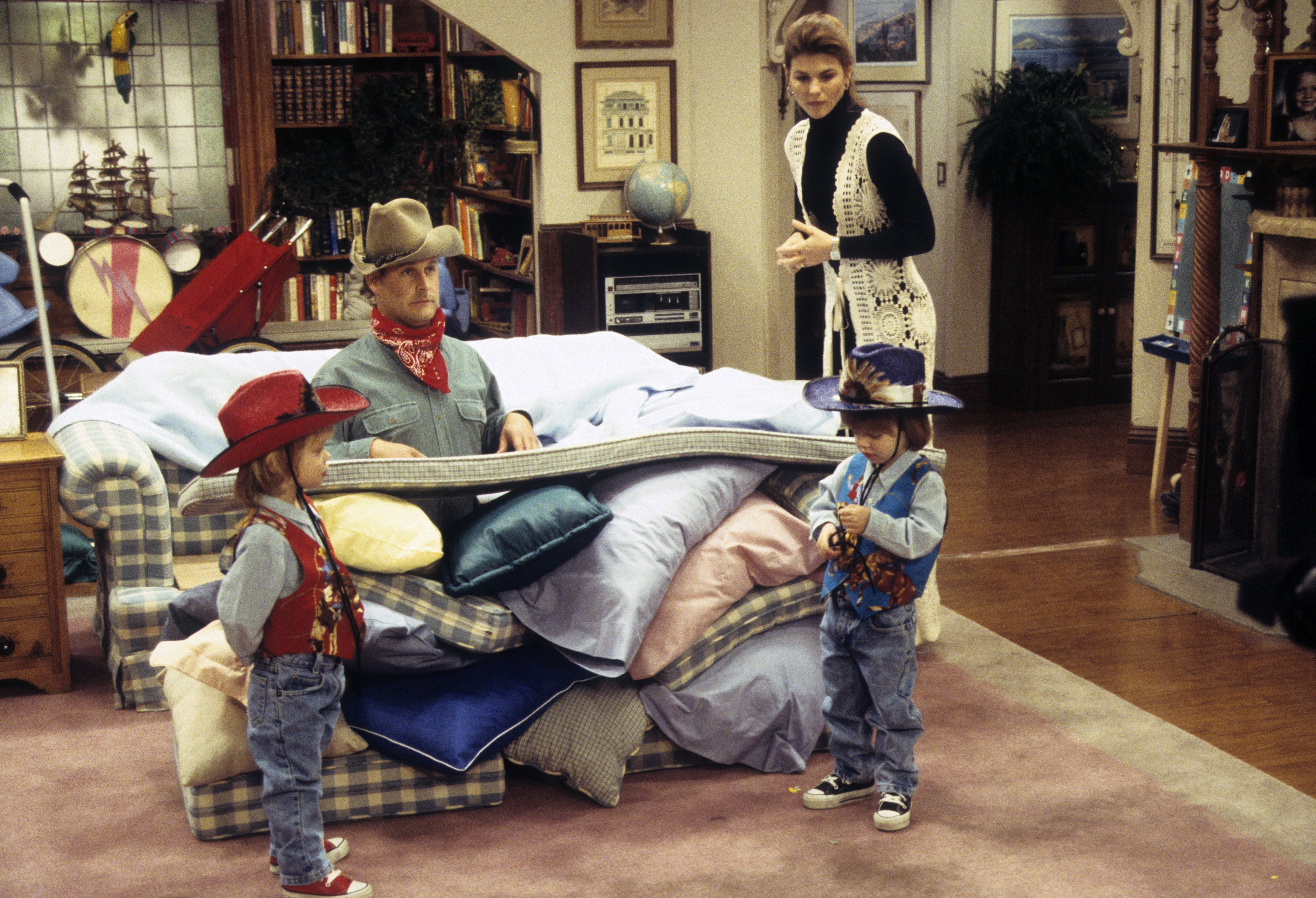 Uncle Jesse is a kind of father figure for DJ, Stephanie, and Michelle
When Danny Tanner needed some help raising his three daughters, his brother-in-law was happy to help out. It wasn't long before Uncle Jesse became very close to DJ, Stephanie, and Michelle. 
So close, in fact, that Uncle Jesse was ready to get a pretend haircut from Stephanie, the middle child of the three children. In the "Cutting It Close" episode of Full House, Uncle Jesse departed from his hair prematurely and it resulted in a big "oh" from the audience. 
Stephanie accidentally cut her Uncle Jesse's hair
This character is known for playing pretend, especially when she's hanging out with her stuffed animal, Mr. Bear. Joey had a fabulous time at Mr. Stephanie's salon. After his treatment, he had a pink towel on his head and was treating himself to reading some Dr. Seuss. 
Uncle Jesse walked in as the next person with an "appointment," but when Stephanie pulled out the real scissors, Jesse was worried she'd give him a real haircut. Uncle Jesse just tells Stephanie to be careful and she is, but then she accidentally snips off some hair, saying "oops." 
Everyone runs in and when Jesse sees the chunk of hair in Stephanie's hand, he freaks out. He forgives Stephanie and eventually gets his hair evened out by his barber, Alejandro, but Stephanie still apologized for the mistake. 
Uncle Jesse had a few haircuts following this season 2 episode. He eventually got rid of his mullet but keeping his undying love for hair care. (There was even a scare where he thought he was going gray.)
Uncle Jesse eventually walked Stephanie down the aisle
Although Uncle Jesse had a very special relationship with his youngest niece, Michelle, for the Netflix spinoff series, Michelle Tanner was off in New York City, working on her fashion empire. She even missed the triple wedding of her sisters and their best friend, Kimmy Gibbler. 
For this wedding, because Danny Tanner planned to walk his eldest daughter, DJ, down the aisle, Uncle Jesse walked Stephanie. As an adult, Stephanie grew up to be similar to her uncle, pursuing her love of music full time after her DJ-ing career. 
Most episodes of Full House featuring the character Stephanie Tanner are available for streaming on Hulu. All five seasons of the Netflix original spinoff series, Fuller House, are available on the streaming platform, Netflix.