'Fuller House': Bob Saget Said Seeing His On-Screen Daughters 'Empowered' Touched Him
Bob Saget enjoyed a long and celebrated career in comedy. But the role which will forever define him in the hearts and minds of many fans is playing "America's Dad," Danny Tanner. The Full House character was known for his inspirational speeches, and when the series went off the air in 1995, Saget's legacy remained tied to the role. 
Now that Bob Saget has died at the age of 65, fans and co-stars are looking back on the parts he played and how the experiences touched his own life. Here's what Saget once said about stepping back into the role of Danny Tanner for Fuller House and getting to see his on-screen daughters with new eyes. 
Bob Saget reprised his 'Full House' role in 'Fuller House' spinoff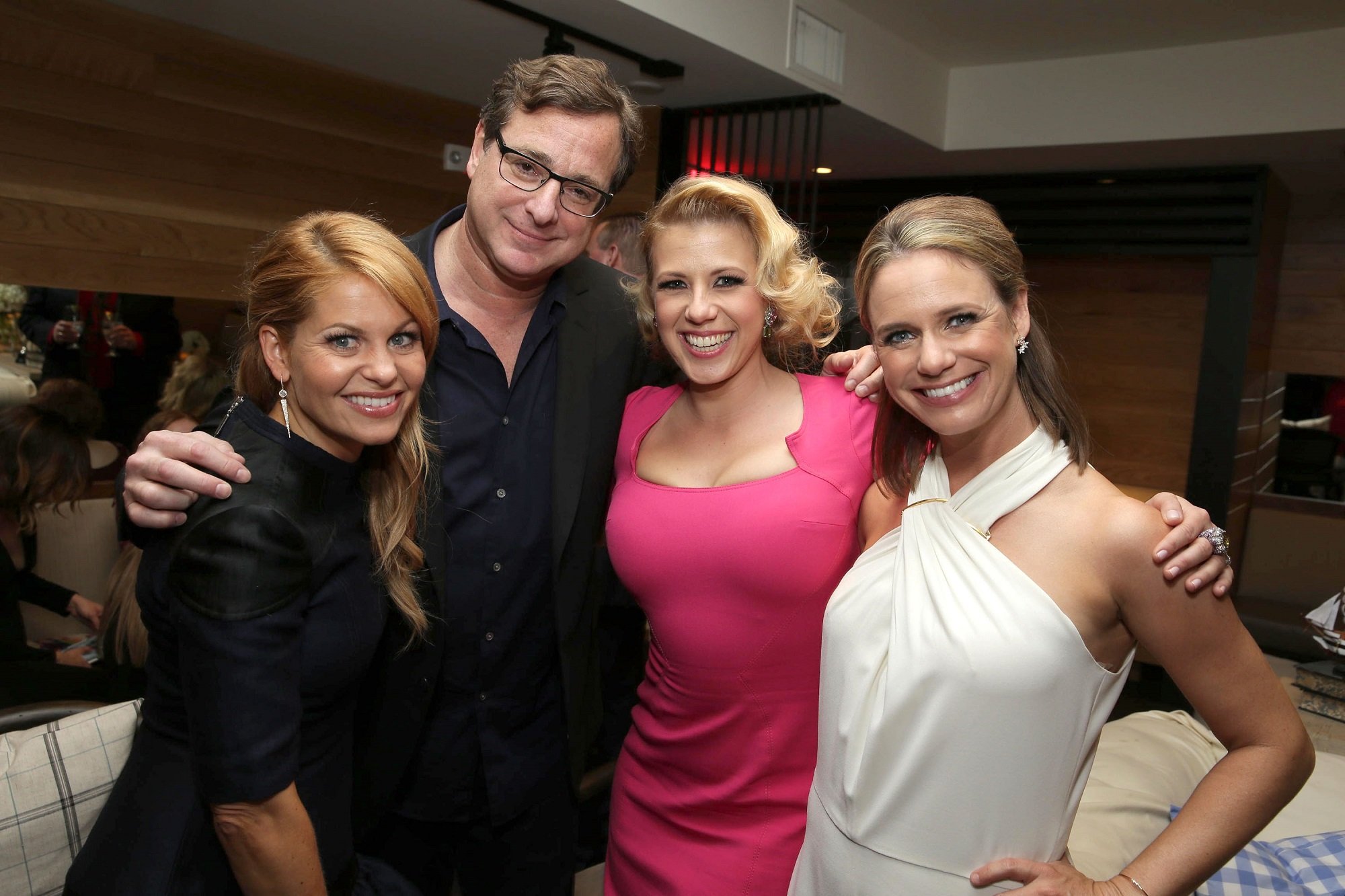 More than two decades after Full House wrapped up, the show was still on fans' minds. In fact, it was still so beloved that a spinoff series called Fuller House premiered in 2016. The updated spinoff focused on D.J. Tanner (played by Candace Cameron Bure on both series) as a recent widow raising three sons. Echoing the original's premise, the house soon fills up with friends and family stepping in to help D.J. raise her kids. 
While the younger generation took on the primary roles in Fuller House, there were plenty of reprisals from the original cast. Saget stepped back in to play Danny Tanner, appearing in 15 episodes during the series' five-season run. Saget's cameos brought him plenty of opportunities for heartwarming moments, including giving famous Danny Tanner inspirational speeches. An exceptionally heartfelt moment came when Danny walked his daughter down the aisle at her wedding near the end of the series. 
Saget loved how the spinoff empowered the women
The relationships between Saget and his co-stars were legitimate and built up over decades. The way that he felt about his on-screen daughters was particularly touching. 
In an episode of his podcast, Bob Saget Is Here For You, the actor brought on Jodie Sweetin, who played his daughter Stephanie Tanner on Full House and Fuller House. This lengthy collaboration means that Saget had known Sweetin since she was just five. By the end of the original series, Stephanie had gone from a kindergartner to a teenager. And when she returned for Fuller House, as an adult ready to step in and help her sister weather widowed motherhood. 
During their conversation, Saget and Sweetin start talking about the demands of working on Fuller House, which frequently featured physical comedy and musical numbers requiring a lot of practice and effort. Saget told Sweetin how proud he was of her work and then said that seeing the women playing his on-screen daughters "empowered like that" was inspiring and "like watching an extension of [his] own daughters." Notably, Saget had three daughters, mirroring his TV family.
'Fuller House' cast reacted to Saget's death 
There have been plenty of stars stepping forward to pay their condolences and offer their memories of Saget, and the co-stars from Full House and Fuller House are among them. 
Bure tweeted her grief by saying, "I have no words. Bob was one of the best human beings I've ever known in my life. I loved him so much." Sweetin also had plenty of kind words for her TV dad in a heartfelt Instagram post, calling him "a wonderful human being"
and "so genuine."