'Fuller House' Wasn't the First Show That Was a Direct Result of 'Full House'
Now that Netflix's Fuller House is over, what's next for the Full House fandom? There are plenty of sitcoms airing today, but these days, many prefer to go back and watch ones from a most nostalgic era. And before Fuller House, the original series led to a different show about a large family and their adventures.
'Full House' aired from 1987-1995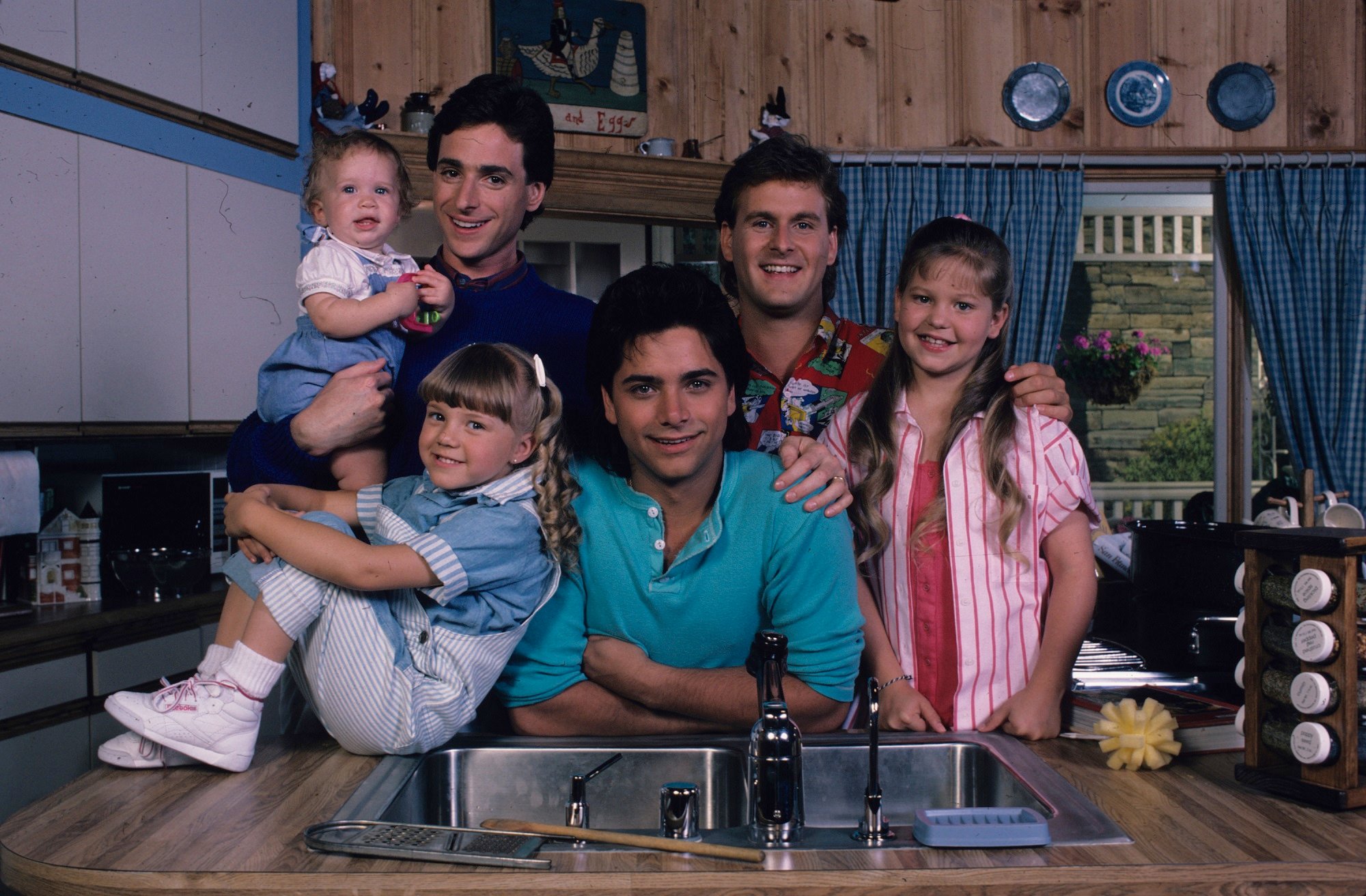 The ABC sitcom was an '80s and '90s fan-favorite. It kicked off in 1987, depicting the widow Danny Tanner (Bob Saget) and his daughters DJ (Candace Cameron), Stephanie (Jodie Sweetin), and Michelle (Mary-Kate and Ashley Olsen). They're joined by their Uncle Jesse (John Stamos) and Danny's best friend, Joey (Dave Coulier), in their San Francisco home.
Over the years, other characters became more central to the story, such as Jesse's wife, Becky (Lori Loughlin), as well as DJ's best friend, Kimmy (Andrea Barber), and her boyfriend, Steve (Scott Weinger). After eight seasons, Full House was canceled, concluding in 1995.
'Fuller House' premiered in 2016
RELATED: 'Fuller House' Season 5: Heartbreaking News From the Netflix Series Regarding 1 Beloved Cast Member
For years, the idea of a Full House spinoff was just a rumor. But in 2015, 20 years after the original went off the air, a sequel series, titled Fuller House, was announced at Netflix. This time, the show focused on the lives of DJ, Stephanie, and Kimmy, who are now adults with their own families.
Many of the other original actors returned in various capacities, from brief guest roles to officially joining the main cast. Fuller House aired for five seasons, concluding in 2020. Stars such as Cameron (who now comes by her married name, Candace Cameron Bure) have addressed the possibility of another spinoff in the future.
Jurnee Smollett was offered her own show first
Back in the days of Full House, another series came about as a result of it, though it wasn't a spinoff. In an August 2020 interview, actor Jurnee Smollett, who portrayed Michelle's friend, Denise, says she was offered her own show. And though she only appeared in 12 episodes of the series, she made an impression.
At the time, Smollett was four or five years old. When the opportunity arose, her mom, Janet, turned it into a larger one for all of her children. The young actor and her five siblings (three older, two younger) all performed for the executives. "I remember the men just sitting there, not dancing at all — and then they f*cking bought this thing," Smollett told the Hollywood Reporter.
'On Our Own' was the result
RELATED: Jussie Smollett Attack: His Family Speaks Out
What came out of that was not a spinoff, but an entirely new series. On Our Own was developed by Full House executive producers Thomas L. Miller and Robert L. Boyett of Miller-Boyett Productions. Like Full House, it aired on ABC, and played to the deceased parent trope. But this time, the children were orphans.
Smollett starred alongside her real-life siblings Jussie Smollett (of Boardwalk Empire fame), Jake Smollett, Jazz Smollett, Jocqui Smollett, and Jojo Smollett. Following the series cancellation after just one season, not all continued acting as Jurnee did. In 2020, Jurnee starred in the DC film Birds of Prey and the HBO series Lovecraft Country.