Is Sophie Turner Worth More Than Maisie Williams, Her 'Game of Thrones' Co-Star and Friend?
How much have Game of Thrones actors Sophie Turner and Maisie Williams, made from the series, financially speaking? The celebrated best friends have known each other for more than a decade, and both are making strides in their careers. Here's a look at their friendship and their respective net worths.
Maisie Williams and Sophie Turner starred in 'Game of Thrones'
RELATED: 'Game of Thrones': Are Sophie Turner and Maisie Williams Really Best Friends?
Turner portrayed Sansa Stark in Game of Thrones. Sansa is the eldest daughter of Ned and Catelyn Stark. The character is perceived as the more feminine of the two sisters. A season 5 episode depicting her rape is one of the more reviled of the show. At the end of the series, Sansa is crowned Queen of the North.
Williams portrayed Arya Stark in the series. Arya is Sansa's younger sister. She learns to fight and even poses as a boy to fight as a soldier. She is responsible for much of the death in the show. Though she and Sansa don't always get along, they're able to work together in the end, and she takes down the Night King.
Their friendship has remained strong
RELATED: What Makes Sophie Turner and Maisie Williams' Friendship So Special?
Both actors were very young when they were cast in the HBO series. Williams was 12, and Turner was 13. And they bonded immediately. "We were pretty much best friends from that second on," Turner told Rolling Stone of their first chemistry read in 2009.
When the series came to an end a decade later, this was still true. "Maisie is definitely my protector and I'm hers, too," Turner told Glamour UK. "To have a sister there [on set], a woman who gets how degrading and awful it can be, and how you're expected to be so submissive in your work, can be very comforting."
Turner is also known for this franchise
During Game of Thrones' run, Turner took on a few film roles. After appearing in Another Me and Barely Lethal, she was cast in X-Men: Apocalypse as the younger version of Famke Janssen's Jean Grey. She reprised this role in Dark Phoenix, a follow-up X-Men film in which her character becomes the titular villain.
More recently, Turner has returned to the small screen. In the Quibi series, Survive, she plays Jane, one of two survivors of a plane crash. In addition to her acting roles, Turner has appeared in two music videos, "Sucker" and "What a Man Gotta Do," alongside her husband, Joe Jonas.
Williams plays a superhero as well
Williams has done a fair amount of acting work outside of Game of Thrones. She's starred in films such as The Falling, The Book of Love, and Then Came You. She also had a recurring role in the hit BBC series Doctor Who and is set to appear in the upcoming comedy Two Weeks to Live.
But Williams' most-talked-about project has been a long time coming. She joins Turner in the Marvel Comics world, portraying Rahne Sinclair/Wolfsbane in The New Mutants. The film was initially set to debut in April 2018 but has been rescheduled numerous times. It is now set to hit theaters in August 2020.
Who has a higher net worth: Sophie Turner or Maisie Williams?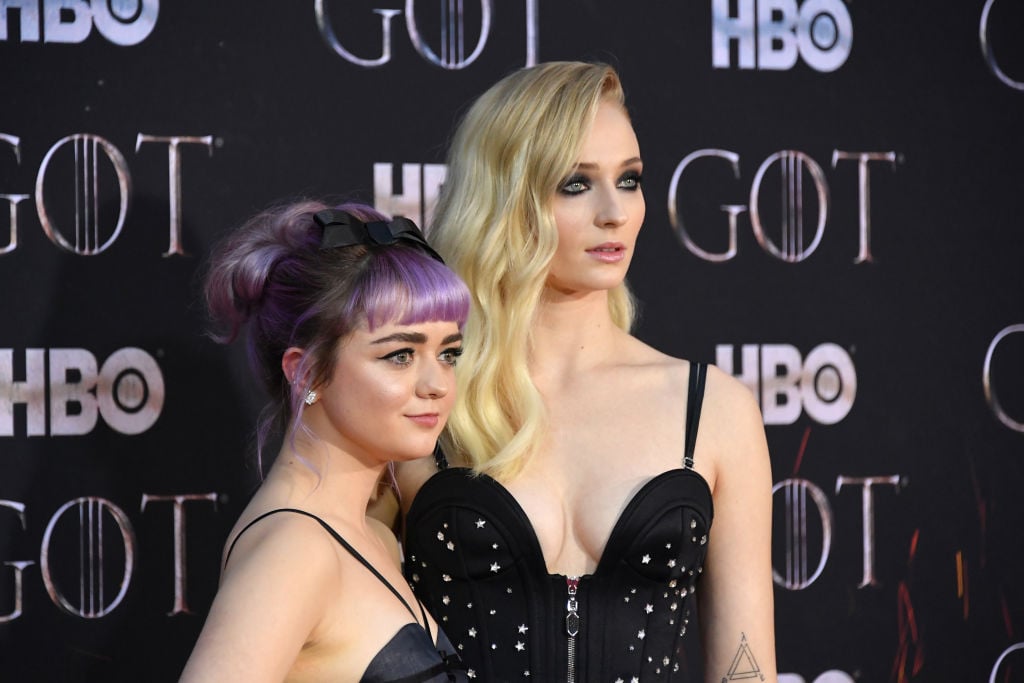 RELATED: Which' Game of Thrones' Star Has the Highest Net Worth?
For Game of Thrones, Williams and Turner are thought to have made the same salary. Given that both were brand new to the industry and about the same age, this makes sense. The actors made an estimated $150,000 per episode, and, as of December 2018, both were thought to be worth about $6 million.
But now, it looks like Turner has pulled ahead. As of June 2020, she is estimated to be worth around $8 million, according to Celebrity Net Worth. It's possible that Williams' number is outdated. However, with Turner's X-Men films having actually seen the box office (despite failure there), she's got an edge on Williams.