'Game of Thrones' Star Kit Harington Has Some Surprising Celebrity Friends
'Game of Thrones' star Kit Harington has some surprising celebrity friends including Aaron Paul, Ed Sheeran, and even Queen Elizabeth.
Kit Harington is known as the introverted and often brooding Jon Snow in Game of Thrones, but the actor is actually very outgoing in real life. Starring in the hit HBO drama for eight seasons gave Harington an opportunity to build up an impressive social circle in Hollywood. While some of Harington's pals are people he met while working on the show, he also boasts some surprising celebrity friends.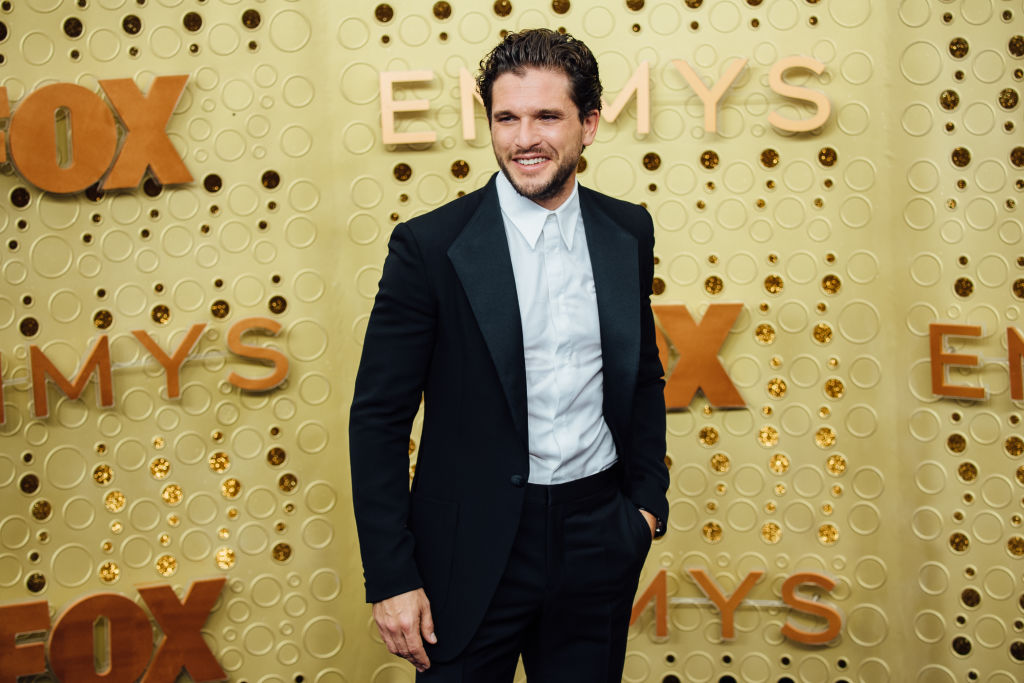 Aaron Paul
During the height of Game of Thrones' popularity, Kit Harington met Breaking Bad star Aaron Paul at the Guys Choice Awards.
The year was 2014 and the award ceremony was televised through Spike TV, which later became the Paramount Network. The awards celebrated men in pop culture, which is why Harington and Paul were being honored.
The two hung out backstage at the event and snapped a few photos for fans to enjoy. We do not know if they have remained friends over the years, but we like to think they did.
Kit Harington is friends with Ed Sheeran and Zach Braff
Who would have thought that Harington was good friends with both Ed Sheeran and Zach Braff? In 2017, the trio hung out at a bar and their friendship became a topic of conversation during Harington's appearance on The Late Late Show with James Corden.
In the interview, Harington revealed that he randomly bumped into Ed Sheeran in a restroom. The singer recognized Harington and asked him, "Are you Jon Snow?," a question that sparked a lasting friendship.
As far as Braff and Harington are concerned, the actors often hang out whenever they are both in town. They also share photos of their hangout sessions on social media, much to the enjoyment of their followers.
Liv Tyler
Harington is best known for his role on Game of Thrones, but he has worked on several other projects over the years. This includes a part in the 2017 series, Gunpowder.
Aside from Kit Harington, the series featured Liv Tyler, who immediately struck up a friendship with the Game of Thrones star.
According to The Things, the two have maintained a close friendship outside of work and were once spotted enjoying dinner with a group of friends.
Pete Davidson
At this point, we are convinced that Pete Davidson is friends with just about every celebrity in Hollywood. That apparently includes Harington.
The actor has been spotted hanging out with the SNL star on several occasions, including enjoying a few meals together. Although they are an unusual pairing, it seems like Kit Harington and Davidson get along great.
Queen Elizabeth
We are not sure if Harington and Queen Elizabeth are actually friends, but they did meet on the set of Game of Thrones.
Her Majesty once toured the set while the cast and crew were filming some scenes. Queen Elizabeth was shown the Iron Throne and mingled with several cast members, including Harington.
Although she got to see the set up close, Queen Elizabeth did not sit on the Iron Throne at any point during her visit.
What about Kit Harington's 'Game of Thrones' co-stars?
Harington, of course, developed several lasting friendships while working on Game of Thrones. This includes becoming pals with Jason Momoa, who played the part of Khal Drogo in the first season.
What is interesting about Harington and Momoa is that they never met on the set of Game of Thrones. They did not share any scenes together in the first season, and their friendship is something that blossomed outside of the series.
Harington's closest relationship to come out of Game of Thrones was his romance with Rose Leslie. The actress played Jon's love interest on the show, and the pair kept up their relationship after she left.
Sophie Turner has regrets about Kit Harington's wedding
When they tied the knot in 2018, several of Kit Harington's Game of Thrones co-stars were on hand to witness the union. This includes Maisie Williams and Sophie Turner, the latter of which regretted her fashion choice for the event.
According to Page Six, Turner revealed that she had to choose a dress at the last minute because her other picks came in way too late. The result was something she regrets to this day.
"I'll forever regret this look. One of my worst looks," Turner stated. "Both of my really classy dresses that I picked out did not fit me, because they had arrived the day of the wedding, and I hadn't had a chance to try them on, and they didn't fit me."
Fans can catch Kit Harington in Marvel's The Eternals which is currently scheduled to hit theaters on November 6, 2020.