'Garth Marenghi's Darkplace': Was the Show Canceled (or Just the Show Within the Show)?
Few shows embody the term 'cult classic' as fully as 'Garth Marenghi's Darkplace'. Unfortunately, it's excellence couldn't keep it on air and it was canceled. However, even the short lifespan of 'Garth Marenghi's Darkplace' was foretold. Was the show a victim of bad ratings, or was it all a part of the plan?
Few shows embody the term 'cult classic' as fully as Garth Marenghi's Darkplace. Created by Matthew Holiness and Richard Ayoade, the British comedy series has not been widely seen since it debuted in 2004, but those who have seen it testify to its legacy as one of the most creative and hilarious shows of the century, and it's having a resurgence thanks to its addition to the Amazon Prime Video lineup. Aside from having many excellent jokes, the show also gained notoriety from a strange amount of lore written into the show. Unfortunately, Darkplace's excellence couldn't keep it on air. The show only lasted six episodes before being canceled. However, even the short lifespan of Garth Marenghi's Darkplace was foretold within the show's universe. Was the show a victim of bad ratings, or was it all a part of the plan?
'Garth Marenghi's Darkplace' was a brilliant show ahead of its time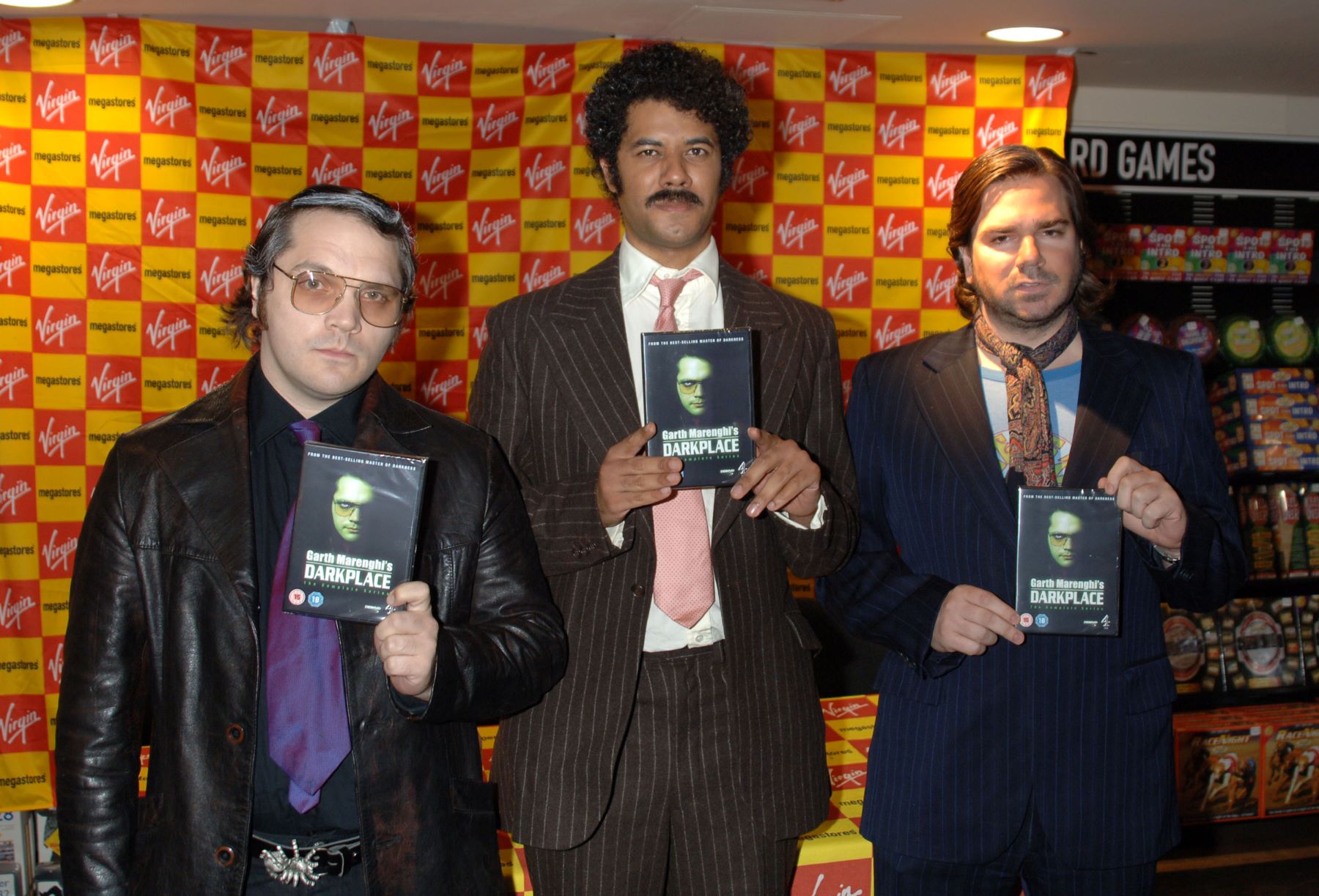 Writing out, the synopsis for Garth Marenghi's Darkplace goes a long way to explain why the show has caught the attention of so few people in the past 17 years and why the people who have caught its wavelength during that time are so passionate about the show. 
The premise is that the character of Garth Marenghi, a best-selling author of horror novels who brags about writing more books than he's read, made a low-budget television show with his publicist, Dean Learner, for Britain's Channel 4 in the 1980s. The show takes place in Darkplace Hospital, and Marenghi stars as the main character in the show-within-a-show, Dr. Rick Dagless, M.D., a doctor who divides his time between running the hospital and fighting against the supernatural problems of the day alongside his fellow medical professionals. Additionally, Learner also acts in the show as administrator Thornton Reed.
Each episode is presented as part of a documentary. Marenghi introduces the audience to a new story after finding the tapes in his basement and presents interviews with him and Learner interspersed inside the show. Marenghi claims the show was not allowed to air because of government interference. Still, the editing inconsistencies, numerous instances of badly dubbed audio, and general lack of production (all deliberate, of course) say otherwise.
Garth Marenghi's Darkplace is an ingenious parody of the horror genre, where each predicament is more ridiculous than the last. For example, the "Skipper the Eyechild" episode revolves around the birth of a giant eyeball that brings out the fatherly side of Dagless. These set-ups work because of the genius-level work of the show's ensemble; Mathew Holness (Marenghi/Dagless), Richard Ayoade (Learner/Reed), Matt Berry (Todd Rivers/Dr. Lucien Sanchez), and Alice Lowe (Madeleine Wool/Dr. Liz Asher). It's rat-a-tat British humor at its finest. Darkplace's dialogue is delivered with intense deadpan and arrives like an avalanche: once the jokes start, they don't stop, and they are absolutely tremendous.
Garth Marenghi's Darkplace isn't for everybody. The conceit is high-minded, the reference points are a tad obscure, and the show is just plain weird. However, if the description did anything for you, you should make room in your schedule to watch this show. Additionally, you can read and learn more about the show in this 2013 piece from The AV Club.
Why did the show only last one season?
Unfortunately for the creators of Garth Marenghi's Darkplace, making a great show wasn't enough to keep it on-air for very long, and they would have to wait much longer for their work to find a dedicated audience. Darkplace only lasted for six episodes before being canceled by the real-life Channel 4. Given how Channel 4 treated the show, it is no surprise that it disappeared in a flash. 
The show was only aired during an overnight timeslot and received very little advertising help. Before the advent of streaming and social media, that combination was a death sentence for most shows, and Darkplace didn't have enough time to reach people via a word-of-mouth campaign. That meant the ratings weren't high enough to justify a second season. However, a spinoff show, Man to Man With Dean Learner, was produced, and Channel 4's film division, Film Four, reportedly asked Holness and Ayoade to write a script for a film version that has yet to materialize.
'Garth Marnghi's Darkplace' was written with a short lifespan in mind
As great as it would be to have more Darkplace episodes to binge, it's fitting that the show met such a swift fate. 
Failure is in the DNA of the show's origins. For all of Marenghi's arrogance and lack of self-awareness, his show was left unaired for years save for a short run in Peru. The mockumentary presents his work as a buried artifact tossed aside by a television company that never gave it much of a chance to succeed. If the in-universe version of Garth Marenghi's Darkplace was real, you could imagine it becoming a beloved item for lovers of cheesy, low-rent art a la Tommy Wiseau's The Room or goofy horror-comedies like Killer Klowns From Outer Space. Darkplace is a show about a cult classic that became a cult classic. Making more than six episodes would break the logic.