Gary Oldman Said David Bowie 'Faced His Illness With Enormous Courage, Dignity, Grace and Customary Humor'
Gary Oldman was one of the few people who knew David Bowie was sick. That's how close they were. Their friendship has transcended the films and music they've each made and has carried on through the years since Bowie died of cancer in 2016.
Oldman is also one of the few who got to see Bowie in his last days. What the actor saw was awe-inspiring. Bowie faced his illness with "enormous courage, dignity, grace, and customary humor."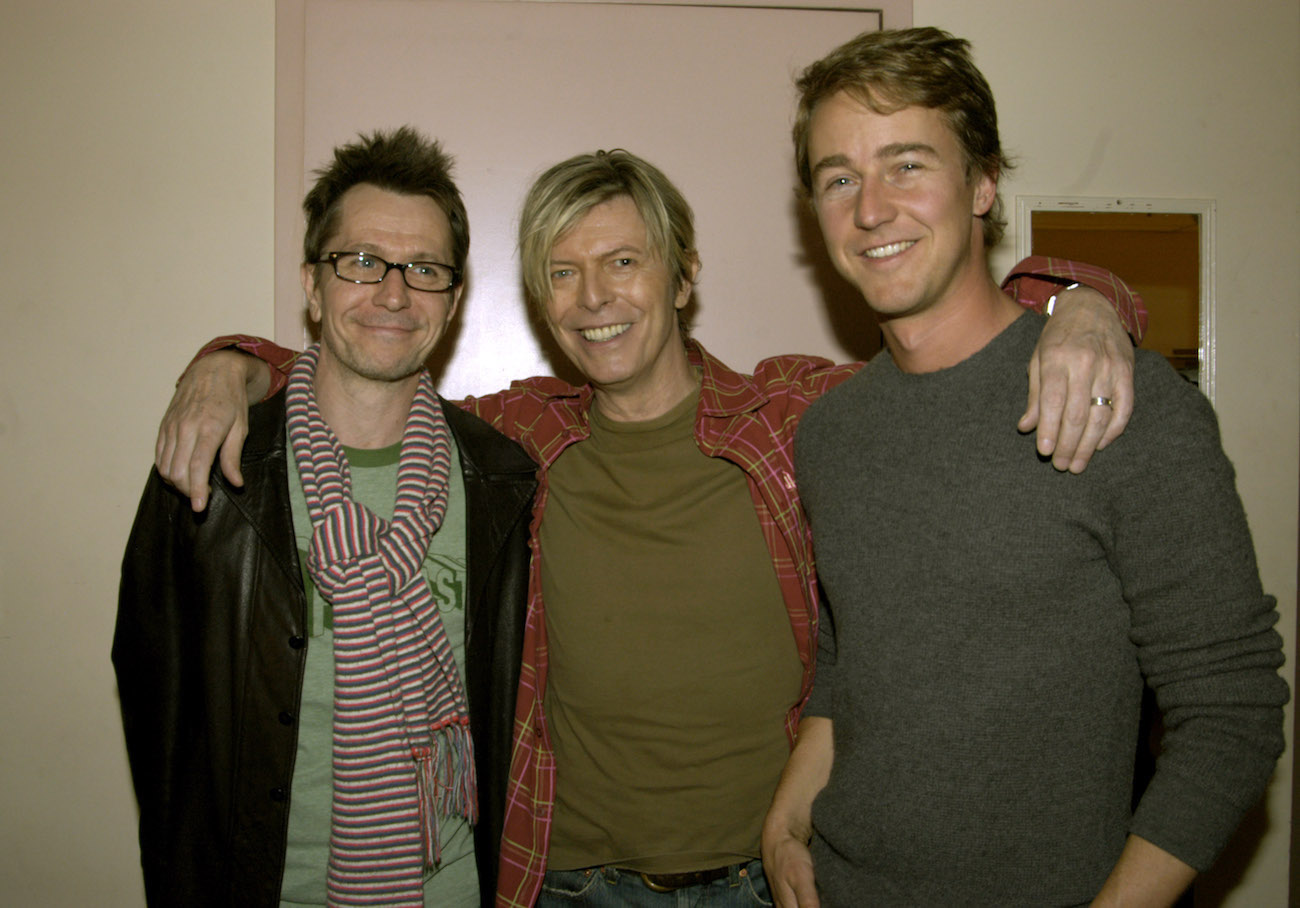 David Bowie and Gary Oldman realized they had a lot in common when they met in the late 1980s
When the "Let's Dance" singer and the Harry Potter actor met in the late 1980s, they realized they had a lot in common. They were both from South London, had hard upbringings, and had past drug experiences. 
They met at London's Duke of York theatre in a chance meeting. "A friend of mine had been in a play and I went backstage after the performance and Dave walked in," Oldman told the Daily Mail in 2014. "We got talking, then we all went to dinner and by the time we got to cigarettes and coffee, as you did in those days, we did the chair-swapping and I got chatting with him.
"We got on really well. He comes from the same part of the world as I do. I didn't want anything from him, he didn't want anything from me. Dave said, 'This is where I'm staying, under this name, give me a call.' Which I didn't do!
"But then a couple of months later he called me. He was taking a break and doing some writing on Mustique, where he had a house at that time. He said, 'Come over, I've got a spare room.' My son Alfie was only five months old at that time, but we went. And it was fantastic. Dave is a really nice guy.
"I see him less as 'David Bowie' and more as Dave from Brixton and I'm Gary from New Cross. I was a fan of his music and I still am. We're just mates."
Oldman said Bowie faced his illness with 'enormous courage, dignity, grace and customary humor'
Bowie and Oldman's relationship only strengthened as the years when by. Oldman was one of the few people that Bowie told about his cancer. When he did, it was with his classic humor.
During the 2016 BRIT Awards, months after Bowie's death, Oldman accepted his friend's posthumous BRITs Icon Award and shared some funny memories he had with the rockstar.
"I am so deeply touched and honored to be here tonight to accept this award for David and his family," Oldman said in his speech.
"David was funny. He was funny, hilariously so, and the laughs were many and massive, and I shall miss them. A related story, a few years ago we were standing on a street corner and he was approached by this big fella, rocker type, long hair, leather-clad, and he offered up this piece of paper for David's autograph.
"David signed the piece of paper, and as the fella walked away he turned to me and said 'Well, he's going to be disappointed.' I said, 'Why?' and he said, 'Because I signed it Gary Oldman.' His outlook was always positive, and I never once heard him complain.
"When he wrote to tell me the bad news that he had cancer, he added, 'the good news is I have my cheekbones back.'"
Oldman has kept his friend's legacy alive 
The Fifth Element actor has continued to keep Bowie's legacy alive all these years later. He's even lent his voice for annual Bowie celebrations.
Oldman sang at the Bowie tribute concert "Celebrating Bowie" in 2016. Later, he provided narration for the "David Bowie Is" mobile app in 2019.
For Bowie's 74th birthday in 2020, Oldman joined Bowie's friends, collaborators, and other celebrities the rock star inspired for a live stream event. Oldman sang, "I Can't Read." He also appeared at this year's "A Bowie Celebration," which celebrated Bowie's 75th birthday.
So, it's safe to say that Oldman will safeguard his friend's legacy and will continue to honor him throughout the years.