Gaten Matarazzo of 'Stranger Things' is Part of a Rock Band And They Just Dropped New Music
'Stranger Things' Actor Gaten Matarazzo's rock band just dropped new music.
For some fans who really get into a TV series, it's hard for them to separate the characters from the real-life actors. That's why it might be hard for some of you to picture Stranger Things' Dustin Henderson in a rock band. Yes, we said rock band, and they're not doing covers of songs from The Neverending Story.
Like his Stranger Things castmates Finn Wolfhard and Joe Keery, Gaten Matarazzo also has musical talents. Fans got a taste of his vocal abilities on Stranger Things 3, but he's part of a band called Work In Progress and the group just debuted new songs on July 5.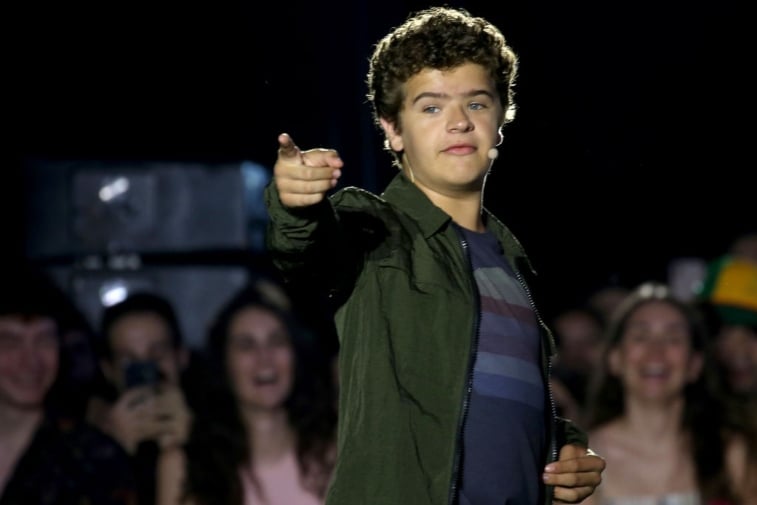 How the band came together
The New Jersey-based group formed in 2017 and consists of Matarazzo's older sister, Sabrina, his younger brother Carmen, along with some friends. He told Billboard that it they sort of fell into it:
"It happened pretty much by accident. My brother was drumming for a while and wanted to play with someone, so he asked his friend Matt if they could jam. Then, when they wanted to play some gigs, they found out our friend Chad was also looking for gigs and he brought Griffin to a rehearsal with him. And then they needed someone to sing a song they didn't know the vocals to, so they asked me to sing it with them during a rehearsal, and then we realized we needed a higher voice so Sabrina sang a couple."
It's been more than a fun hobby. The group started playing professional gigs around the country, building a up fanbase and opening themselves up to big opportunities like singing with famous artists.
Gaten and his crew once performed with Paramore in 2018 after linking up through a Twitter exchange. Matarazzo also cites Pearl Jam and Green Day as his influences, and you can catch clips of the band's performances on YouTube doing covers of some of their favorite songs. But that doesn't mean they don't have original material too.
Work In Progress has new music and plans to grow
Right now, you can listen to the band's new singles, "Dream Eater" and "Waste My Time" on Spotify and Apple Music. The group is preparing for a summer tour that kicks off in August, and Complex notes that there will be stops in Philly and Cleveland. And guess what, fans? They also have a gig in Indiana!
According to the band's website, they are currently working on an EP, but fans can check them out at an upcoming music festival in Asbury Park, New Jersey, or support them by buying merchandise and keeping up with their tour schedule.
If you sift through the annals of YouTube, you'll find that all the kids of Stranger Things can carry a tune. Not everyone is in a band like Gaten, Finn, or Joe, but they aren't afraid to sing. Maybe that means fans will get a group rendition of one or more hits from the '80s when season four comes to Netflix. In the meantime, get on board with Gaten's band.