'General Hospital': Does Michael Easton Think Finn and Anna Are Going to Break Up?
Soap veterans Finola Hughes and Michael Easton play one of General Hospital's most popular couples of the moment, Anna Devane and Hamilton Finn. However, the couple seems to be destined for a split if things keep going in their current direction.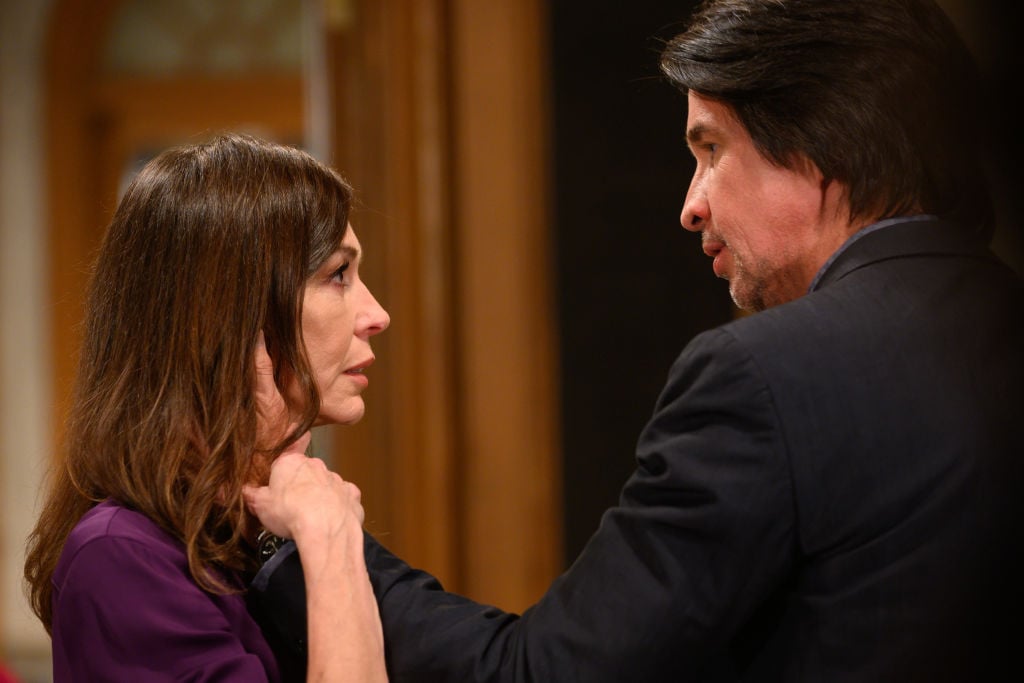 What are Finn and Anna going through right now on 'General Hospital'
Finn and Anna are currently on the outs because Anna is protecting her long-lost son, Peter (portrayed by Wes Ramsey). They are currently clashing because of Anna seemingly wanting to make up for lost time by covering for her newfound son and Finn also being protective of his daughter, Violet. Finn is wary of Violent spending time with Peter.
Also, Anna's granddaughter, Emma Drake, has been in town and has been spending time with her new uncle as well.
In an interview with TV Insider, Easton said, "He feels like it's something he has to do to protect Anna. He doesn't trust Peter and thinks he may end up hurting her directly or indirectly. She could be hurt physically or her reputation could be hurt by her protecting him and withholding evidence. She's not aware of how far down the rabbit hole she's gone. He wants her to see the light. This is what he has to do. More importantly, he feels he needs to protect Violet. He's going to do what he needs to do."
Will the couple make it past this?
"There's some really good stuff coming up. Anna and Finn have had this pretty big blow-up. I think if their love is strong enough, they'll survive. It's a great test. She thinks he's protecting her son. He thinks he's protecting her daughter. People are trying to hold onto what they believe in. Sometimes you have to tear the roof off the house to get your point heard. It's breaking Finn's heart to do this," said Easton.
He continued, "For the first time in his life, he's forced to have to make decisions because someone else is involved. Even if it brings an end to [Finn and Anna], he's going to protect his daughter."
Spoilers for General Hospital from Soap Dirt back in late January stated that the couple would come to a crossroads. Finn being a new single father definitely added stress to their relationship, but Anna not being able to see what Peter is capable of could be the straw that breaks the camel's back.
Also, spoilers point to Finn also being determined to find Hayden as well. All of this could be a factor in the couple splitting, but perhaps they will be able to overcome it all.
General Hospital airs weekdays on ABC.