'General Hospital' Fans are Ready for Robert to Take Peter Down
The stage is set for the conclusion of one of the biggest twists in General Hospital. The curtains might be closing down on Peter as his dark history of crime and murder seems to catch up with him. Robert is the man behind Peter's woes. He is unrelenting and doesn't believe that Peter is the least bit innocent, and fans are eager to see Robert take him down.
How did Peter get himself into such a Mess?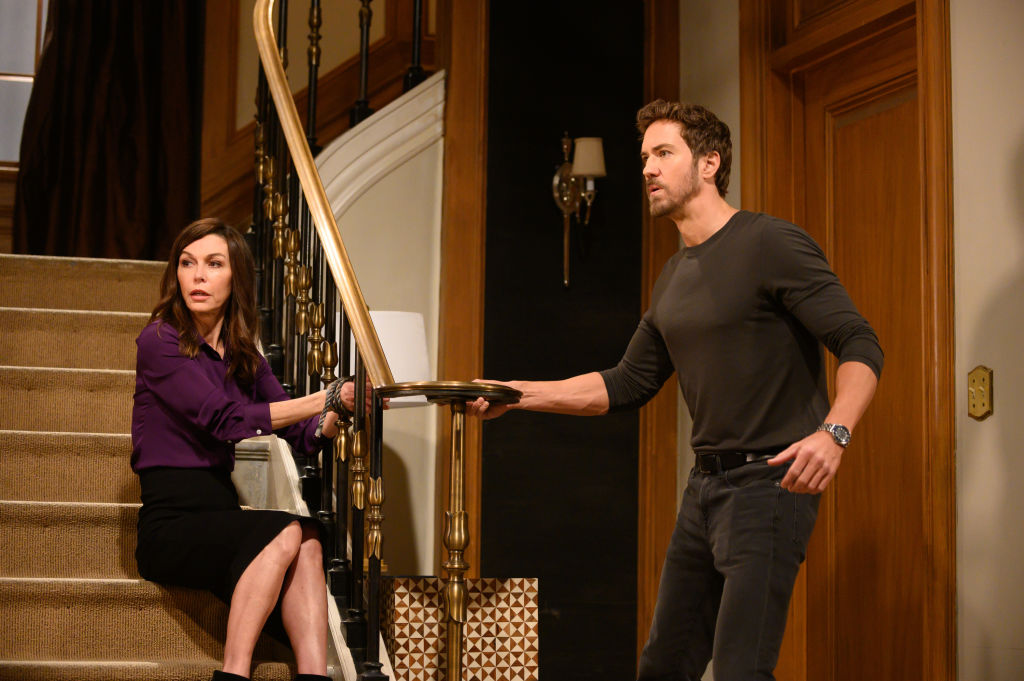 Peter is devious and always calculating. He once hired a hitman (Drew) to kill Franco and Andre. Just as the hit was about to take place, Peter's conscience kicked in, and instead, he killed the hitman and saved both Andre and Franco. To keep everyone distracted and protect his relationship with Anna (his mother) and Maxie (his girlfriend), Peter framed Dr. Leisl Obrecht. 
Fans jumped in quicky to say how ready they are for Peter to go down, and are here for Obrecht and Robert teaming up together to do so.
Who else on the show knows what Peter has been up to?
Dr. Obrecht and Peter have crossed paths in the past. She had him abducted and locked up in a cabin when he killed Nathan, and now she is in jail for a murder Peter committed. It's safe to say she knows who Peter is.
Surprisingly, Peter has managed to keep his crime wave secret. Even his closest allies, like Anna and Maxie, have no idea of what he has been up to. They are hell-bent on proving to everyone that Peter is not an animal.
Robert Scorpio is well-aware of Peter's past. He doesn't waste a heartbeat when Leisl is thrown in jail. He believes her when she says she didn't kill Drew.
Jason, Sam, and Spinelli also know of Peter's dark past and his actions. They are not as forthcoming or as abrasive as Robert (who even confronted Anna about her support for Peter), but they are also digging around for evidence against Peter.
Can Robert take Peter down?
Peter is a genius! But Robert is no slob either. Even though Peter had Robert kicked out of the investigation, the tables are tilting Robert's favor. He can take Peter down in different ways. He needs to be smart about it.  
Robert is teaming up with Leisl, and it is the first hint that Robert is about to turn Peter's world upside down. It's unclear what the motive is here. But Leisl is the only other person who knows what Peter is capable of better than most people.
In a recent episode, Robert made it clear to Peter that his greatest enemy is Jason. Jason was not afraid of getting down and dirty, and considering that Peter had risked Sam's freedom, Jason could arrange a hit on Peter.
It's not clear whether this is Jason's actual intention or, it's a plan between Robert, Jason, and Sam to get Peter red-handed, trying to kill Jason and put him away for good. 
What would happen to Peter if fans had their way? 
Most fans can't wait for the showdown! The anxiety to see Peter in Leisl's position is at an all-time high. For some, the story has dragged on for too long. They are eager to move on to the next plot.
For a few fans, the thought of Peter and Maxie is still exciting and would suggest Peter pay for all his wrongdoing.
But for the majority, the desire to see Peter behind bars is driven by the desire to see Robert and Leisl become a couple as they work through the hard times together.