'General Hospital' Fans are Ready to Find Out Who Valentin's Father Is
The latest question for fans, who is Valentin's real father? We recently found out through a DNA test that he is not the son of Mikkos Cassadine.
General Hospital certainly likes to keep viewers guessing with lots of mysteries.
The latest question for fans, who is Valentin's real father? We recently found out through a DNA test that he is not the son of Mikkos Cassadine, as previously thought.
However, there are several other possibilities, and fans have plenty of theories. 
Who is Valentin Cassadine?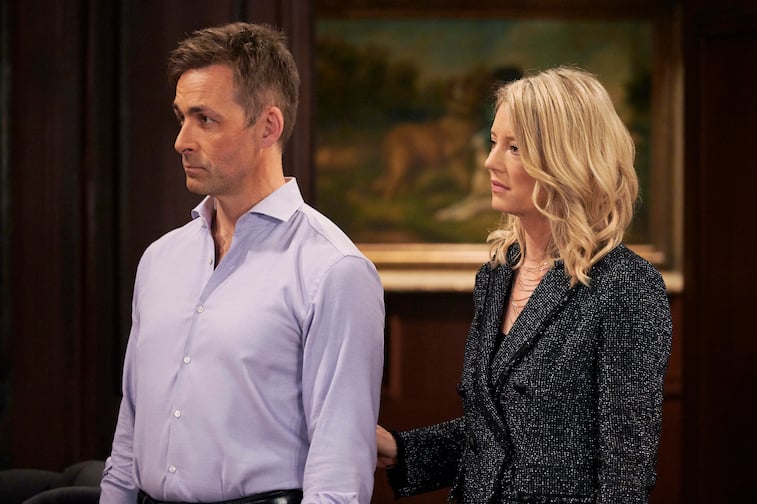 When we first met Valentine, he was introduced as Mikko's illegitimate and estranged son. Hated by his step-mother, Helena, he was raised in a boarding school without family contact. 
As an adult, Valentine, played by James Patrick Stuart, returned to Port Charles as the only known living heir to the Cassadine fortune after Mikkos died. He had his DNA stolen and combined with Lulu Spencer's eggs to create an embryo, which was delivered via surrogate.
The resulting child was named Charlotte and Valentine now has a wonderful relationship with her. 
However, it was later revealed and then confirmed with DNA, that Valentine is not Mikko's son. Instead, he is the child of the woman he thought was his step-mother, Helena, and an unknown male. 
Valentine has certainly been a mysterious character who's story has kept viewers guessing from the very beginning. 
Who is definitely not Valentin's father?
When viewers first learned that Mikkos was not Valentine's father, many thought it could be Luke Spencer, played by Anthony Geary. That's because Helena told him about a plot she'd conceived to mix her own bloodline with her longtime rival, Luke.
However, Luke is far too young to be Valentine's father. According to Celebrating the Soaps, Luke was born in 1948, while Valentine was born in 1956. He would have had to become a father at the age of 8 for this theory to be possible.
Viewers now think Helena was referring to Valentine's daughter Charlotte, who he shares with Luke's daughter, Lulu, when she spoke about combining the bloodlines. 
Who do fans think is Valentin's father?
General Hospital viewers have a lot of theories about who Valentine's father could be. A recent discussion on Reddit shows the wide range of theories that have been brought up by fans. 
"Maybe he's Sonny's kid… everyone else is," one viewer wrote. 
"My money is on Alan, Luke, Reginald or one of Helena's old bodyguards that she had around as eye-candy for herself," another wrote. 
One viewer pointed out that the most realistic option would be an unknown character, but it wouldn't be as much fun for General Hospital viewers, so that theory was quickly discounted. "Why does he have to be anyone's son from [Port Charles]? That always just seems so far fetched," they wrote. 
Who is the most popular choice for Valentin's father?
Out of all the theories floating around about who could be Valentine's father, one name kept popping up everywhere – Edward Quartermaine, played by John Ingle.
Edward is the patriarch to the wealthy Quartermaine family. It makes sense that General Hospital would play up the drama created from talking Valentine as the heir from one family and moving him to another important dynasty. Edward is old enough and he knew the Cassadines for many years. Plus, we know he had at least one illegitimate child before he married Lila Quartermaine. 
If not Edward himself, then some fans believe he could at least still be a part of the Quartermaine family. "I can see him being a Quartermaine, if not Edward's son, then maybe a Q-cousin. There was a relative in the 80s, Herbert Quartermaine, who had a son Quentin, I believe," one viewer wrote. 
Regardless of who Valentine's father ends up being, there's no doubt that General Hospital will play up the drama and make it as exciting as possible. We can't wait!