'General Hospital': Fans Celebrate Carly and Michael's Downfall
General Hospital's Carly and Michael Corinthos (Laura Wright and Chad Duell) are characters with whom viewers have a love/hate relationship. The mother and son duo are always front and center in every storyline. Most of the time, they come out winners in whatever feud they're in. But their latest battle had them coming out losers.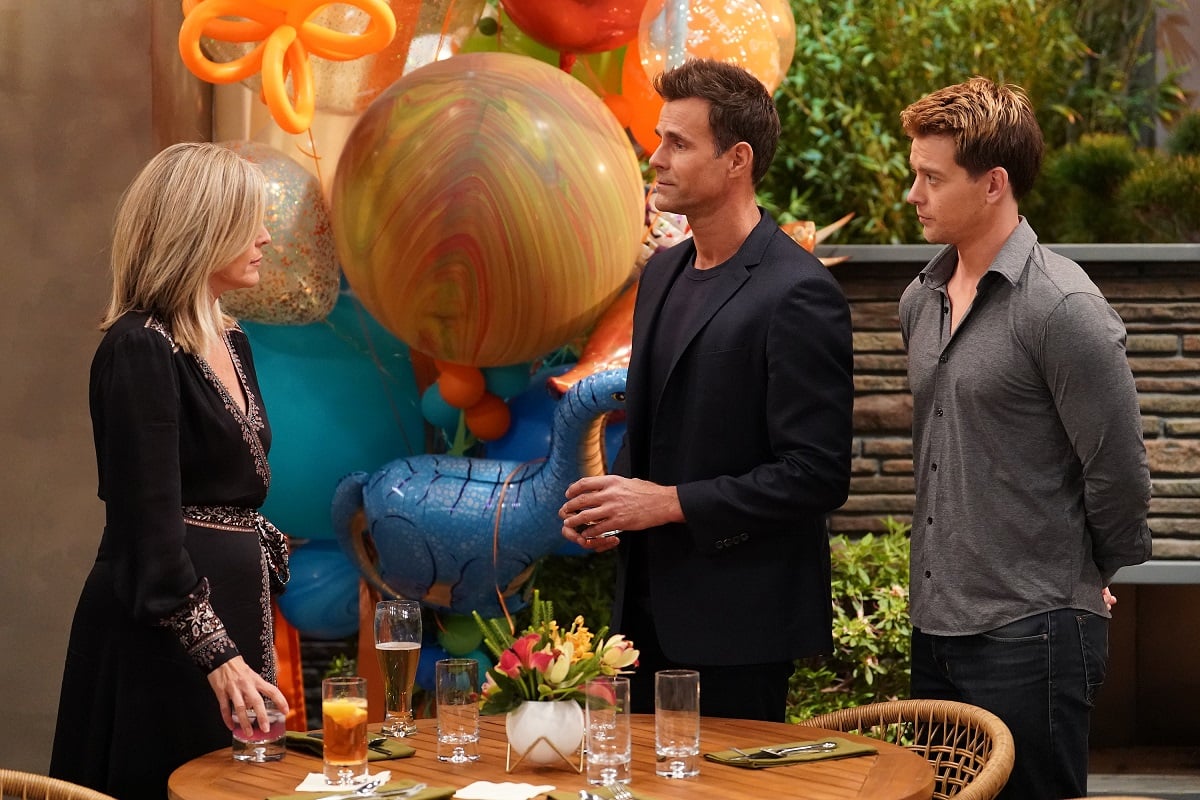 Carly and Michael Corinthos' business merger goes kaput on 'General Hospital'
Business drama is a top soap opera story, and the latest Port Charles turmoil involved ELQ. Ned Quartermaine (Wally Kurth) had a tough decision involving his family's company. Ned's main goal was to oust Valentin Cassadine (James Patrick Stuart) as CEO. With the help of Michael and Drew Cain (Cameron Mathison), Ned was ready to make it happen.
However, Michael and Drew's plan to merge ELQ with Aurora Media caused doubts in Ned. As if things weren't complicated enough, Carly had to insert herself into the picture. Carly was certain Michael and Drew's plan would work, so she sold her shares in Metro Court to invest in the upcoming merger.
RELATED: 'General Hospital': Michael's Temper Lands Him in Jail and Sonny Erupts
In the June 27 General Hospital episode, Ned made his decision, yet it wasn't the one Carly and Michael wanted. Ned sided with Valentin, who informed Michael and Drew the merger wasn't happening.
'General Hospital' fans feel no sympathy for Carly and Michael Corinthos
Carly and Michael's gamble didn't pay off on General Hospital. Naturally, Michael was upset and threw a tantrum during the board meeting. Meanwhile, Carly's upset because she invested her hotel shares in the merger and will lose everything.
While it's a challenging time for Carly and Michael following their failed business plan, viewers aren't sympathetic toward them. On a Twitter thread, fans celebrated the duo's downfall.
"Not so smug anymore, huh, Carly? Rude awakening time has finally hit. LOL! Losing the Metro Court in a bad investment is just the beginning of her downfall,' wrote one viewer.
"Carly crying warms my heart. She's getting what she deserves. Play stupid games; you know the rest," another commenter chimed in.
"Seeing Michael unhappy gives me joy, lol," another fan replied.
Things get worse for the mother and son duo
Carly and Michael's problems are only beginning on General Hospital. With Carly no longer a shareholder in Metro Court, she'll be scrambling to find money to save the hotel. However, Carly's efforts will be futile when another buyer comes along.
Speculation is Carly's nemesis Nina Reeves (Cynthia Watros) will become the new co-owner of the hotel. Nina's move will anger Carly and add more fuel to their heated rivalry. Naturally, Michael will criticize Nina for bringing more heartache to their family.
However, Carly and Michael will change their tune when a crisis has them asking Nina for help. Michael's girlfriend Willow Tait (Katelyn MacMullen) is ill, and speculation is her medical diagnosis will require a donation from a biological parent. Unbeknownst to everyone, Carly knows Nina is Willow's birth mother.
With Willow's life hanging in the balance, Carly must confess the truth. After the revelation, Carly should brace herself for a scolding.
RELATED: 'General Hospital' Speculation: Willow's Illness Forces Carly to Come Clean