'General Hospital' Fans Think Lucas Needs Time to Grieve
Fans of General Hospital are concerned about Dr. Lucas Jones, and with good reason. The character recently had his whole life torn apart. He learned about a terrible scheme and lost both his son and his husband in one swoop. Here's what viewers are saying about Lucas' tragic story line.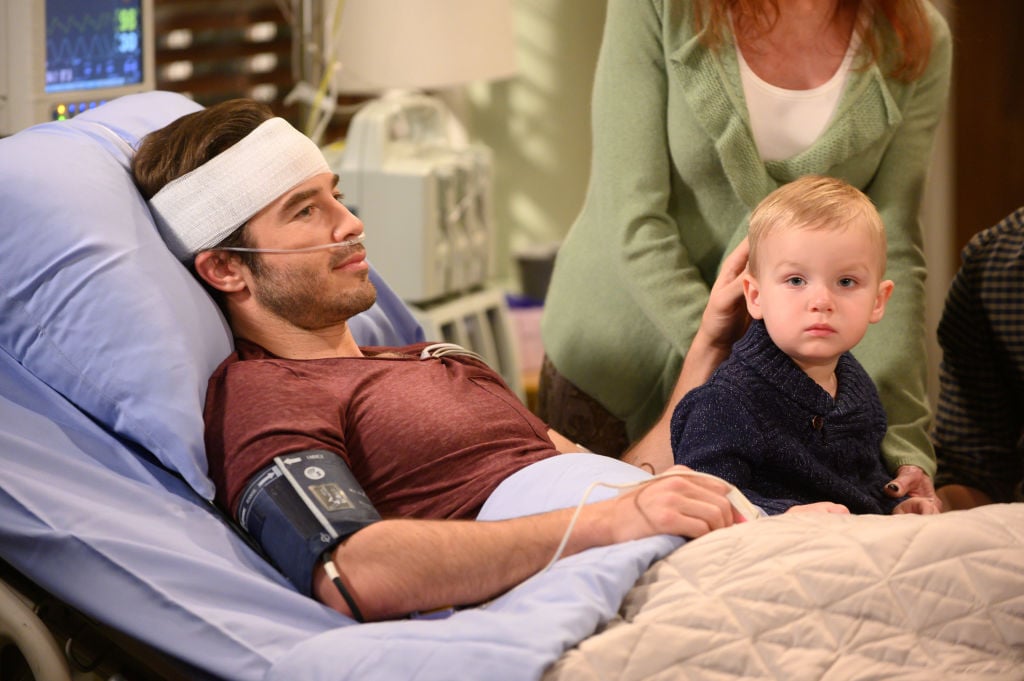 Lucas lost everything
Lucas recently found out that his happy family life was all a deception. He and his husband, Brad Cooper, adopted a baby named Wiley. But before Lucas had a chance to meet the infant, it died of SIDS while alone with Brad. A devastated Brad rushed Wiley to the hospital and on the way ran into Nelle Benson. She had recently given birth to a child conceived with Michael Corinthos. Together, Brad and Nelle developed a plan to switch babies. Brad brought Nelle's child home with him to meet Lucas, and Nelle claimed her infant had been stillborn. 
Brad thought the secret would be easy to keep from Lucas, but outside forces kept threatening to expose his con. Willow Tait, the mother of the original baby who died came into the picture, and Nelle had second thoughts around giving her child away. All the stress from this secret drove a wedge between Lucas and Brad's once-happy marriage. 
Finally, Brad confessed his deception to Lucas. But moments later, the couple are involved in a traffic accident, leaving Lucas in the hospital with no memory of Brad's revelation.
Over time, Lucas starts to remember to whole story. He decides to hand his son over to his real father, Michael. Then, Lucas breaks off his relationship with Brad.
Fans think Lucas needs time to grieve
After losing everything of importance in his life, viewers want to see Lucas grieve and ultimately, heal. However, General Hospital has rapidly moving storylines with lots of twists and turns. Some are concerned that he won't get that opportunity before something else tragic happens to him. The comment section of a recent Twitter post from the soap gave viewers the chance to express their opinion. 
"#Gh give Lucas a chance to show his grief and loss. He is no longer a daddy to Wiley… his loss is just as profound…," one fan wrote.
"…I want to see Lucas. He's the one most affected by this yet we haven't seen him coping," another wrote.
Some viewers pointed out how much they wanted Lucas to remain in Wiley's life. "…The person who has suffered most is Lucas," a fan wrote. "Why isn't Michael asking 4 Lucas 2 be involved in Wiley's life? Why are we seeing all this focus on Willow instead of Lucas. He lost 2 sons and his husband."
Another viewer pointed how much Lucas could help Wiley through the transition. "If Wiley needs some comfort and familiar person, call Lucas. Let him be involved in the transition helping Wiley adjust – if he wants to be…"
Remaining in Wiley's life, even a small part, would probably do wonders for Lucas' mental health. But, as one fan pointed out, Michael has promised to make that happen in the future, he just isn't ready yet. "… Lucas is Michael's family and is going to be part of his life when he is ready. I believe Michael mentioned that when he found out the truth," they wrote.
When will viewers see Lucas grieve?
So far, we haven't had much of a chance to see Lucas grieve. Recent episodes have backed away from his story and focused on other characters. And now, viewers will have even longer to wait for an update on Lucas. General Hospital recently put a hold on new episodes because of the coronavirus. 
According to Soap Central, General Hospital is halting production of new episodes until social distancing guidelines are lifted. Starting March 16, they are airing old General Hospital episodes in the same time slot. The suspension is scheduled to end April 10, but may be extended if necessary.
Unfortunately, the social distancing guidelines don't appear to be coming to an end anytime soon. Viewers will probably have to wait a while before they find out how Lucas is doing. Hopefully, when the show returns, fans will get what they want – Lucas to grieve and heal.