'General Hospital': Fans Are Totally Over the Triangle Between Chase, Willow, and Michael
A classic General Hospital love triangle is in the works in Port Charles. GH fans watched as Chase, played by Josh Swickard, and Sasha, played by Sofia Mattsson, pulled off an epic cheating scandal for "the greater good" last year, where they pushed their significant others toward each other. However, this past scheming is not serving Detective Chase well in the present, as his significant other, Willow, is now in love with someone else. Read on to learn how this love triangle developed, and why loyal General Hospital fans are already sick of it.
A classic 'General Hospital' love triangle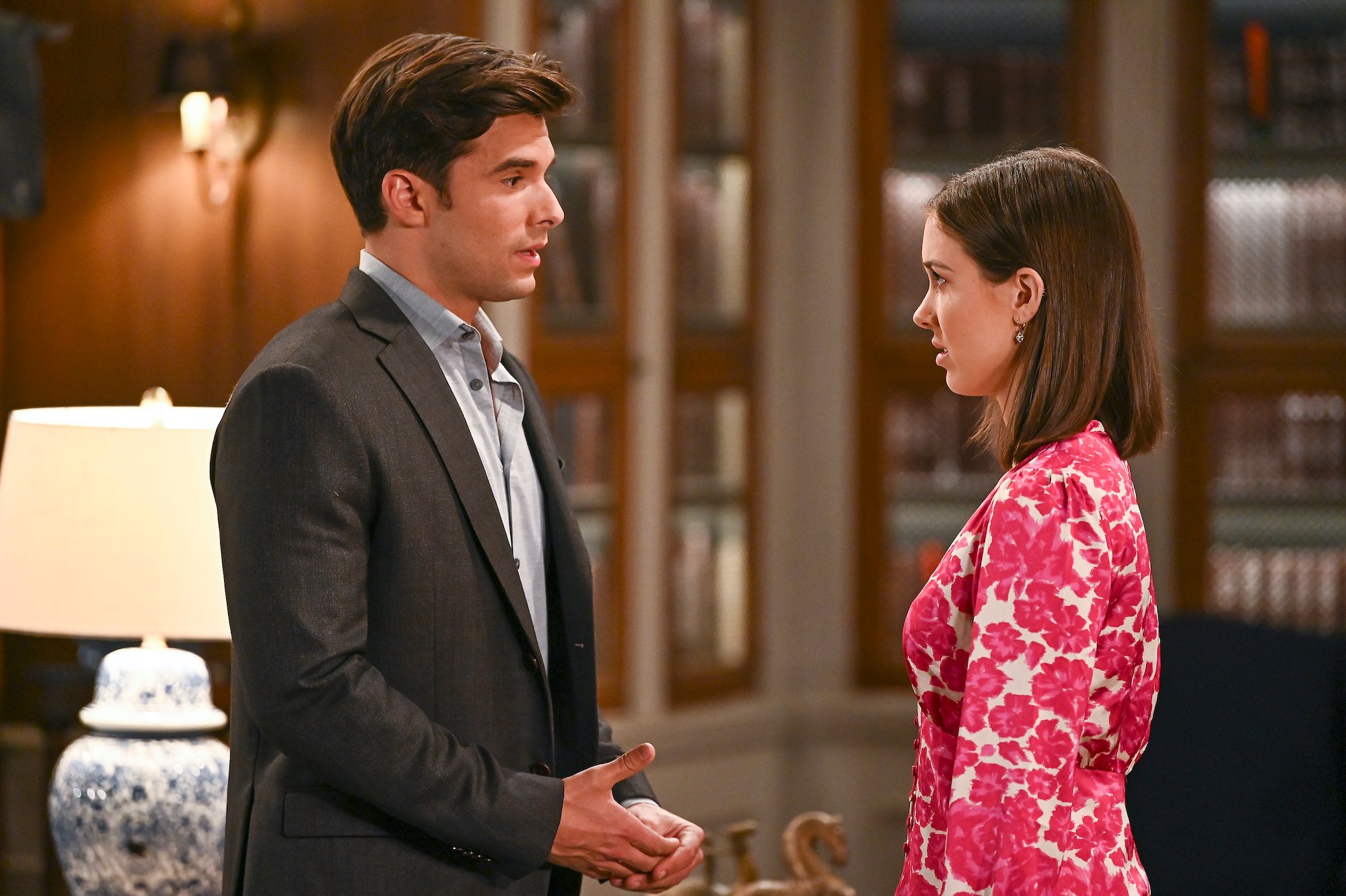 In the spring of 2020, Detective Chase was in a loving relationship with Willow Tait, and Michael Corinthos was in a happy relationship with Sasha Banks. However, when Michael's ex, Nelle Benson, was released from prison early, havoc ensued. Michael and Nelle share a son, Wiley Quartermaine-Corinthos, of who Nelle immediately decided to pursue custody upon her early release. In order to look like the more stable parent to the judge, it was agreed that Michael needed to get married. However, his girlfriend, Sasha, had a less than ideal track record, and thus a risky decision was made.
With the encouragement of Michael's mother, Carly Corinthos, Detective Chase, and Sasha decided to fake an affair in order for Michael and Willow to be pushed together. Maybe not the most logical decision, but that's what they went with. Luckily, this strategy did give Michael and Willow full custody of Wiley. After the dust settled, Sasha and Chase came clean that their affair had been fake. Chase and Willow reunited after the truth came out. Unfortunately for Detective Chase, Willow had developed real feelings for Michael during all the chaos.
A deathbed wedding
Just as Michael and Willow decided to be together and turn their fake marriage into a real one, Detective Chase was poisoned by Peter August. Everyone in General Hospital's Port Charles thought this was the end of Detective Chase, including his infectious disease specialist brother Dr. Hamilton Finn. After weeks of looking for a cure with no success, Detective Chase revealed his dying wish to marry his one true love, Willow. Despite being in love with Michael, Willow agreed to the proposal and married Chase on his "deathbed." 
Shortly after exchanging vows, Dr. Finn had a breakthrough in his research. According to TV Insider, Dr. Finn was able to come up with a DNA-based treatment to save his brother's life. Now with Detective Chase on the mend and feeling like he's on cloud nine with his new wife by his side, Willow has no idea how to break the news that she's really in love with Michael.
'General Hospital': Who will Willow choose?
As it turns out, GH fans are already tired of the Michael, Willow, Chase love triangle. General Hospital fans even took to Twitter to discuss their displeasure over the situation. Twitter user @SoapFan_GH tweeted, "Chase knew Willow & Michael slept together & had real feelings, and he still actively pursued her. Willow kept pulling away from Chase, but she agreed to a deathbed wedding. I think everyone can agree this story has run its course. It's time to move on."
Ultimately, it sounds like GH fans are not into Chase's moral outrage when he finds out Michael and Willow are more than just friends and co-parents as the detective pursued Willow relentlessly while she was married to Michael. Regardless of who Willow chooses to be with, someone is bound to get hurt in this classic GH love triangle. Only time will tell how long the Chase, Willow, and Michael charade will continue before Willow makes her true feelings known.
Related: 'General Hospital': Josh Swickard Wasn't Sure Chase Would Survive: 'I Hadn't Gotten a Talking to About Being Killed Off'