'General Hospital': Katelyn MacMullen Says Willow Has Not 'Fully Processed' What She Did to Chase
Like many soap operas, General Hospital is full of lies and betrayal. One character who recently caught herself in a complicated web of dishonesty is Willow Tait (Katelyn MacMullen), who cheated on her husband, Harrison Chase (Josh Swickard).
Some viewers watching the show want to understand what is going on through Willow's head, and according to MacMullen, she still has not 'fully processed' her actions.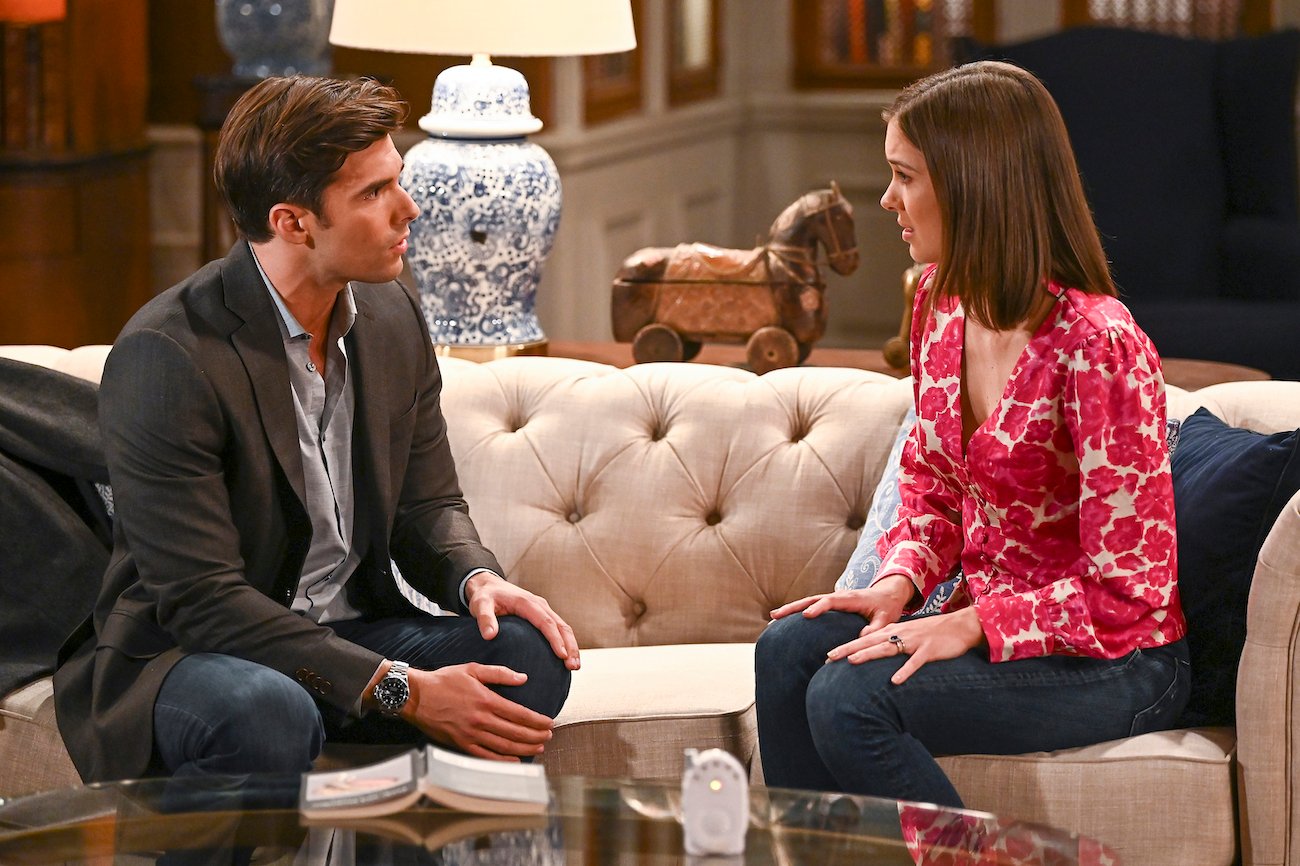 Chase recently found out Willow cheated on him
Willow and Chase started dating in 2018, though they broke up in 2020. They got back together earlier this year and tied the knot in June 2021.
However, Willow has been living with Chase's best friend, Michael Corinthos (Chad Duell), and raising a son, Wiley, with him. Willow and Michael had a marriage of convenience for less than a year, though the two of them slowly fell in love. Willow might be married to Chase, but it's apparent that she now has feelings for Michael.
During a recent birthday party for Wiley, Willow and Michael went off on their own and slept together. Chase found out about it, but he has not told Willow and Michael what he knows about their relationship.
Katelyn MacMullen says Willow has not 'fully processed' her actions
RELATED: James Patrick Stuart Says 'General Hospital' Feels Like a Sitcom Whenever He Does a Scene With This 1 Actor
Things seem to be tense between Willow and Chase, but Willow does not know yet that Chase is aware of her affair. As she shared with Soap Opera Digest, she simply feels that Chase (who is currently in a wheelchair after experiencing a serious injury) is frustrated at his slow progress in physical therapy.
Nonetheless, Willow is still trying to figure out the best time to tell Chase about her affair. However, MacMullen believes her character still has not come to terms with what she has done.
"At this juncture, I don't think that Willow has fully processed just how crazy this all is, what she's doing," MacMullen said. "I think she's kind of still in the thick of it, thinking, 'Okay, he'll hate me, but I'll just take it, I know it's my fault, and ultimately I believe I'm doing what's best for him.' She's still [going off of] the adrenaline of it. But I think after that juncture, it may start to hit her, what she's done and the gravity of everything."
In the meantime, according to MacMullen, there is a lot Chase can do with his knowledge of Willow's affair. She explained, "It's interesting, because he knows the information but nobody knows that he knows. It definitely expands the stakes of the story and it definitely gives Josh a bunch of fun stuff to play with. It makes the problem that much bigger, and when that happens on the show, and something has a ripple effect and affects everyone, it creates more story."
Some fans want the love triangle to end
RELATED: 'General Hospital': Steve Burton Says He's Been 'Having a Blast' With Carly and Jason's Engagement
While the Willow/Chase/Michael love triangle is creating big storylines on General Hospital, some fans are getting tired of it.
On one Reddit thread, fans shared that they did not support Willow and Chase getting married and that Willow should simply stop lying to Chase. Others also admitted Willow and Michael sleeping together has made the two characters more unlikeable.
To see how this conflict will be resolved, tune in to General Hospital every weekday on ABC.