'General Hospital': Kelly Thiebaud Explains Why Britt Can't Let Go of Jason
General Hospital character Britt Westbourne (Kelly Thiebaud) has had a rough patch the past year. Britt's biggest heartbreak was Jason Morgan's (Steve Burton) death. Although she knows she should move on, it's tough for the Chief of Staff.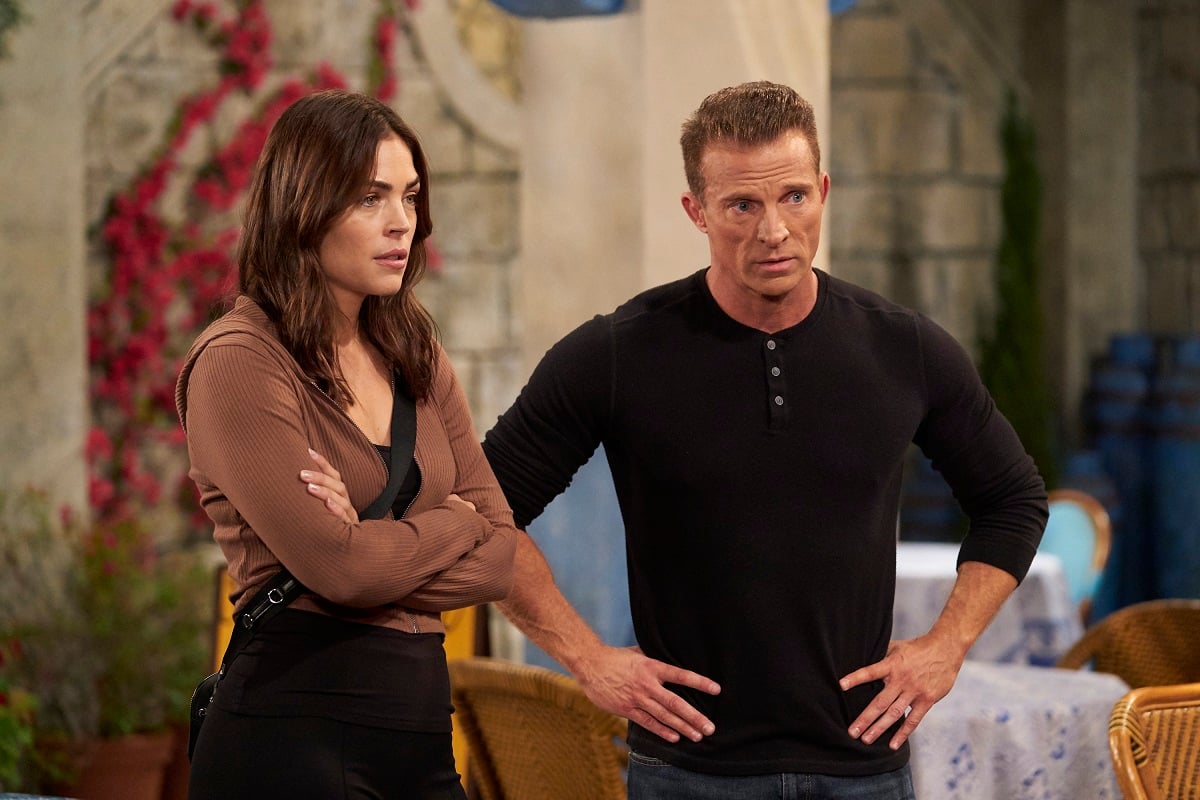 Britt Westbourne and Jason Morgan were romantically involved on 'General Hospital'
Britt and Jason's relationship began in May 2021, and immediately they became General Hospital's newest couple. The doctor and Sonny Corinthos' (Maurice Benard) right-hand man seemed like opposites. Yet, their flirty attraction turned into a deep, meaningful relationship. Jason became Britt's protector and confidante as she learned of her Huntington's disease diagnosis.
RELATED: 'General Hospital': Kelly Thiebaud Says Fans Can Help Bring Britt Westbourne Back
Before long, the couple gave in to their passion, yet their steamy romance fizzled out when Jason broke Britt's heart. Jason dumped her to wed Carly Corinthos (Laura Wright) in a business arranged marriage. Britt was devastated over the split, and although Jason and Carly's marriage ended, Britt refused to give him a second chance.
However, Britt couldn't deny she loved Jason, but before she could tell him her true feelings, he was killed in a tunnel collapse.
Kelly Thiebaud explains why her character isn't ready to let Jason Morgan go
It's been seven months since Jason's death on General Hospital, and Britt's still grieving him. Although her friend Brad Cooper (Parry Shen) tries to get her back into the dating game, she refuses. Fans know that deep down, Britt's still hung up on Jason and don't understand why. In an interview with Soap Opera Digest, Thiebaud explained why it's hard for Britt to let Jason go.
"I've read a lot from fans guarding the relationship between Britt and Jason, and I think there's an element of it that people aren't acknowledging. He was there with her when she found out she had Huntington's. I think with anyone in life when you're going through something so heavy and life-threatening, whoever's there by your side, means so much to you."
Thiebaud also revealed how she understands Britt's situation. "Even though it was a short-lived thing, the impact of that meant so much to her, and that is what has caused this grief and kind of not being able to move on. I just think she fell in love, and it was a very whirlwind, meaningful, genuine experience, and she just feels like it's never going to happen again."
Britt Westbourne may have found a new man on 'General Hospital'
While Britt's accepted that she'll be single forever, love unexpectedly hit her on General Hospital. During the Society Setups party, a drunken Britt fell into the pool where Cody Bell (Josh Kelly) parachuted. Cody made quite the first impression with Britt, who detests the newcomer.
However, their paths keep crossing in Port Charles. While Britt's trying to ignore him, Cody's charm is slowly melting her cold heart. Cody will continue to win over Britt, who'll fall in love with the handsome parachuter.
Although their blossoming romance is still in the beginning stage, Cody is the guy who'll help Britt get over Jason.
RELATED: 'General Hospital' Speculation: Is Cody Bell Related to a Former Port Charles Character?