'General Hospital': Kirsten Storms Got Emotional As She Returned to Work After a Long Break
General Hospital airings have been disrupted quite a bit in 2020. In January and February, ABC decided to air Donald Trump's impeachment trial instead of new General Hospital episodes. Then, the coronavirus (COVID-19) pandemic halted production, and the show could not film new episodes for a while.
Fortunately for fans, filming recently started again, so new episodes will begin airing in the near future. For actress Kirsten Storms, who plays Maxie Jones, the return of the cast and crew to the familiar set was also an emotional event.
'General Hospital' took a break from filming for four months
The pandemic took a hold on the United States in mid-March, and numerous schools and businesses across the country began closing. Hollywood was hit hard as well, with soap opera production being forced to come to a stop.
According to Newsweek, when General Hospital halted production, the show had about two months worth of new episodes for fans to enjoy. As the pandemic dragged on, by late May, ABC had resorted to airing reruns in lieu of new episodes.
On July 22, after about four months of break, the cast and crew returned to set and began filming again.
Kirsten Storms returned to work on July 24
On July 25, Storms took to Instagram to share with fans that she had returned to work two days after General Hospital began shooting again. She admitted it was an emotional event that even had her shedding some tears.
"Couldn't have been more thrilled to return to work yesterday. Did I cry as I walked down the hallway of the [General Hospital] dressing room area? Yes I did. No shame," Storms wrote.
She also went on to note that ABC had made the work environment "safe" for the cast and crew, which she was "thankful" for. Storms said, "Really missed my work family these last few months and I feel truly thankful to be back at it with them (in an extremely safe environment. Shout out to @abcnetwork for taking care of us so thoroughly)."
When will the new 'General Hospital' episodes air and what can fans expect from Storms' character?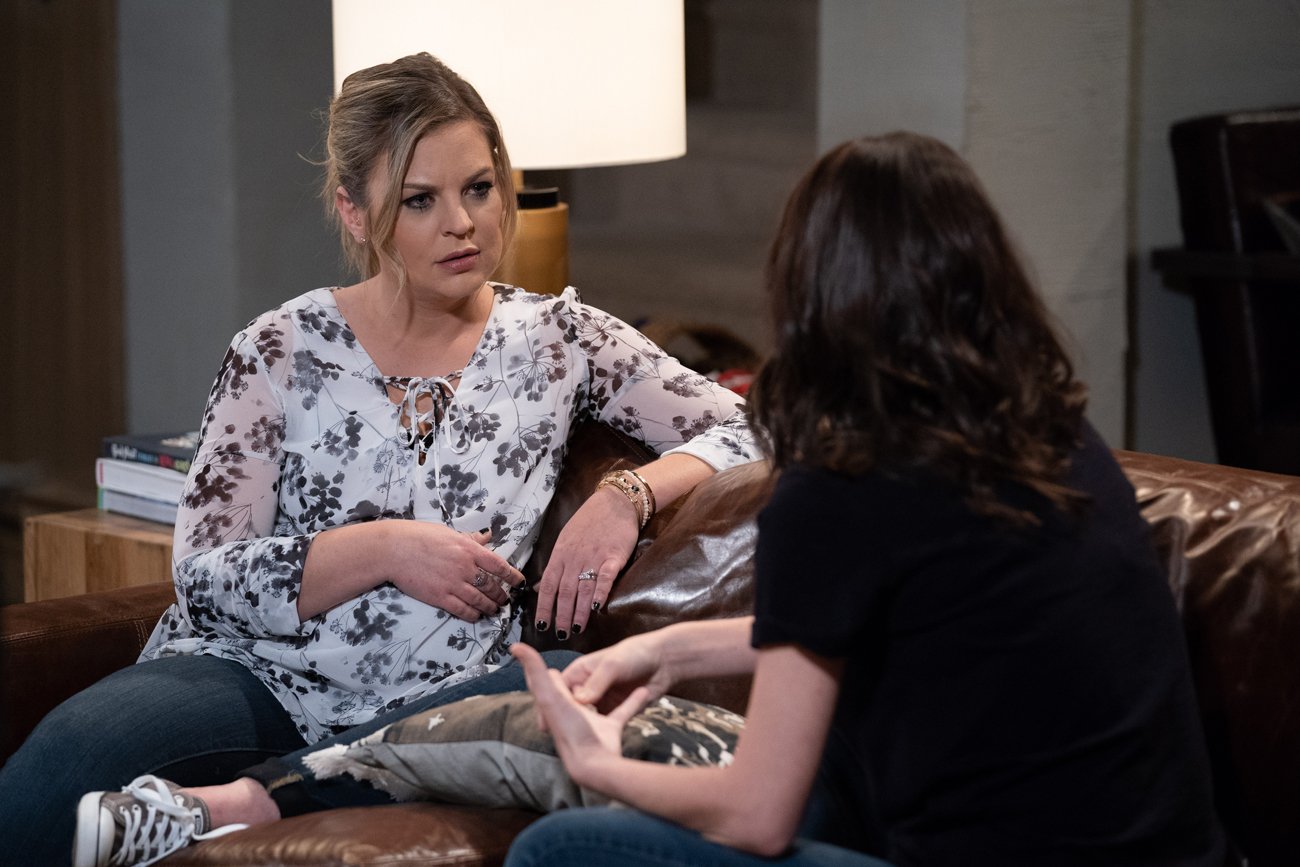 As reported by Deadline, fans can expect new episodes of General Hospital starting on the week of August 3.
Deadline also shared that ABC had released descriptions for the first five episodes. It seems they will focus on story lines like Nelle and Michael's custody case, Valentin's plan to get more shares of ELQ, and Sonny's struggle with his father's worsening Alzheimer's.
 As for Storms' character, Maxie, spoilers show that she and Lucy will make a decision regarding Lucy's cosmetic line, Deception. The description for the August 7 episode also reveals that Maxie will "have second thoughts," but there is no word yet as to what the "second thoughts" are about.
Based on what was shown on General Hospital back in May, it seems Maxie could be pregnant. However, not everyone supports her relationship with her fiancé Peter, who has a dark past. As a result, it is possible Maxie could have "second thoughts" about her relationship now that there is a chance she is welcoming a baby into the world.
Ultimately, fans will have to tune into General Hospital next week to see what happens.