'General Hospital': Nina Has Overstayed Her Welcome, According to Some Fans
Nina Reeves is one of the many characters of General Hospital. She has been around since 2014, and Cynthia Watros currently plays her. Nina has faced several trials and tribulations, and she entered troubled waters in recent episodes regarding Sonny.
Because of her choices, Nina has made enemies and strives to find allies. For now, she realizes she must remain in Port Charles. However, her current storyline has fans feeling like she's been around too long.
Nina's storylines on 'General Hospital'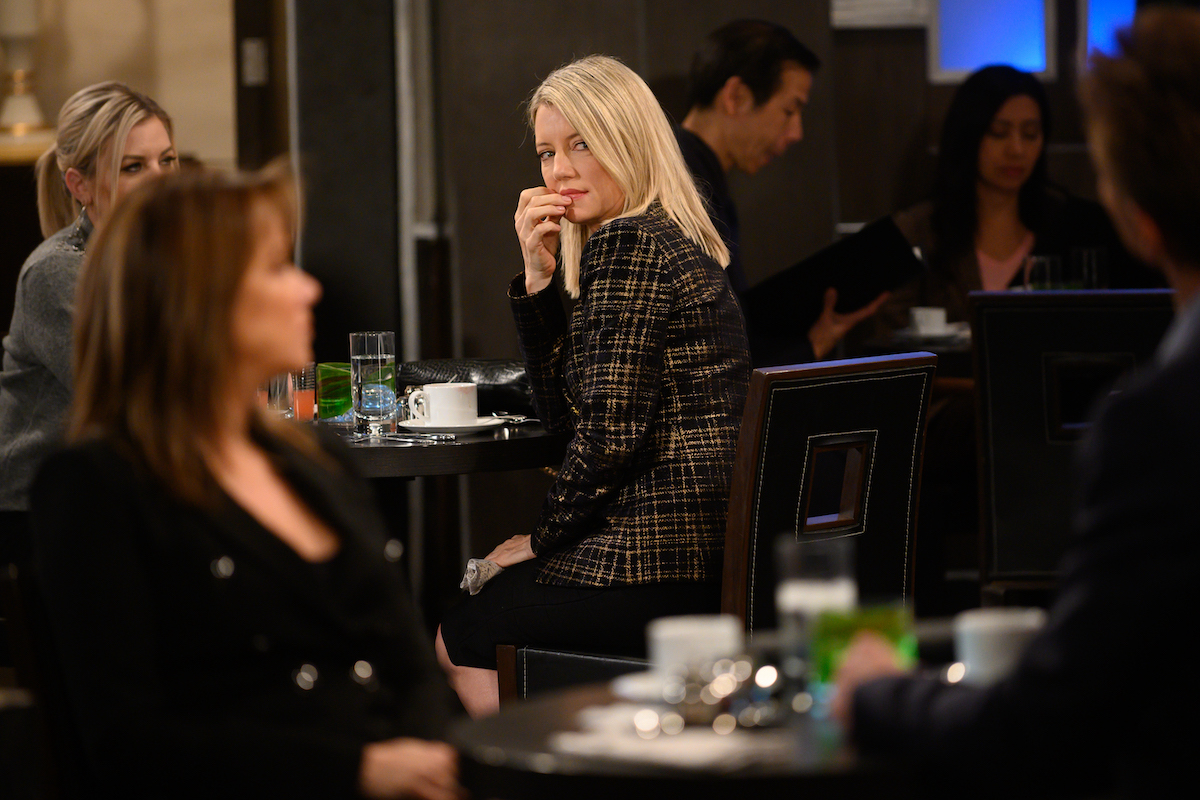 Some background on the character: Nina Reeves is Madeline Reeves' only biological child. Pregnant with Silas' child, Nina slips into a coma for 20 years after Madeline tries to force a miscarriage.
Soon after waking, she becomes vindictive and bitter. She wants revenge on multiple people, including her mother and Silas. Toward the end of that storyline, she tries to kidnap Ava's child.
Later, Nina discovers she did not miscarry, and her daughter is still out there. She tries to find her child throughout her storyline, according to the General Hospital Fandom Wiki page.
In one episode, Nina obtains her daughter's half of a heart pendant necklace. Soon, she discovers that Nelle is her child.
The show also focuses on Nina's secrets and her fight to protect them. She hides the nature of her relationship with Sonny, whom she calls "Mike."
After Peter returns, she contacts her Aunt Liesl, likely for a hit on his life. But the truth comes out.
Fans have strong opinions about Nina
The official General Hospital Twitter account released an episode teaser in late August. Several fans commented on the tweet to give their thoughts about the characters and plotlines. Some users revealed they're not fond of Nina's role on the show.
"The resources wasted on this failed storyline for a useless character like Nina [whose] show debut was in 2014 and overstayed her welcome on #GH is baaaaaad!" one commenter opined. "Then they added Peter. Oy!"
Others agreed by saying that "Nina is trash," as is Mike.
The recent main storylines do not seem to satisfy various Twitter commenters. A few like Carly and Sonny together better Nina and Sonny. After all, Carly has had a long romantic history with him.
Peter's return meant the truth about Sonny would come out soon. Some viewers speculated that Nina would experience a fallout as a result, and fans look forward to it. They believe what she is doing is wrong and that she shouldn't shed any tears.
Could Nina be leaving 'General Hospital' soon?
Eventually, Sonny regains his memory and tries to rekindle his romance with Carly, who married Jason. As things unravel between those characters, Nina faces the consequences of her actions. She could even end up leaving General Hospital.
Nina has brought up the idea of fleeing Port Charles for good. The guilt of her choices might catch up to her. Naturally, Carly would want revenge against Nina because she created the whole narrative about Sonny. And Nina could face legal trouble on top of dealing with personal drama.
Viewers might have to say goodbye to Nina after she has become a social outcast. Fans who believe she has overstayed her welcome may get their wish. But they'll have to tune in to see if Nina's departure is on the horizon.
RELATED: 'General Hospital' Fans Are Loving Cameron Mathison's Recent Performance