'General Hospital': Sonny and Nina Are a Hit With Fans
'General Hospital' leading man Sonny Corinthos has found a new lady with Nina Reeves, and fans are loving their blossoming romance.
General Hospital duo Sonny Corinthos (Maurice Benard) and Nina Reeves (Cynthia Watros) send tongues wagging. The pair have been in each other's orbit since last year's Nixon Falls storyline. Their budding romance has continued since returning to Port Charles, and viewers are excited to see what's next for the couple.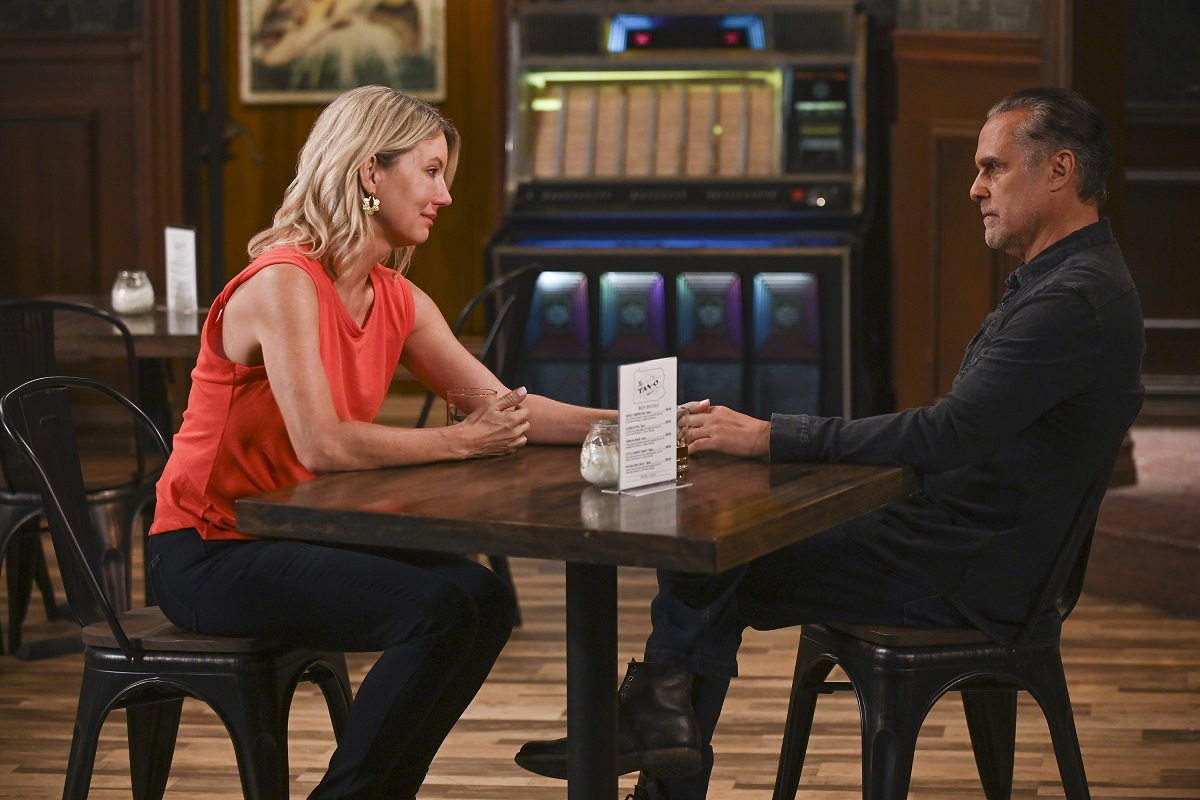 Sonny Corinthos and Nina Reeves' relationship started controversial on 'General Hospital'
Like many General Hospital pairings, Sonny and Nina's romance is controversial. Their relationship began in an unconventional way when Nina discovered an amnesiac Sonny in Nixon Falls. Instead of telling his family that Sonny was alive, Nina kept his identity a secret.
Sonny was going by Mike and fell in love with Nina, who reciprocated his feelings. However, Sonny's memory returned, and he was furious at Nina for keeping him from his family. Sonny returned to Port Charles to reunite with Carly Corinthos (Laura Wright) and his kids.
Yet, Sonny and Carly's marriage was rocked by his lingering feelings for Nina. Things became tense during Nina's trial when Sonny went to bat for Nina and revealed the nature of their relationship in Nixon Falls. Sonny's revelation ended his and Carly's marriage. As predicted, with Sonny single, he's setting his sights on Nina.
Fans are supportive of Sonny Corinthos and Nina Reeves' romance
General Hospital writers have slowly been building a romance between Sonny and Nina. Sonny has become Nina's most prominent defender against critics, and they've formed a close friendship. Their attraction is growing stronger each day, and it's a matter of time before they give in to their feelings.
Many fans are ready for Sonny and Nina to become official and voice their support on Twitter. "Love it when Sonny and Nina are on. So romantic," wrote one viewer.
"This is a much better version of Sonny & he seems so much happier. Nina & Sonny are good together & have great chem. Carson was too toxic; it was time to move on," another commenter chimed in.
"I don't ever remember Sonny being so romantic, smiling, and flirty with Carly like he is with Nina. I've never seen this side of him. I like it. It makes him more human and likable," another fan wrote.
Not everyone is supportive of the romance
As Sonny and Nina's romance blossoms on General Hospital, it'll cause issues with his family. Aside from Carly, Michael Corinthos (Chad Duell) is also upset with his father's new lady. Michael believes Sonny turned his back on the family when he sided with Nina. Furious with his father's choices, Michael decided to cut ties with Sonny.
Sonny continues trying to repair his strained relationship with his kids. However, the mob boss feels like he's stuck between a rock and a hard place. He loves his family and will continue to be part of their lives whether they want him. Yet, as long as Nina's in the picture, they don't want anything to do with him.
Sonny is falling for Nina and wants to see where their relationship can go. Yet, he doesn't want to lose his children. So Mr. Corinthos will have a tough decision. Does he sacrifice his happiness to make his kids happy? Or does he pursue Nina but risk losing his family?