'General Hospital' Speculation: Is Nikolas Plotting to Take Down Esme?
'General Hospital' prince Nikolas Cassadine has become close to Esme Prince, but fans are wondering if he's playing her.
General Hospital leading man Nikolas Cassadine (Marcus Coloma) is always in the middle of the drama. Most of the time, the Cassadine heir has nobody to blame for himself for his problems. Nikolas' marriage is on the rock, and it's because of his new house guest Esme Prince (Avery Kristen Pohl).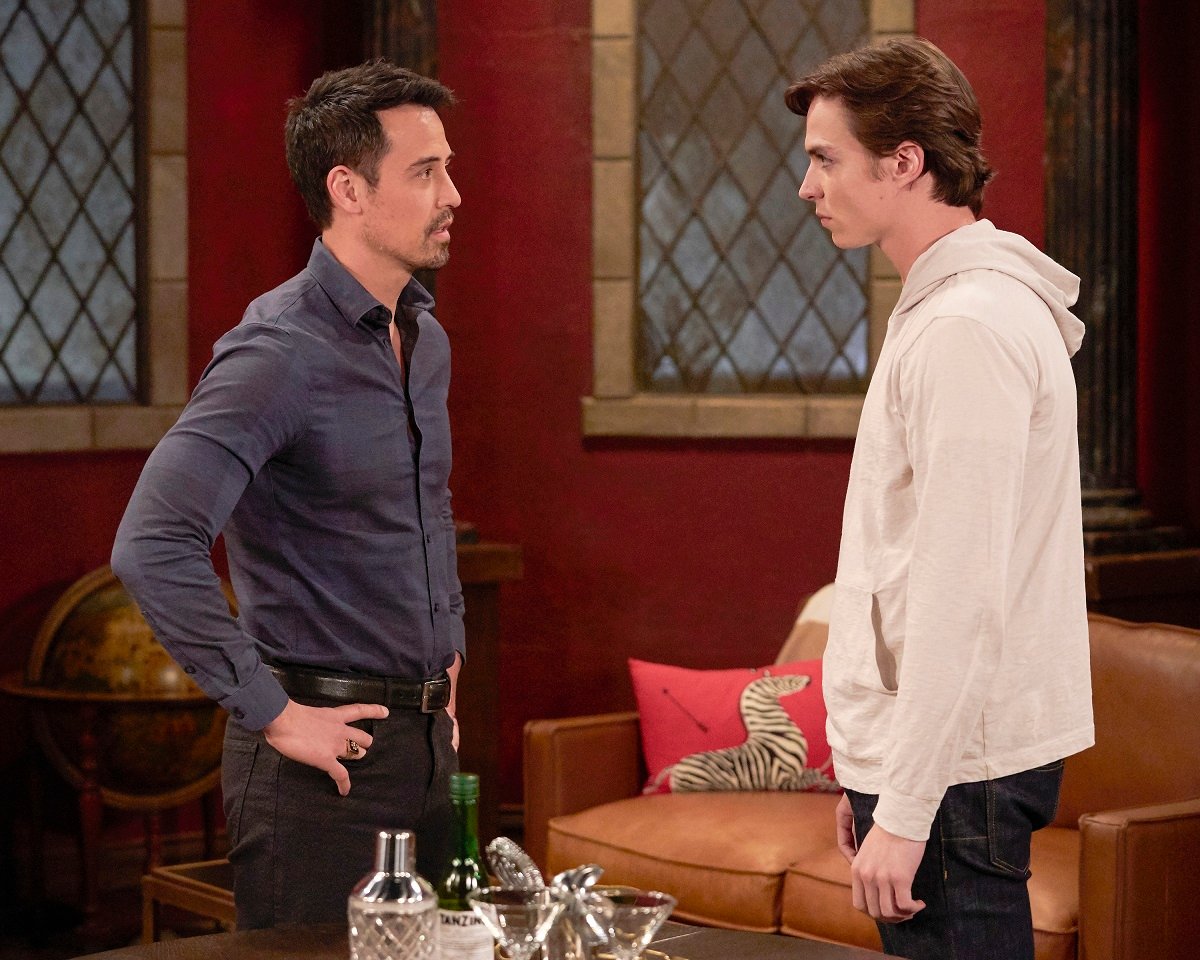 Nikolas Cassadine moved Esme Prince into his castle on 'General Hospital'
General Hospital fans know Nikolas makes mistakes, but moving Esme into his home is his dumbest decision. Esme is Spencer Cassadine's (Nicholas Chavez) girlfriend, and she's a troublemaker. Esme's rap sheet includes helping Spencer stalk his stepmother Ava Jerome (Maura West).
One would think Nikolas wouldn't want Esme anywhere near him or his wife. However, to Ava's shock and disgust, Nikolas invited Spencer and Esme to move into Wyndmere. Esme has pulled on the charm with Nikolas by being a confidante as he vents about his marital problems. Meanwhile, he's become her biggest defender against everyone's accusations.
Nikolas and Esme's bond intensifies, and many people believe he's a fool by falling for Esme's kindness. However, some viewers wonder if it's an act.
'General Hospital' fans believe Nikolas Cassadine is playing Esme Prince
Esme's good girl act isn't fooling Spencer or Ava. Spencer pretends to be with Esme to help Trina Robinson (Tabyana Ali). Esme framed Trina as the culprit who leaked Joss Jacks (Eden McCoy) and Cameron Webber's (William Lipton) sex tape. Spencer loves Trina and is working to clear her name by finding evidence to incriminate Esme.
But he may have some help from his dear ole' dad. General Hospital fans believe Nikolas may be in on the plot to take down Esme. On a Twitter thread, viewers expressed their suspicions.
"Nikolas has to be playing Esme," wrote one user.
"Wouldn't it be neat if Nikolas and Spencer were secretly working together to bring down Esme!" another commenter chimed in.
"I thought he was in the know about her!! Isn't he trying to trap her," asked another viewer.
Tensions are rising in the Cassadine household
Whether Nikolas is in on Spencer's plan remains to be seen. However, the longer the story drags out, the more damage it'll do to Nikolas. His and Ava's marriage is on the rock, and the couple is sleeping in separate rooms. Ava is reaching her breaking point, and it won't be long before their marriage implodes.
Meanwhile, Esme is taking delight in knowing her plan is falling into place. Unbeknownst to everyone, Esme secretly works with her father, Ryan Chamberlain (Jon Lindstrom), to break up the couple. Speculation is Esme will up the ante by drugging and seducing Nikolas.
Time is ticking to bring down Esme. If Esme completes her dastardly plot, Nikolas stands to lose his wife and son. In the end, someone will look like a fool, and the Cassadine household will never be the same.