'General Hospital' Speculation: Nina and Willow Are Mother and Daughter
'General Hospital' fans still believe that Nina Reeves and Willow Tait are mother and daughter, a revelation that may come true soon.
General Hospital character Nina Reeves (Cynthia Watros) is no stranger to drama. Since arriving in Port Charles in 2014, Nina has been the perpetrator and victim of turmoil. Her life will get more chaotic with the revelation about her biological daughter.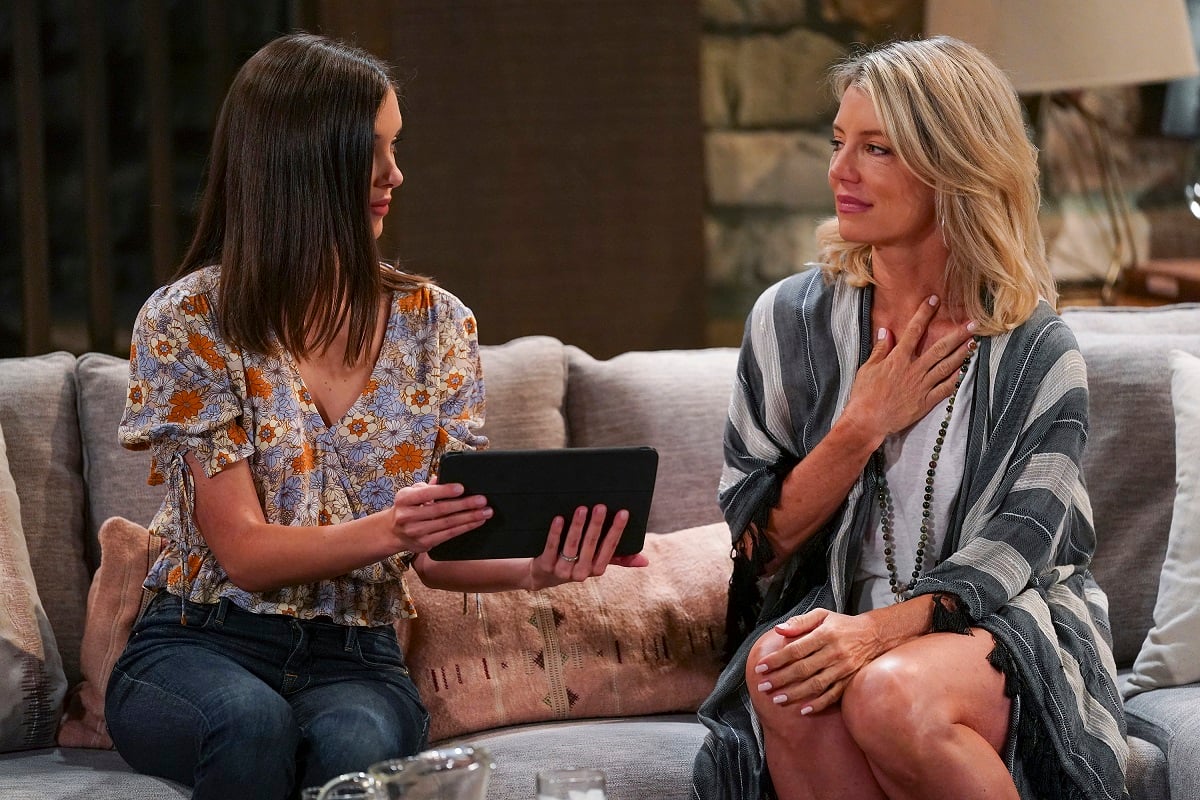 Nina Reeves learns Willow Tait is her biological daughter on 'General Hospital'
General Hospital fans have been following the story of Nina's daughter closely. For 20 years, Nina was in a coma because her mother, Madeline Reeves (Donna Mills), poisoned her. Nina was pregnant with Silas Clay's (Michael Easton) baby, and Madeline drugged her daughter so she could miscarry. However, Nina didn't miscarry and slipped into a coma.
Nina gives birth to a baby girl that Madeline placed for adoption. When Nina later awoke from her coma, a search began for her daughter. After many leads, Nina finally discovers that the late Nelle Benson (Chloe Lanier) is her daughter when she sees a photo of Nelle wearing half of the heart necklace.
While Nelle is believed to be Nina's child, many fans believe it might not be true. Speculation is that Willow Tait (Katelyn MacMullen) is her real daughter.
Willow Tait's fainting spell leads to maternity drama
Nina and Willow being mother and daughter is a longstanding theory among General Hospital fans. Viewers have continued to hold on to this belief and point to several clues. The first is the recent revelation that Harmony Miller (Inga Cadranel) is Willow's adoptive, not biological mother.
The second clue is that Phyllis Caulfield (Joyce Guy) recognized Harmony as a nurse from the same facility where Nina was hospitalized. Also, Willow recently had a fainting spell, and Epiphany Johnson (Sonya Eddy) and TJ Ashford (Tajh Bellow) came to her rescue. Speculation is that blood tests will reveal that Willow is Nina's daughter.
Fallout from the revelation
General Hospital fans anxiously await confirmation on whether Willow is Nina's daughter. On a Reddit thread, fans began speculating how the storyline would play out. "The only way this is going to work, imo, is make Nelle and Willow twins," wrote one viewer. "Yeah it would be cool if they were but it would make way more sense if there had been a baby switch because Frank and whoever was involved didn't want anyone to know anyway," another commenter replied.
No matter how the storyline plays out, the revelation that Willow and Nina are mother and daughter will cause drama. Nina and Willow don't get along, so it'll be interesting to see how the two handle the news. Also, Willow will be furious with Harmony for keeping the secret.
There's Willow's boyfriend, Michael Corinthos (Chad Duell). He won't be happy that his girlfriend's mother is the same woman who destroyed his parents' marriage. It'll cause problems for Michael and Willow and Sonny Corinthos (Maurice Benard), who'll support Nina.