'General Hospital' Speculation: Peter Spills the Beans, Jax Keeps His Word, and Nina is Destroyed
On General Hospital, Nina's life is about to be thrown into turmoil. With an all-but-certain guarantee that Sonny Corinthos is returning, she'll be left out in the cold as "Mike" dies and Sonny, presumably, works overtime to get Carly back. But before things get too complicated for Nina, Peter and Jax will be doing their part to make it all unravel. Big yikes.
[Spoiler alert: Potential spoilers for upcoming episodes of General Hospital are up ahead.]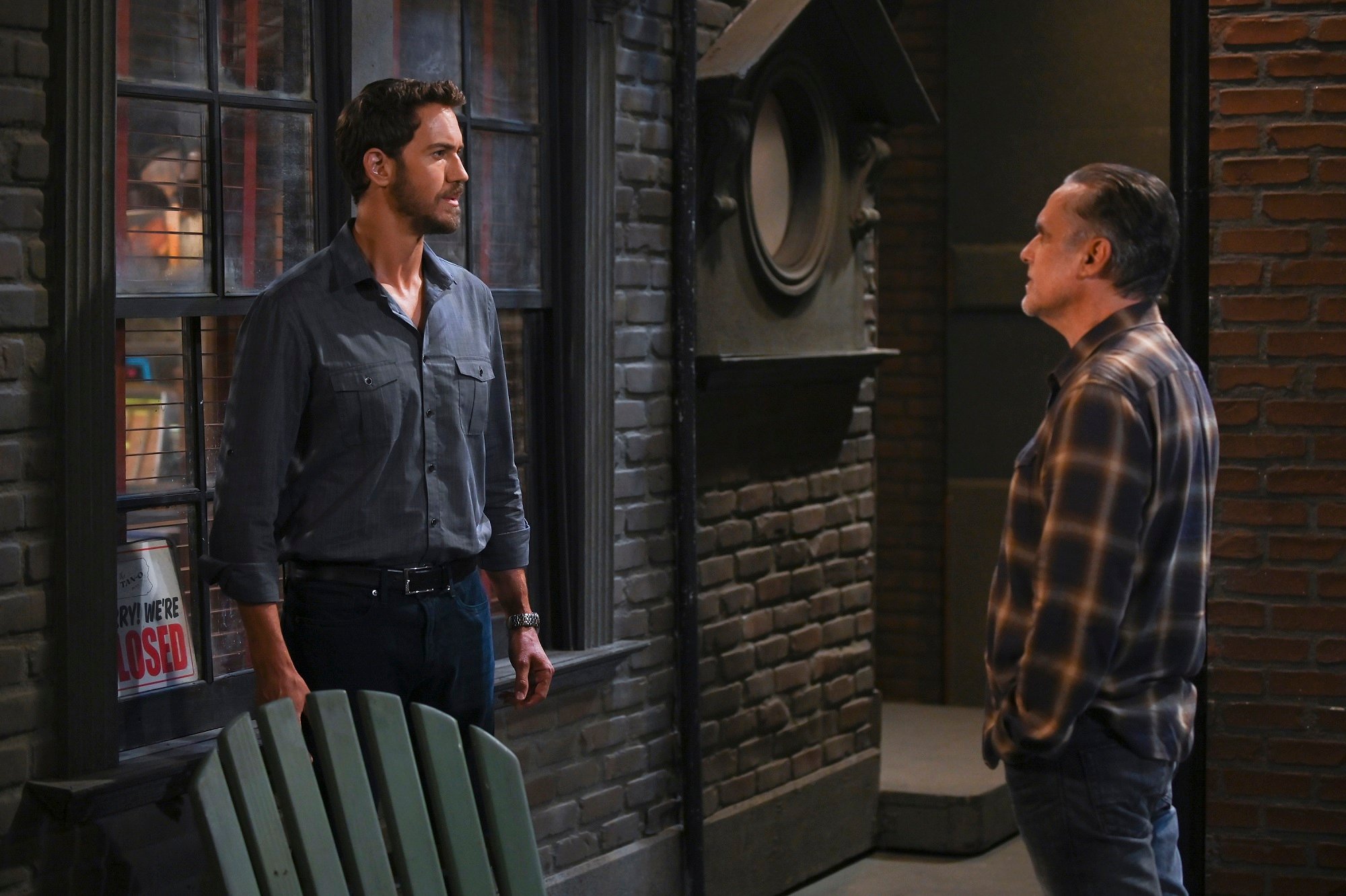 On 'General Hospital,' Jax has confronted Mike with the truth
Fans of General Hospital knew that Mike wasn't going to remain "Mike" forever. The question, though, of how the truth was going to come out remained. And then, Jax showed up in Nixon Falls.
According to Soaps @ SheKnows, everything hit the proverbial fan on the Sept. 8 episode of the show. Jax came face-to-face with Mike and told him the truth about everything. This, of course, came after Jax called Nina to the carpet and told her to stop living a fantasy life. It was a bit harsh, to be sure, but Jax was right. There was no way that Nina could have sustained that lie forever, and it'd be foolish of her to try.
"Jax shakes his head as "Mike" warns him to stay away from Nina," they reported. "She asks Jax to leave. He can't do that. "Mike" insists that no life could be an improvement on what he has with Nina. They are in love. Jax says they need to face the truth and stop living a life built on lies."
For a long time, Jax was the only one in Port Charles that seemed to know the full truth about Nina and "Mike." But then, a familiar face came back from the dead on General Hospital.
Peter held Nina and Phyllis at gunpoint
Imagine what Anna Devane is going to do when she finds out that Peter isn't really dead. Awkward!
But in the meantime, until he makes his way back to Port Charles, Peter's doing what he does best: terrorizing everyone's life. And on the Sept. 14 episode of General Hospital, Peter demonstrated how far he was willing to go to get what he wanted when he held Nina and Phyllis at gunpoint. (Aunt Liesl isn't going to like this nonsense.)
"In the Tan-O, Peter holds Nina and Phyllis at gunpoint. He tells them that they will never leave the bar again," reports Soaps @ SheKnows. "Once alone, Peter gloats to Nina that she should feel lucky that he's freeing her of having to tell Carly the truth, and maybe she'll be reunited with Nelle in hell. Peter stuns Phyllis with the truth that "Mike" is Sonny Corinthos, a man with a grieving wife and children back in Port Charles. Phyllis can't believe this is true. Nina tries to justify what she did because "Mike" is a much better person than Sonny ever was. Peter thinks it's time she finally shuts up and duct tapes Nina's mouth."
In a nutshell, this is getting very ugly, and very quickly. So, what's going to happen on upcoming episodes of General Hospital?
All the secrets and lies will come out
It's pretty obvious, by now, that all the secrets and lies that Nina's been holding about Mike/Sonny are getting ready to come out. What remains to be seen, of course, is how well everyone in Port Charles is going to be reacting to all of this coming out. (The short answer is "not well," of course. But the long answer involves Carly, Jason, the Five Families, Anna Devane, Peter…basically, every cast member on General Hospital.)
On the Sept. 15 episode, it's been teased that Nina will once again see another familiar face. It's becoming more obvious that the world she built around "Mike" is coming to an end, and all it's going to take is one card to fall before the whole house comes tumbling down. What's not clear yet, though, is how Sonny will react to Nina when it all comes out. This just might be the cause of her own demise.
Now, this is all just speculation, of course. We just don't know what will happen when the first proverbial domino will fall. But we do know that the dominos are falling. We'll just have to tune in to upcoming episodes of General Hospital to see how, and where, they ultimately land.