'General Hospital' Spoilers: Carly and Jason are Completely Oblivious to the Impending Sonny Corinthos Explosion
On 'General Hospital,' Sonny Corinthos has returned with a vengeance. And Carly and Jason — set to marry — are completely oblivious.
General Hospital just won't let Carly and Jason be great. With their wedding literally hours away, the happy couple is completely oblivious to the return of Sonny Corinthos. After the crime family capo has a swirling recollection of who he is and what he's about, he storms into the wedding like a man on a mission. Unfortunately, it just may prove too little, too late. And everyone knows what happens when Sonny gets mad. Let's just say that you wouldn't like him when he's angry — and right now, he's really, really angry.
[Spoiler alert: Potential spoilers for upcoming episodes of General Hospital are up ahead.]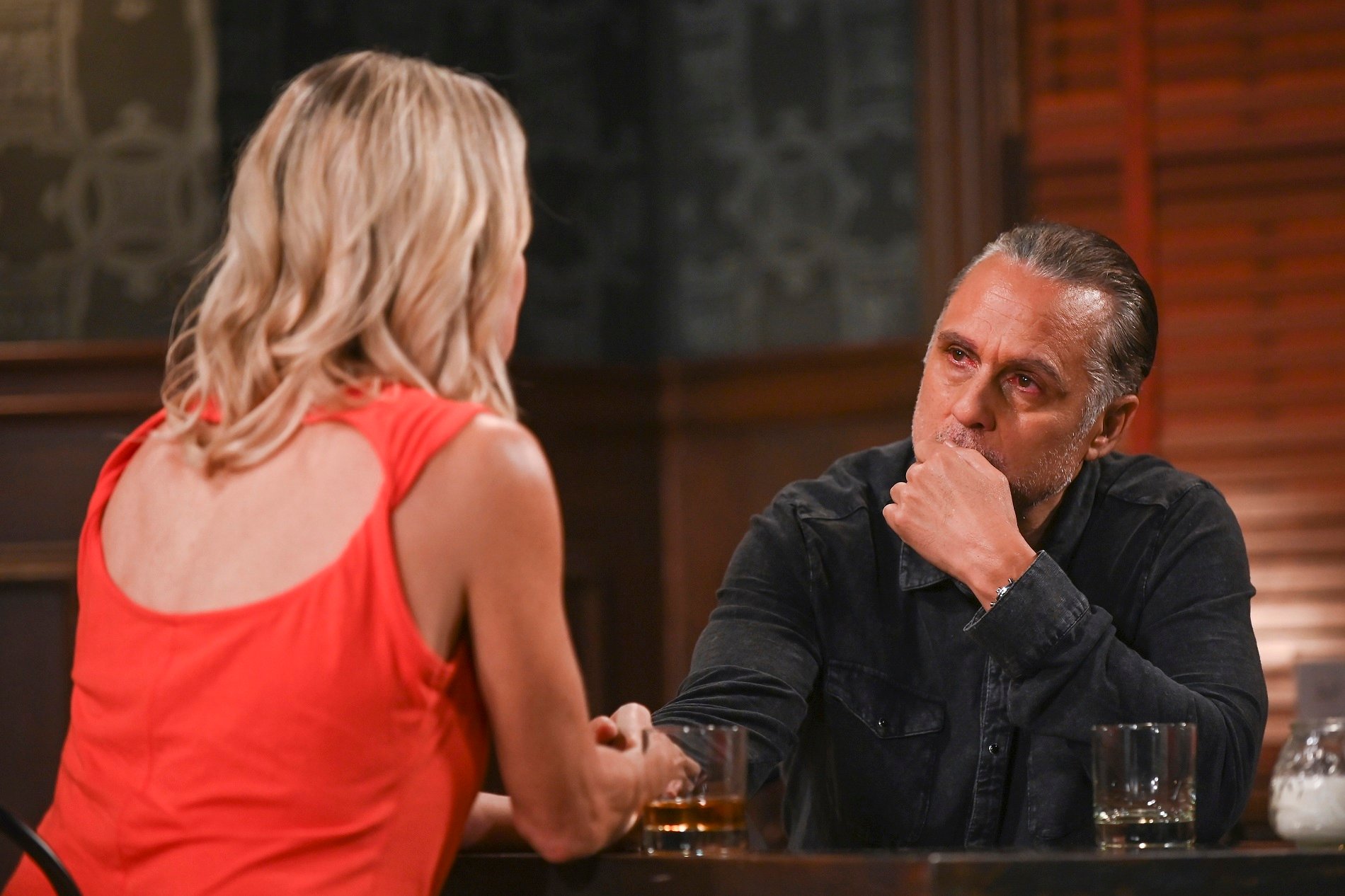 On 'General Hospital,' Sonny will throw a monkey wrench into Carly and Jason's plans for the future
According to SoapHub, upcoming episodes of General Hospital will demonstrate just how clueless Carly and Jason are to the impending doom presented by Sonny. And why wouldn't they be? Carly believes that Sonny is dead, and that the Corinthos capo left her a widow with kids to raise. She also somehow managed to convince herself that she's really in love with her best friend, Jason — just as Jason's in love with her. (Hey, it's better than nothing.)
But while it doesn't look like Sonny will interrupt The Big Day, it does look like he'll pose a threat to the Morgans in the future. By the time he gets back to Port Charles, he'll want his old life — and his old wife — back. And being that this is Sonny, he's not afraid to use violence and intimidation to get what he wants.
There's just one question that remains: what about Nina?
Carly and Jason are oblivious, but Nina is on pins and needles
According to Soaps @ SheKnows, their latest General Hospital spoilers reveal that Nina is desperate to hold onto Sonny/Mike any way she can. Look for her on the Sept. 17 episode, where she'll be desperate to make sure that Carly and Jason's wedding goes off without a hitch. (She's not the only one: it's in Maxie's best interest to keep things running smoothly, too. She is the de facto wedding planner, after all.)
And while the General Hospital spoilers tease that she'll be able to do so, it's the Sept. 23 episode that her plan will fall apart in a different way.
On that episode, Nina will look to someone to confide her troubles in, so she turns to Maxie. But Nina knows the truth about Brook Lynn's baby — no, we haven't forgotten about that mess — so it remains to be seen how long Nina and Maxie can be BFFs. (Probably not very long.)
Meanwhile, elsewhere in Port Charles
But the Carly-Jason-Sonny-everybody drama isn't the only drama on General Hospital. Other spoilers from Celeb Dirty Laundry reveal that Nikolas and Spencer are still working out their drama, too.
You'll recall that, not long ago, Nikolas vowed to get even with Spencer for that whole "stalking Ava" disaster. Fans thought that revenge would be dished out right away. But, as it turns out, revenge is a dish best served cold, and Nikolas decided to wait to dole out his revenge to his bratty son.
Look for the Sept. 24 episode of General Hospital, where Spencer demonstrates a "change of heart." But Nikolas knows that a leopard may change its fur, but not its spots — and Spencer may not be fully capable of change. Will his "change of heart" prove to be genuine, though? And will Nikolas regret not trusting his son?