'General Hospital' Spoilers for June 13 – 17: Operation Take Down Esme in Full Force
General Hospital spoilers indicate a week of plotting for Port Charles residents. A lot is happening, from friends teaming up to take down a common enemy to a business shakeup going wrong. Here's a sneak peek at what to expect from June 13 through 17.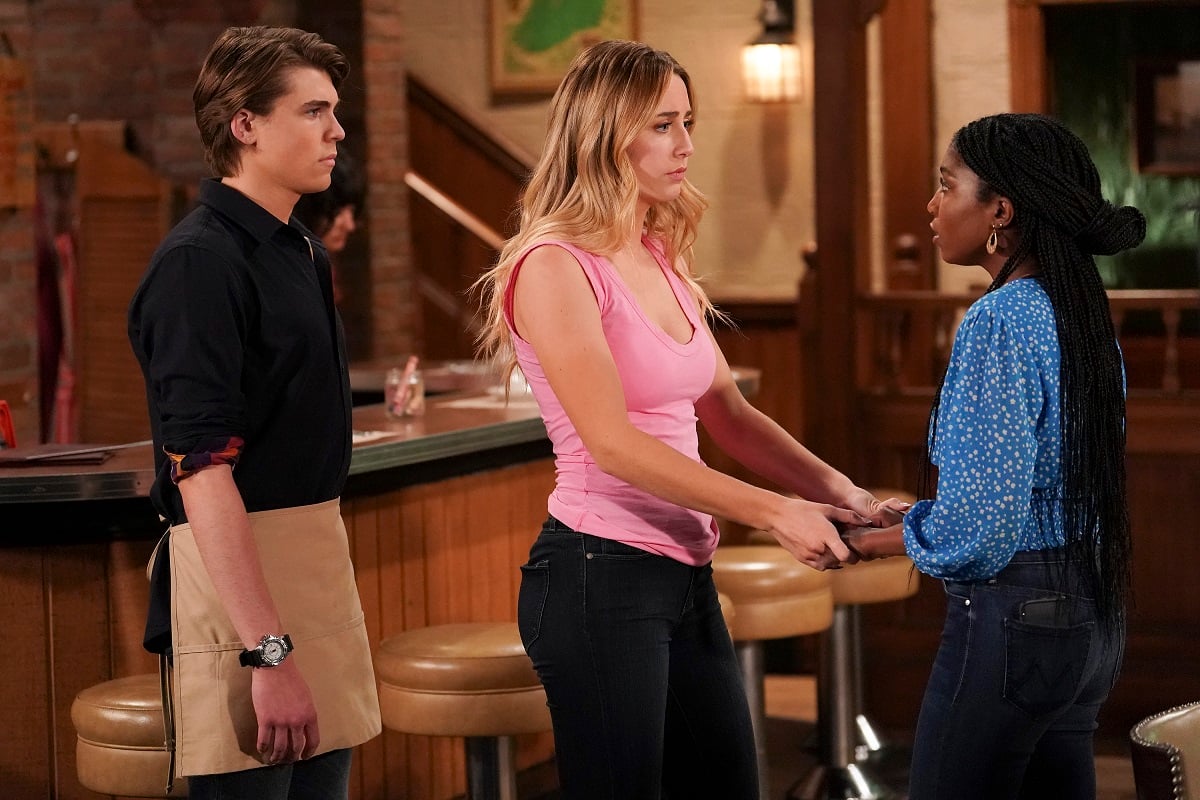 'General Hospital' spoilers reveal Joss Jacks and Trina Robinson team up to take down Esme Prince
Trina Robinson's (Tabyana Ali) future is at stake as she prepares for her trial. Trina was arrested for leaking the sex tape of Joss Jacks (Eden McCoy) and Cameron Webber (William Lipton). However, Joss, Cameron, and the rest of Port Charles know Trina is innocent, and Esme Prince (Avery Kristen Pohl) is behind the leak.
RELATED: 'General Hospital': Fans Are Shipping Trina With Rory
With time running out, Trina and Joss take matters into their own hands. According to Fame10, General Hospital spoilers reveal that the girls will call on tech expert Damian Spinelli (Bradford Anderson) for help. However, their quest to expose Esme's crimes will have their girls in over their heads.
Meanwhile, Spencer Cassadine (Nicholas Chavez) keeps hitting snags in finding evidence against Esme. The young man will find assistance from Victor Cassadine (Charles Shaughnessy).
Maxie Jones and Austin Gatlin-Holt's trip doesn't go as expected
Austin Gatlin-Holt (Roger Howarth) and Maxie Jones (Kristen Storms) have become Port Charles' newest couple. This week the pair take off for a trip to Pautuck. However, their getaway doesn't go as planned.
An unexpected arrival will catch Austin off guard. Meanwhile, Maxie will freak out after hearing a strange noise. Maybe the couple should've stayed in Port Charles.
'General Hospital' spoilers indicate the Corinthos family is drifting further apart
The Corinthos family has been in shambles for some time. Sonny Corinthos (Maurice Benard) and his ex-wife Carly Corinthos (Laura Wright) are estranged, and his relationship with his children is also in disarray. However, according to Soaps.com, General Hospital spoilers reveal Sonny tries to make amends with his son Michael Corinthos (Chad Duell).
RELATED: 'General Hospital': Sonny and Nina Are a Hit With Fans
Carly will be present during the father and son moment, and she'll either help or make things worse. While Sonny's talk with Michael might not go well, he'll have Nina Reeves (Cynthia Watros) to comfort him. Sonny's ready to move on with Nina, who will question his motives. Meanwhile, Carly and Drew Cain's (Cameron Mathison) friendship keeps inching closer to romance.
As for Michael, he'll be in a bad mood this week. Aside from his showdown with Sonny, he learns Aurora Media has a new backer, which might jeopardize his shot at the ELQ takeover.
Trouble for other Port Charles citizens
Port Charles residents can't seem to escape trouble. This week will be hectic for many citizens. First, Brook Lynn Quartermaine (Amanda Setton) and Harrison Chase (Josh Swickard) will hatch a plan to take down Linc Brown (Dan Buran). However, according to Celeb Dirty Laundry, General Hospital spoilers, the couple's mission isn't without problems.
Meanwhile, Britt Westbourne (Kelly Thiebaud) continues to attract attention. However, when she receives unwanted attention, it's up to Cody Bell (Josh Kelly) to come to the rescue. Maybe Cody's heroic actions will be enough to get Britt to warm up the parachute.
RELATED: 'General Hospital': Will Chase and Brook Lynn Get Together?