'General Hospital' Spoilers: June 6 – 10: ELQ Takeover Gets More Complicated
General Hospital spoilers indicate it'll be a complicated week for many Port Charles families. A lot is going down, from company takeovers to interventions to secrets. Here's what to expect for June 6 through 10.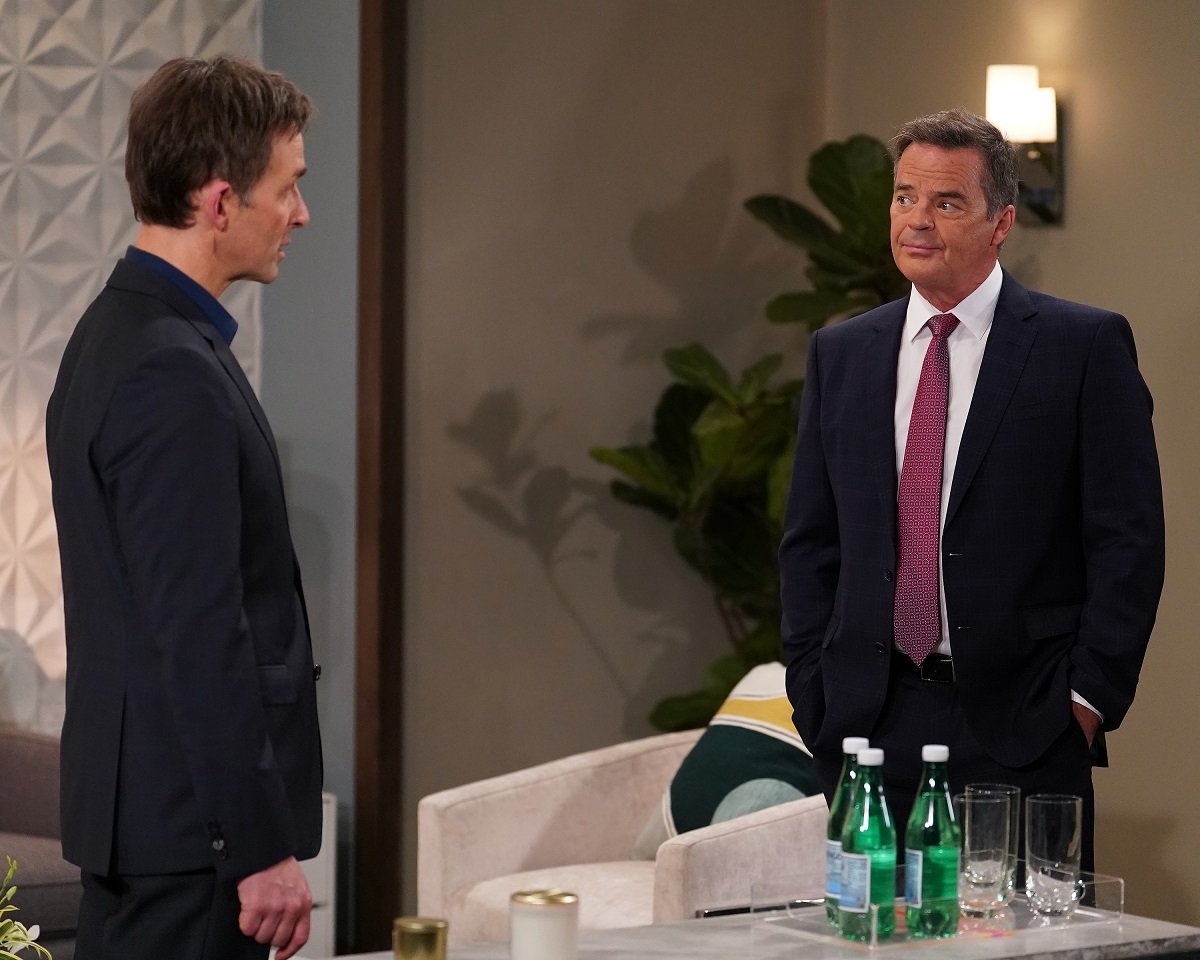 'General Hospital' spoilers reveal the battle for ELQ becomes more chaotic
No family does drama better than The Quartermaines. Their latest turmoil stems from trying to get their company ELQ back from Valentin Cassadine (James Patrick Stuart). Ned Ashton (Wally Kurth) holds ELQ's future in his hands with which side to choose.
Ned's been trying to work with Michael Corinthos (Chad Duell) and Drew Cain (Cameron Mathison); however, their plan's hit a snag. Michael wants to merge ELQ with Drew's company Aurora, which concerns Ned. With Ned on the fence, Valentin tries to persuade him with a new proposition.
As if the ELQ business takeover wasn't already complicated, Carly Corinthos (Laura Wright) inserts herself into the situation. According to Soaps.com, General Hospital spoilers say Carly wants in on the plan to save ELQ and enlists Drew's help. Her involvement will either help or hurt Michael's case.
Brando Corbin deals with work and personal matters
Brando Corbin (Johnny Wactor) and Sasha Gilmore's (Sofia Mattsson) marriage continues its bad start. Unbeknownst to Brando, his wife is taking drugs, yet her odd behavior alarms him. His concerns grow rampant after Sasha becomes upset after receiving a package.
RELATED: 'General Hospital': Sasha's Secret Is Out, Will She Lose Everything?
Aside from his home life, Brando is also dealing with work issues. Brando becomes suspicious of Sonny Corinthos' (Maurice Benard) new right-hand man Dex (Evan Hofer). Brando will voice his concerns to Sonny and convince him it's a good idea to look into Dex's past. With Brando and Dante Falconeri (Dominic Zamprogna) on the case, they'll uncover plenty of dirt on Dex.
'General Hospital' spoilers say Britt Westbourne's loved ones intervene to help her
Britt Westbourne (Kelly Thiebaud) made quite the splash at last week's Society Setups party. After a few drinks, Britt caused a scene when she ranted about love. As if that wasn't embarrassing enough, Britt fell into the pool where Cody Bell (Josh Kelly) parachuted.
RELATED: 'General Hospital': Kelly Thiebaud Says It Would Be 'Interesting' to See Britt Remain Single
Britt's behavior at the party causes alarm for her mother, Liesl Obrecht (Kathleen Gati), and best friend Brad Cooper (Parry Shen). According to Soap Dirt, General Hospital spoilers reveal the two hold an intervention for Britt. The doctor's been going through a difficult time since Jason Morgan's (Steve Burton) death, but hopefully, this will help keep her from a path of further destruction.
Aside from the intervention, Britt also seeks legal help. Speculation is it might have something to do with the handsome parachuter Cody, who Britt's smitten with.
Nikolas Cassadine wrestles with his guilt
Last week was one Nikolas Cassadine (Marcus Colom) wishes he could forget. A drunk and vulnerable Nikolas committed the ultimate misdeed by sleeping with Esme Prince (Avery Kristen Pohl). Knowing how much it'll hurt Ava Jerome (Maura West) and Spencer Cassadine (Nicholas Chavez), Nikolas will keep his affair with Esme a secret. However, it's more complicated than he imagines when Ava notices his weird behavior.
Unbeknownst to Nikolas, he's a pawn in the Esme and Ryan Chamberlain's (Jon Lindstrom) game. Ryan wants to break up Nikolas' marriage to be with Ava. However, Nikolas and Ava aren't the only couple he'll cause trouble for.
According to Celeb Dirty Laundry, General Hospital spoilers reveal Mac and Felicia Scorpio (John J. York and Kristina Wagner) receive a blast from the past when they see Ryan. Odds are the encounter won't go well, but it might bring more clues about Felicia being Esme's mother.
RELATED: 'General Hospital' Speculation: Esme Becomes Pregnant by Nikolas