'General Hospital' Spoilers and Pre-Emptions for May 30-June 3: Custody Verdict Reached
General Hospital spoilers indicate another dramatic week for Port Charles. The show will be pre-empted on May 30 for Memorial Day with the reshowing of an old episode. However, new episodes will air on May 31, and many exciting things are happening.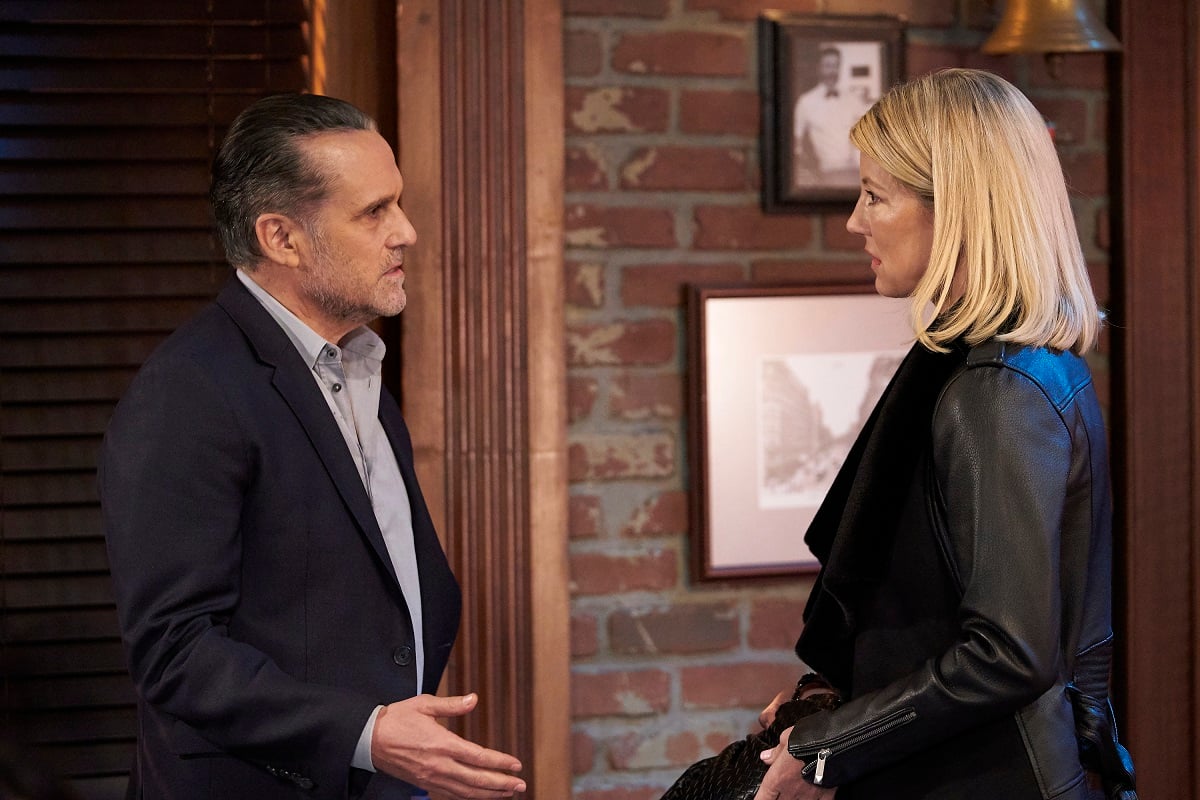 'General Hospital' spoilers reveal the verdict is in for the Wiley Corinthos custody case
Michael Corinthos (Chad Duell) versus Nina Reeves (Cynthia Watros) has been touted as the Trial of the Century. The two went to court over Nina's visitation right for her grandson Wiley Corinthos (Viron Weaver). After last week's round of testimony, the judge reaches a verdict.
RELATED: 'General Hospital': Is Nina a Victim or Villain?
According to Celeb Dirty Laundry, General Hospital spoilers suggest things don't turn out well for Nina. After the hearing, she leaves the courtroom, and Sonny Corinthos (Maurice Benard) searches for her and discovers something shocking.
Meanwhile, Joss Jacks (Eden McCoy) is in the park babysitting Wiley while the custody case wraps up. However, Joss is distracted by her ongoing relationship issues with Cameron Webber (William Lipton) and takes her eyes off her nephew, who wanders off. It looks like Nina may have more ammunition to use in court.
Carly Corinthos is hiding a big secret
Carly Corinthos (Laura Wright) is the queen when it comes to hiding secrets. She's now the keeper of another enormous secret involving Willow Tait's (Katelyn MacMullen) maternity. After DNA tests confirm Willow is Nina's daughter, Carly will decide it best not to tell the truth.
Yet, she should know by now that all secrets eventually come out. It won't be too long before someone else, possibly Drew Cain (Cameron Mathison), uncovers the truth.
'General Hospital' spoilers hint Nikolas Cassadine falls into Esme Prince's trap
It's a moment fans have dreaded; it appears Nikolas Cassadine (Marcus Coloma) is dumb when it comes to Esme Prince (Avery Kristen Pohl). Esme has made her father, Ryan Chamberlain (Jon Lindstrom), proud by driving a wedge between Nikolas and Ava Jerome (Maura West). However, according to Fame 10, General Hospital spoilers indicate Esme will seduce a drugged Nikolas.
RELATED: 'General Hospital' Speculation: Esme Becomes Pregnant by Nikolas
While Esme puts her seduction in place, Ava and Spencer Cassadine (Nicholas Chavez) search for their significant others. Unfortunately, they get there in time to stop Esme. However, Ava becomes concerned when she notices Nikolas acting strange.
How will Nikolas explain to his wife that she was right about Esme?
Britt Westbourne causes a commotion at the Society Setups party
Many Port Charles single men and women father at Society Setups to mingle and find love. Britt Westbourne (Kelly Thiebaud) is one of the guests, but her night doesn't go well. According to Soaps.com, General Hospital spoilers say Britt makes a scene at the party and orders Dante Falconeri (Dominic Zamprogna) to arrest someone.
That someone is Josh Kelly's character, who will reportedly be involved with Britt and Dante. Speculation on the character's identity has started with many wondering if he's a newbie or a beloved Port Charles citizen back from the dead. Whoever the man is, he's already creating quite a stir with his arrival.
RELATED: 'General Hospital': Kelly Thiebaud Says It Would Be 'Interesting' to See Britt Remain Single