'General Hospital' Spoilers: Sonny Demands The Truth of Carly & Jason's Wedding Night; Is Nina Leaving?
This week's General Hospital spoilers focus, once again, on Sonny, Jason, and Carly. Sonny can't really accept the fact that his true love has married his right-hand man. But as Sonny demands the truth from Carly, Nina threatens to leave Port Charles for good. This is definitely going to be a dramatic week coming up.
[Spoiler alert: Potential spoilers for upcoming episodes of General Hospital are ahead.]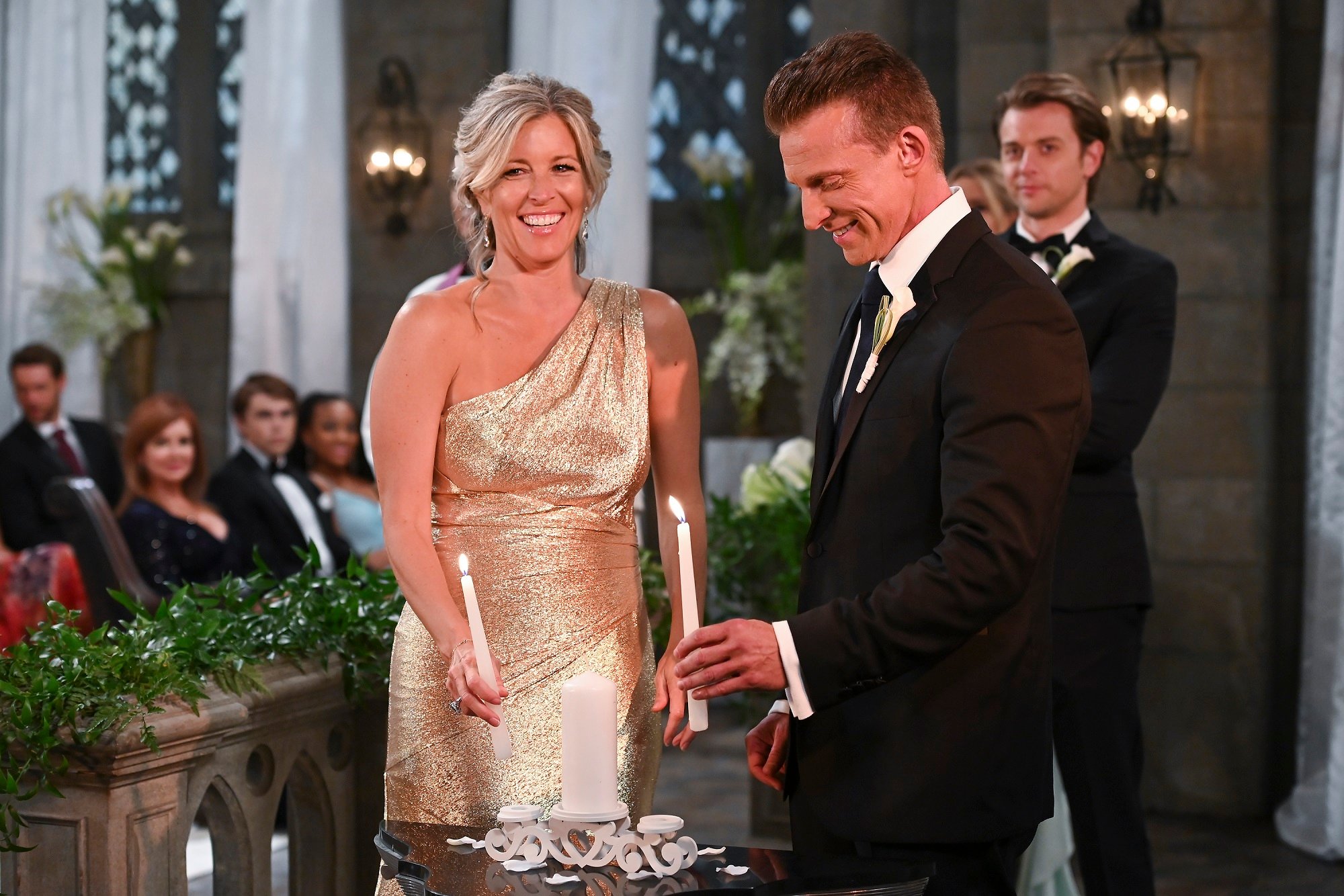 On 'General Hospital,' Sonny demands the truth
"What would have happened if I hadn't walked in?" Sonny demanded to know on the Oct. 14 episode of General Hospital. That's the question he has for his right-hand man, Jason, as the Corinthos capo is desperate to try to figure out how to get his beloved wife back. Expect things to get more heated between the pair in the coming days.
Meanwhile, according to Soaps @ SheKnows, Carly is well aware that Sonny is no longer the man he once was. Even under the best of circumstances, Carly couldn't possibly go back to the way things were before Sonny washed up in Nixon Falls and lived life as "Mike."
Nevertheless, she wants to know who knew what, when, and where about Sonny. And, as Ava aptly expressed, Nina's little secret-keeping was disturbing, to say the least. (And no, as she swore to Carly, she wasn't keeping any secrets on behalf of Nina. That'd be the last thing she wants to do anyway.)
It sounds like both of the Corinthos' want the truth. But can they handle it when it comes their way?
Carly's bent on revenge
General Hospital fans know that Carly is a woman who is hell-bent on revenge, especially against Nina. And, really, she has a good reason to be upset. After all, Nina created a whole narrative around Sonny's life that had nothing to do with reality — and even her argument about Sonny being a "better man" when he was Mike falls apart when you realize that it had no basis in reality.
So, according to Celeb Dirty Laundry, it's no wonder that Carly wants blood from Nina — to the point that even Carly's daughter Joss has noticed how her mother's been reacting to things. Joss wants to apply it in her own life — and Carly has been advising her to think twice before she does something she regrets.
"Carly will insist she's trying to back off Nina and may want Josslyn to do the same when it comes to Esme Prince (Avery Kristen Pohl)," reported the outlet. "Perhaps Carly will feel like Joss needs to let Spencer handle Esme and avoid stirring up more trouble."
Nina threatens to leave Port Charles for good
With all that's going on with Sonny and Carly (and Jason and Britt), it's no wonder that Nina wants to leave Port Charles for good. (It almost seems irrelevant that Nina was the one who caused all this drama in the first place, but here we are.) According to Soaps In Depth, look for Nina to propose leaving Port Charles for Nixon Falls on the Oct. 21 episode of General Hospital.
What's more, the outlet teases that Nina will be facing legal drama in addition to personal drama, which is why she'll be wanting to beat feet to Nixon Falls as soon as she can. "Having been so caught up in her own life's drama recently, Ava realizes that she really needs to check in with Nina when Scotty drops a piece of news about her friend," reports the outlet. "Nina needs a lawyer?" a shocked Ava asks when the two catch up at the Metro Court bar. Is Nina facing some legal trouble in addition to being a social outcast?"
General Hospital is definitely ramping up the drama in the coming days.