George Clooney Bet Michelle Pfeiffer That He'd Never Get Married Again
George Clooney spent a long time as a bachelor before he married his current wife, Amal. Although Clooney had been married once before to Talia Balsam, he remained single for over 20 years before giving marriage another shot.
In fact, Clooney was so against marriage that he made a bet with his former One Fine Day co-star Michelle Pfeiffer that he would never get married again.
Clearly, Clooney is having to eat those words today, as he's been happily married for nearly seven years, and even added two children for good measure.
George Clooney and Michelle Pfeiffer made a bet that he'd never get married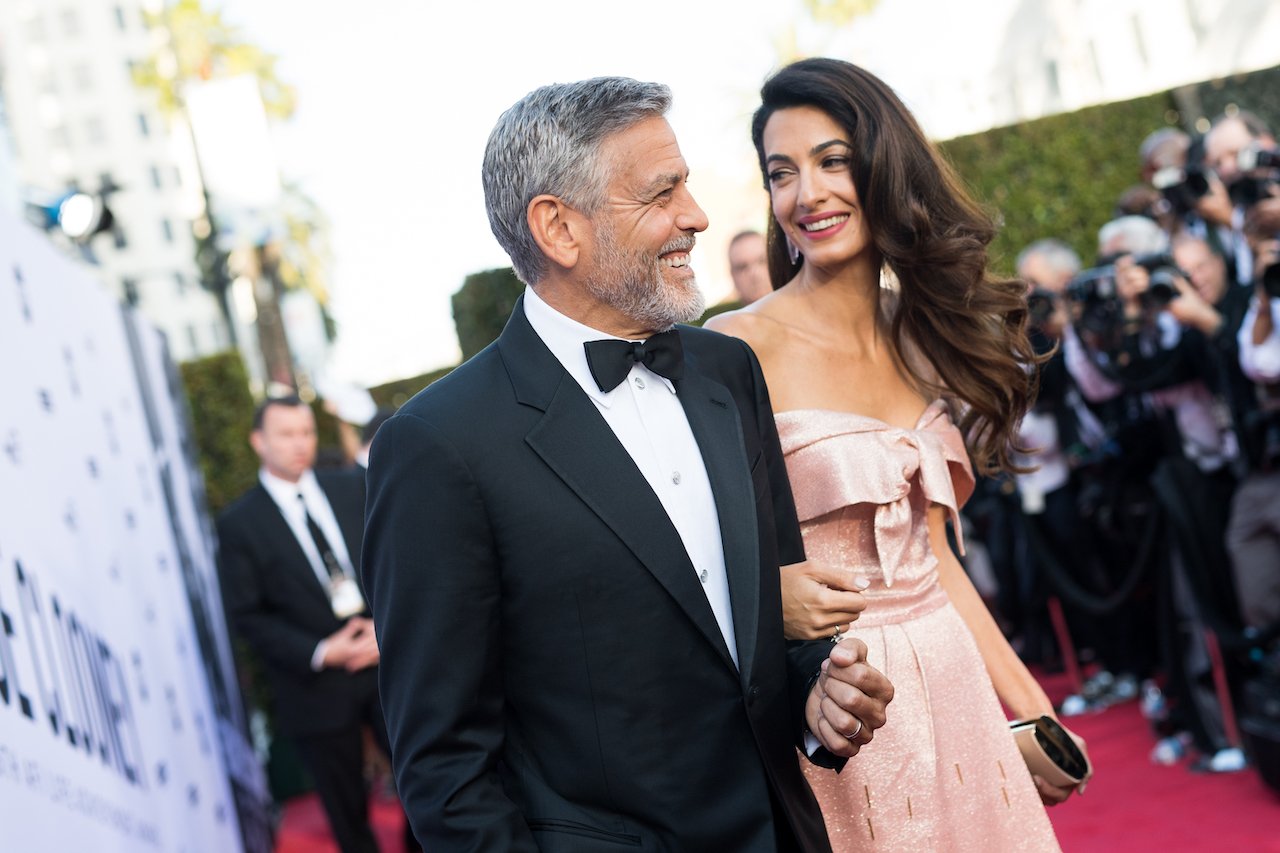 RELATED: George Clooney Says It Took Amal 20 Minutes To Respond To His Marriage Proposal
Clooney brought up the bet during a recent interview with Pfeiffer for Variety.
"You bet me," Clooney said. 'Remember the bet?"
"You're having to eat your words now aren't you?" Pfeiffer asked. "Because you were always banging on marriage."
Clooney humbly admitted that he was wrong.
"I'm eating these words," Clooney replied.
Michelle Pfeiffer bet George Clooney that he'd be married by age 40
Clooney then revealed that while Clooney had bet that he would never get married again, she bet him that he'd be married again by the time he was 40. Obviously, he tied the knot a bit later than she anticipated, but she was still partially right.
"Well, but you bet my that by the time I was 40," Clooney said. "I had to wait 'til I was elderly before—I'm like Tony Randall having children now."
He married his wife Amal when he was 53 years old
Clooney ended up marrying his wife Amal in 2014, at age 53. The two had been introduced after a friend of Clooney's brought her to his home in Lake Como.
"I was in Lake Como, single, and a friend of mine said, 'Is it ok if I bring my friend over, I'm on my way to the Cannes Film Festival, can I bring my friend over?'" Clooney told Howard Stern. "And my mom and dad were staying with me in Como at the time, and a couple of other friends. And I was like, 'Sure, bring her over.'"
Clooney knew instantly that he was interested in Amal, but the two kept their relationship platonic for some time.
"In walks Amal, and she's stunning and funny and the smartest person in every room she walks into," Clooney said. "And I was really taken with her. … We stayed up all night and talked, but we didn't date. We just started writing each other, and I wrote her for, I don't know, a few months."
George Clooney wasn't sure if Amal liked him for a long time
Ironically, a big reason why Clooney was hesitant to become romantic with Amal was that he was worried he was too old for her.
"Well, I liked her, but I didn't want to jump the shark on it, I couldn't tell if she liked me because I'm 17 years older than her. So she might have thought I was grandpa, I don't know."
Clearly, everything worked out for the best, and Pfeiffer had the right idea all along.