George Clooney Joked About His 'Racy' Texts to Barack Obama
Many celebrities are not shy about sharing their support for presidential candidates. However, it can also create a stronger friendship bond between the public figures. With George Clooney's widespread support for former President Barack Obama, it is no surprise the two have a good friendship still. The Obamas and the Clooneys have been seen vacationing together in the past, which makes many wonder how long the two families have been friends. Let's take a closer look at the friendship Clooney and Obama share.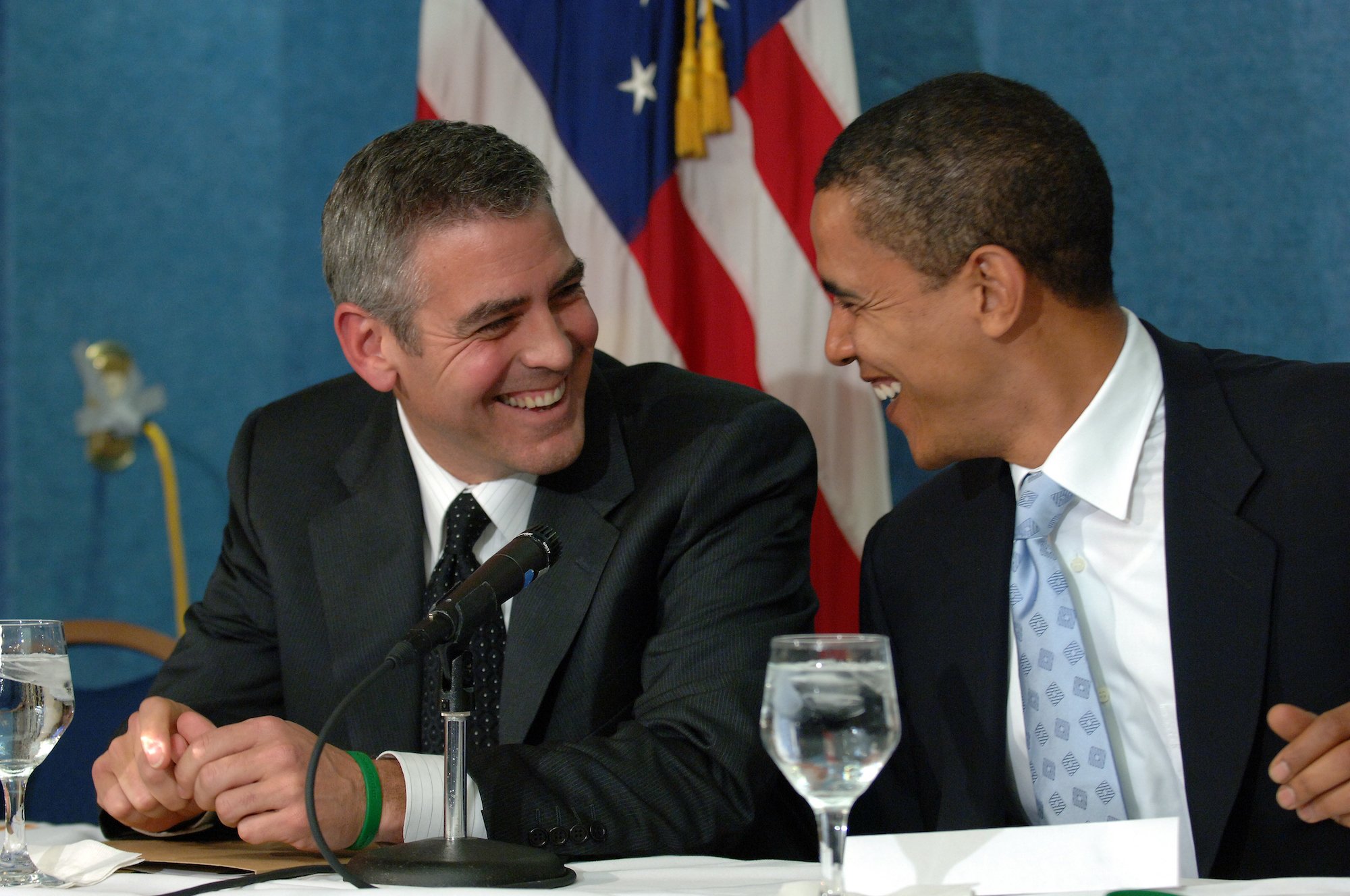 George Clooney's success 
Growing up in Lexington, Kentucky, Clooney was most interested in sports. However, after trying out for the Cincinnati Reds without being offered a contract, he changed his career focus to pursuing acting, according to IMDb. His first major role was as Dr. Doug Ross on the sitcom ER in 1984, which he was also later cast as the same character in the award-winning drama series ER. The handsome star continued to score many high-profile roles throughout his career both in television and on the big screen. 
Along with Steven Soderbergh, Clooney founded the production company Section Eight Productions, which has debuted several commending films including, Confessions of Dangerous Mind, Far from Heaven, Good Night, and Good Luck. After the shutdown of Section Eight Productions, Clooney founded another company with life-long business partner Grant Heslov. Their company Smokehouse Productions produced and Clooney starred in several well-known works including, Michael Clayton, Up in the Air, and The Men Who Stare at Goats. 
Barack Obama and George Clooney's friendship 
It's no secret that George Clooney and former president Barack Obama are great friends. According to USA Today, the two were recently spotted enjoying a boat ride on Lake Como in Italy, where the actor has a home. Obama has also stayed at Clooney's home in Sonning, England, where the two played some hoops and enjoyed a five-hour meal. However, Clooney did mention in an interview that his basketball skills may have "really bothered" Obama since he "shot the lights out that day." Most recently, the two hosted a virtual fundraiser for Joe Biden, reports Deadline.
During an interview with ET, Obama recapped the beginning of his and Clooney's friendship by saying, "The truth is we got to know each other because of a substantive issue. He is a terrific advocate on behalf of the people of Darfur, and to the people of Sudan who've been brutalized for a long time. And so when I was a senator — this was well before I was president — that was an issue that I was working together on a bipartisan basis, and George, who had traveled there, done documentaries there, and was very well-informed, came to testify in Congress. And so we got to know each other, and he is a good man, and a good friend."
Texting with the Former President 
In a 2017 reveal to The Hollywood Reporter, Clooney said that he and the former president text often. He said that "sometimes" their conversations can be racy but, "A little bit. Not Scaramucci-racy, but you know, I have over the years with my friends said a lot of really (outrageous things)."
With Clooney's years of public scrutiny, he understands the risks for what some would consider risque exchanges with his well-known friends. As for Clooney and Obama, the two they see no harm to their witty exchanges, after all, it just friends teasing each other.