George Harrison Called Bob Dylan the 'Looniest' Person He Knew
George Harrison and Bob Dylan rose to prominence in the early 1960s, and each admired the other's work. Harrison was particularly reverent of Dylan — those close to him said that the former Beatle adored him. He thought of Dylan as a musical genius but also conceded that he was a bit eccentric. Harrison explained why he thought of Dylan as one of the "looniest" people he knew.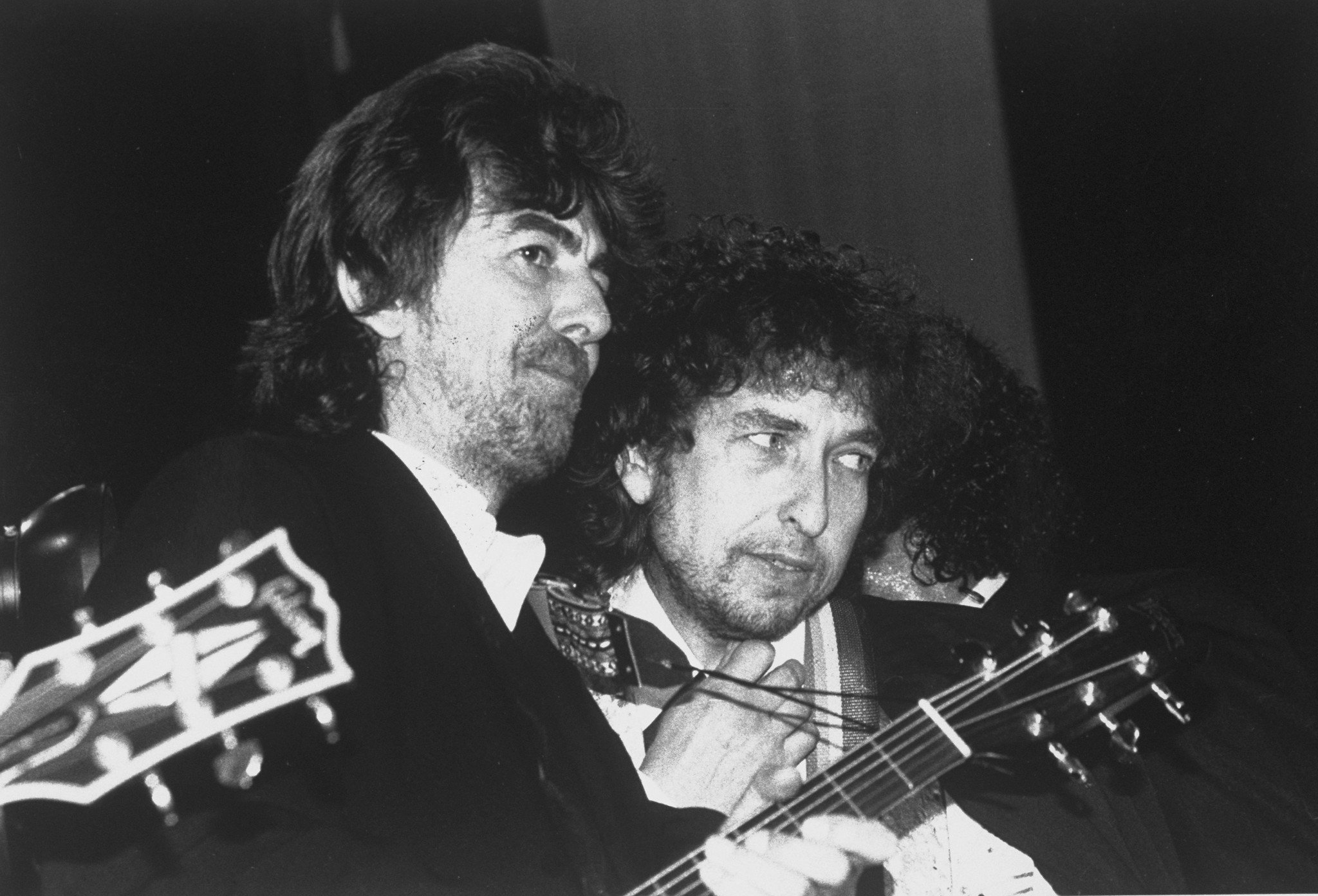 George Harrison was a big fan of Bob Dylan's work
Tom Petty worked with both Harrison and Dylan in the Traveling Wilburys. He explained that while all the band members were fans of Dylan's work, Harrison was particularly reverent of him.
"George quoted Bob like people quote Scripture," Petty told Rolling Stone, per the Petty Archives. "Bob really adored George, too. George used to hang over the balcony videoing Bob while Bob wasn't aware of it. Bob would be sitting at the piano playing, and George would tape it and listen to it all night."
He didn't want to treat Dylan differently, but he was thrilled for the chance to work with him.
"When the Wilburys started, George was so reverent of Bob," Petty explained. "At the end of the first day, he said, 'We know that you're Bob Dylan and everything, but we're going to just treat you and talk to you like we would anybody else." And Bob went, 'Well great. Believe it or not, I'm in awe of you guys, and it's the same for me.' I said to George, 'That is really amazing, how you said that to Bob.' George goes, 'I can say those sort of things. But you can't.' [laughs] George adored Bob Dylan, like 'Dylan makes Shakespeare look like Billy Joel.'"
The former Beatle said his friend was highly eccentric
In 1975, Harrison spoke about his past collaboration with Dylan. The pair had first met in the 1960s and wrote the song "I'd Have You Anytime" together. Harrison had nothing but praise for Dylan.
"Bob Dylan is the most consistent artist there is. Even his stuff which people loathe, I like," Harrison said, per Express. "Every single thing he does represents something that's him. He may write better songs tomorrow, sing high on this album and low on another, go electric or acoustic, go weird or whatever, but the basic thing that causes all this change is an incredible character named Bob Dylan."
He explained that Harrison's musical choices were a tad eccentric.
"He's the looniest person I know!" he said.
George Harrison once said he wasn't sure that Bob Dylan considered him a good friend
Harrison admired Dylan, but he wasn't sure the other man considered him a close friend.
"I don't know how good a friend I am; he's my good friend, but I don't know how good I am to him," he told Creem Magazine in 1987. "But I love him, I really do, and I think he's funny."
He shared his hope to work with Dylan again.
"I don't want to embarrass him because I'd like to meet him again some­ day, but he's special," he said. "And there's not a lot of people I'd say that about."
Just a year later, the two would work together as bandmates in The Traveling Wilburys. 
RELATED: George Harrison Got in Trouble With His Wife at Bob Dylan's 30th Anniversary Concert