George Harrison Said His 'Musical Guru' Was Ravi Shankar
George Harrison once called Ravi Shankar his 'musical guru.' Here's what that meant to the Beatle, and how he felt about his teacher.
Article Highlights:
Who was George Harrison's musical guru, Ravi Shankar?
Music and spirituality were very connected for the Beatle.
Harrison thought Shankar was a "brilliant" teacher.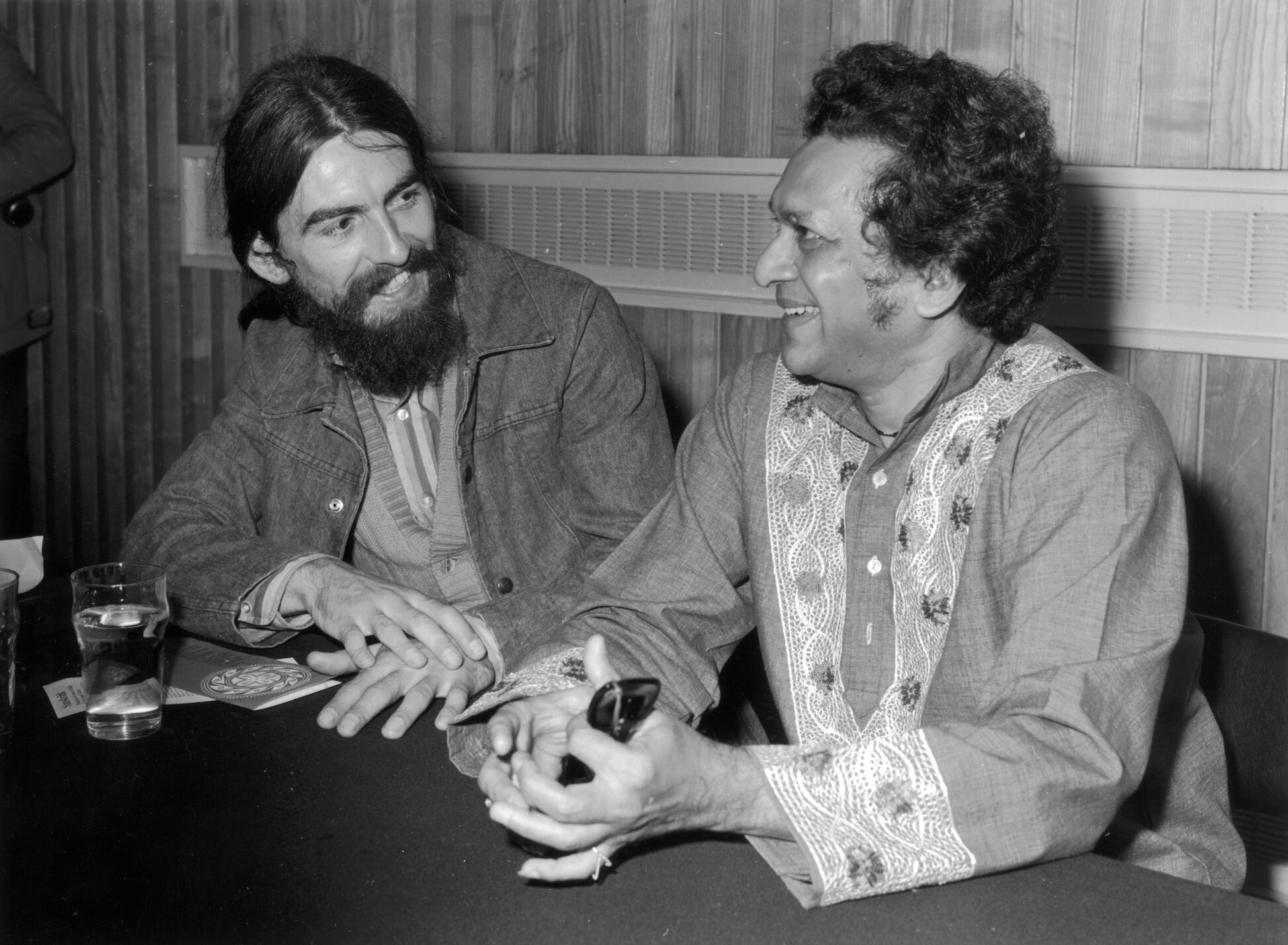 In the late 1960s, George Harrison became incredibly passionate about expanding his consciousness and spirituality. He used music as a tool to help him explore his curiosities. In a 1967 interview, the Beatle said Ravi Shankar was his "musical guru." Here's who he was and what Harrison had to say about him.
Who was Ravi Shankar?
According to Britannica, Shankar's full name was Ravindra Shankar Chowdhury. And he was born on April 7, 1920, in Benares (now called Varanasi), India. At the age of 18, Shankar began studying the sitar under Ustad Allauddin Khan. Eventually, he became the world's best-known supporter of Hindustani classical music. He won Grammy Awards for the albums West Meets East, The Concert for Bangladesh, and Full Circle. Two months after he died, in San Diego, California, in 2012, he won a fourth Grammy for a collection called The Living Room Sessions Part 1. Thanks in part to his work with Harrison, Shankar helped to bring Indian music to the West.
Ravi Shankar was George Harrison's 'musical (and spiritual) guru'
In an interview with the International Times in 1967, Harrison explained how Shankar was not only a music teacher but a spiritual teacher to him as well. For Harrison, music and spirituality were very connected.
"Ravi's my musical Guru," he said, as recorded in the book George Harrison on George Harrison. ". . . Through the music you reach the spiritual but the music's very involved with the spiritual JBS [a reference to a Hindu holy triad—brother Jagannath and Balabhadra and sister Subhadra—worshipped by members of the Hare Krishna movement] we know from Hari Krishna we just heard. It's so attuned to the spiritual scene, it depends how spiritual the musician is. Ravi is fantastic. He just sits there with a bit of wire and just does all that and says all that, things that you know and can't say because there's no words and he can say it like that."
George Harrison on his guru as a teacher
Not too long before this interview, Harrison had gone to India, in part to watch and learn from Shankar. The Beatle had great respect for the Indian musicians he met while he was there.
"There were these musicians who are all advanced students of Ravi's and he'd been giving them a lesson," he said. "We were there just to watch a bit, and he sat in the middle and sang and they all followed him and went through about two and a half hours. . . improvised the whole lot. He was singing—which was pretty far out. All these people playing knocked me out so much, it was so great yet they were so humble and saying 'It's such a pleasure to meet you,' which was horrible because I was trying to be humble there. I was there for that, not for anything to do with being a Beatle. Ravi Shankar is so brilliant and these fellows, as far as I was concerned, were very far out."