George Harrison Took Care of a Sick Tom Petty While Recording 'I Won't Back Down' Together
George Harrison took care of a sick Tom Petty while they recorded Petty's 1989 hit 'I Won't Back Down.'
It was love at first sight when George Harrison and Tom Petty first met. They felt as if they'd been friends in their past lives and immediately bonded. They played together in The Traveling Wilburys, and George helped Petty with his solo work.
The former Beatle even played nurse for Petty, taking care of him while he was sick during the recording of "I Won't Back Down."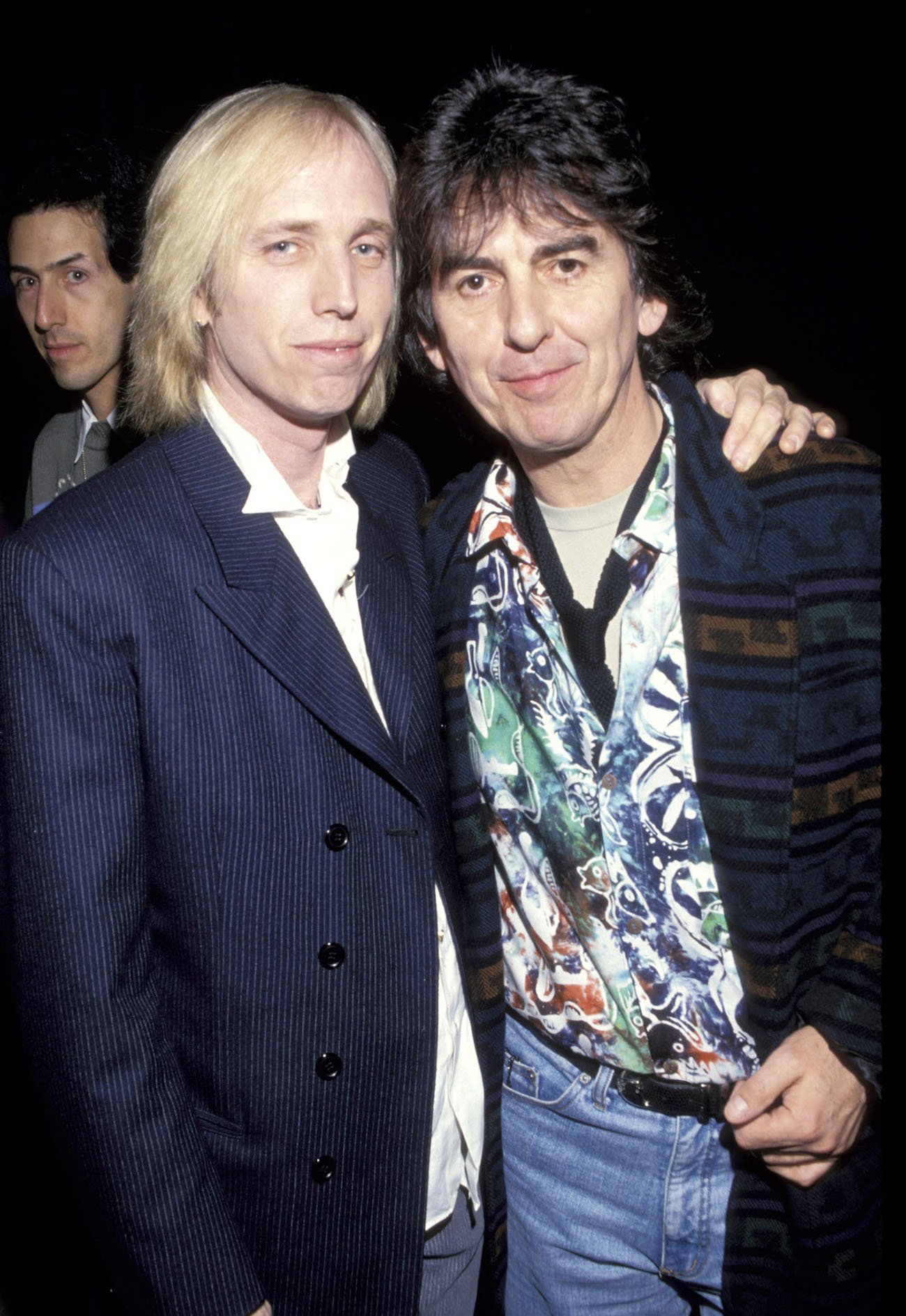 George Harrison and Tom Petty met in 1974
The former Beatle and The Heartbreakers frontman first met in 1974 when Petty worked at Leon Russell's.
"There were a few nights with sessions with George and Ringo," Petty said in a special edition of Rolling Stone called "Remembering George."
Petty continued, "It's a scary thing meeting Beatles, but George was so nice to me and included me in everything. Then our paths didn't cross again until years later. This was probably '85 or '86, when the Heartbreakers were touring England with Bob Dylan. George came one night to see us in Birmingham. Bob was busy with something, and so we wound up just talking.
"I reminded him that we'd met, and there was some kind of weird click. It felt like we had known each other all our lives, and in a very personal way. We wound up just hanging a lot. I have a great photo somewhere — it was my birthday, and George brought a little cake to my dressing room.
"In the photo, there is me with George and Jeff Lynne, Roger McGuinn, Bob Dylan and Mike Campbell — all of my favorite people right there, and it was all so sweet. I think Ringo was there as well. That night there was a surprise hurricane in London, and my life never felt the same again after that hurricane."
Petty started to feel that he and George were best friends in their past lives. After the strange hurricane, they met again by coincidence. They were at the same restaurant. George called Petty over to his table and told him he'd just asked Lynne for Petty's number.
Then, George and Petty formed The Traveling Wilburys and became life-long friends.
George took care of a sick Petty while they recorded 'I Won't Back Down'
Around the time George and Petty recorded both of The Traveling Wilburys' albums with their fellow Wilburys, Bob Dylan, Jeff Lynne, and Roy Orbison, they worked on Petty's 1989 hit "I Won't Back Down."
However, while recording the song, Petty was sick. So, being the good friend that he was, George got some home remedies for Petty so they could continue.
In 2010, Petty told Mojo magazine (per Song Facts), "At the session, George Harrison sang and played the guitar. I had a terrible cold that day, and George went to the store and bought a ginger root, boiled it, and had me stick my head in the pot to get the ginger steam to open up my sinuses, and then I ran in and did the take."
George saved the day and helped get "I Won't Back Down" recorded. That wasn't the only time George did that for Petty.
The former Beatle helped get 'Free Fallin' recorded
Petty explained that George helped get his song "Free Fallin'" recorded during his speech at the MusiCares Person of the Year Gala in 2017.
He looked out into the crowd and gave shout-outs to record executive Mo Ostin and George's widow, Olivia Harrison. Seeing them reminded Petty of the moment George helped him.
"And so much has happened to me that you wouldn't believe," Petty said (per the Recording Academy's Medium). "I'm not gonna try to tell it all to you, but I'm thinking right now about one particular thing. I was looking out there — I know so many people here. Mo, Mo and Olivia are out there. I love Mo and I love Liv.
"Me and George Harrison and Jeff Lynne one night were at Mo Ostin's house — this was before, we were just working on the idea of the Traveling Wilburys — and I had written this song 'Free Fallin' and done the record and taken it to my label, MCA. And they rejected the record. And that had never happened to me before. I was like, wow, what do I do?
"So, we forgot about it. And we were at Mo's house and dinner ended and George said, 'Let's get the guitars out and sing a little bit.' And we sang and George said, 'Let's do that 'Free Fallin" Tom. Play that.'
"So we had a kind of Wilbury arrangement of it with harmony. And we did it. And Lenny Waronker is sitting there, he said, 'That's a hit.' With two acoustic guitars, you know? I said, 'Well, my record company won't put it out.' And Mo says, 'I'll f***in' put it out."
Petty said he learned so much from George and loved making music with him. They're jamming together wherever they are.