George Lucas Won't Be Giving His Fortune to His Kids
Every parent wants their kid to grow into a successful and happy adult, but we don't all agree on how best to make that happen. Star Wars creator, George Lucas wanted to give his children the best future by not giving them an easy start.
Although he's a billionaire, Lucas' kids won't be seeing much of that fortune. Instead, he has other plans for the money. But don't feel too bad for them, Lucas' kids benefit from the Star Wars franchise in lots of other ways. 
George Lucas has four kids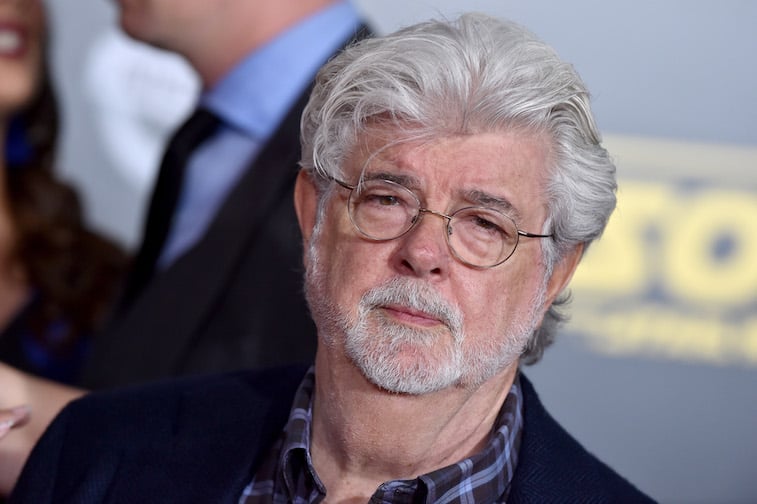 Lucas didn't spend all of his days creating Star Wars, somehow the busy filmmaker also found the time to raise a family. With his first wife, film-editor Marcia Lou Griffin, he adopted a daughter named Amanda Lucas. The child joined his family in 1981 after he and Griffin had been married for 12 years. Unfortunately, only two years later, in 1983, their marriage ended. 
Undeterred by the breakup of his marriage, Lucas went on to adopt two more children as a single parent, Katie Lucas in 1988 and Jett Lucas in 1993.
After his first three children had grown into adults, Lucas married DreamWorks Animation chairman, Mellody Hobson in June 2013. Together, the couple had Lucas' first biological child, Everest Hobson Lucas, born via surrogate in August 2013.
George Lucas is using his fortune to fund education
Instead of passing his enormous wealth onto his four kids, Lucas has decided to fund education for other people's children.
In 2012, he sold Lucasfilm to Disney, making a profit of around $4.05 billion. Around the same time, he released a statement published by The Hollywood Reporter indicating that the bulk of the profit from the sale would go toward educational philanthropy.
The announcement was no surprise. In 2010, Lucas had promised his money would fund education. 
"I am donating the majority of my wealth to improving education," Lucas said in his previous statement. "It is the key to the survival of the human race. We have to plan for our collective future – and the first step begins with social, emotional and intellectual tools we provide to our children."
To fulfill his promise, Lucas created the George Lucas Educational Foundation, also known as Edutopia. The organization focuses on six core-strategies to improve educational methods and pass it's knowledge along to teachers and educators.
According to the website, the foundation is "dedicated to transforming k-12 education so that all students can acquire and effectively apply the knowledge, attitudes, and skills necessary to thrive in their studies, careers, and adult lives."
The Lucas kids grew up around 'Star Wars'
Although the Lucas kids aren't getting a huge fortune passed down from their father, they probably don't mind too much because they have their own careers now, and they've benefitted by being a part of the Star Wars world.
The oldest of the bunch, Amanda, was an MMA fighter for several years, until she quit to have her son in 2014. Katie Lucas is a writer who has written on several of the Star Wars: The Clone Wars TV episodes.
Jett still works around the films and sometimes does interviews about his father. All three of the oldest children have been involved with the Star Wars franchise since they were little, even playing small parts in the films as teens. 
When asked about her experience growing up with Star Wars, Katie told Syfy Wire, "Like anything else, it has it's ups and downs, but I have had some great experiences and have met some incredible people," she said. "I spent most of my adolescence on the sets, so I have some really fun angsty memories. For instance, I had my first kiss on Attack of the Clones."
In the end, experience and connections are worth far more than money, and Lucas' children definitely have access to those after practically growing up on-set. Besides, they'll be far more happy and successful in the long run if they build their own fortune instead of living off their father's.