George Lucas and Steven Spielberg Decided to Put This Small Detail in an 'Indiana Jones' From 'Star Wars'
The Star Wars franchise and the Indiana Jones franchise have a lot in common. For one, Harrison Ford plays major characters in both, and while he has had some harsh words for his character of Han Solo, his fame has been built around these iconic performances. Both franchises have also brought forward blockbuster hits that have been long-standing family favorites when it comes to thrilling action movies. They also share a link in their creative talent.
George Lucas served as both writer and director for the original Star Wars films while Steven Spielberg directed the Indiana Jones series. Lucas, however, has been the writer behind the story of Indiana Jones' courageous exploits, and this collaboration is built out of the two creators' long-lasting friendship. They've also managed to sneak in some fun Easter eggs to tie the films together for fans. 
George Lucas and Steven Spielberg have challenged and inspired each other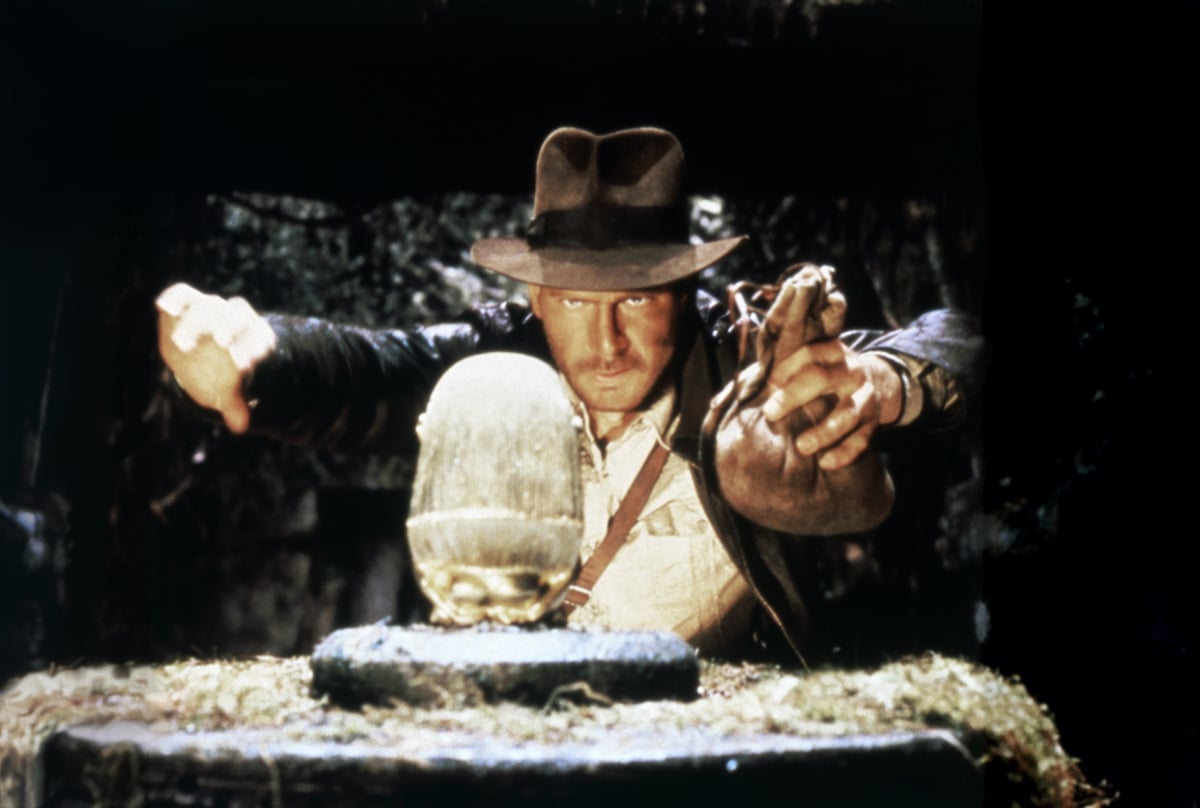 As The Things reports, Lucas and Spielberg were both driven and ambitious creatives getting their start in the industry in the late 1960s. In 1967, Spielberg saw Lucas' debut film,THX-1138, a sci-fi thriller from the 25th century where a man and a woman given labeled designations instead of names rebel against the stifling confines of an authoritarian society. Obviously, the early work was an inspiration for Lucas' later plot points in the Star Wars trilogy, and Spielberg recognized the genius of the writing as soon as he saw it. 
While Spielberg expressed jealousy over Lucas' talents, he also deeply respected his creative abilities. A few years later, the two men met at a screening for Spielberg's film Duel, an action flick about a businessman terrorized by a deranged driver with a tractor-trailer. There, the respect and admiration became mutual, as Lucas knew from 10 minutes of viewing that Spielberg had amazing talent. 
Over the years, the pair grew to become friends and then collaborators, challenging one another to build their skills and become even better at their craft. Eventually, they worked together to create Indiana Jones and the Raiders of the Lost Ark, a 1981 film that would become an action classic and spark multiple sequels. 
'Indiana Jones and the Raiders of the Lost Ark' contains fun a 'Star Wars' reference
The men could not have known just how successful Indiana Jones and the Raiders of the Lost Ark would become, but they did know that the original Star Wars trilogy of films had created quite a stir in popular culture. They decided to give fans a little surprise as they built out the set where Indiana Jones would complete his daring acts.
In one Raiders of the Lost Ark scene, Indiana Jones — an archaeologist with a penchant for getting himself into dangerous positions — has to lift the prized Ark of the Covenant out of a crate. In this moment, he is surrounded by ancient pillars decorated in elaborate hieroglyphics. As Tickets 2 You reports, fans who look closely may notice something that's decidedly out of place among the etchings. 
There, among the Egyptian-like markings, is a stylized marking of R2-D2 and C3PO carved into the column! 
Will fans see even more Easter eggs in 'Indiana Jones 5'? 
Lucas and Spielberg have been collaborating for four decades, and they aren't done yet. We know that there is an upcoming installment in the Indiana Jones franchise that's currently just titled Indiana Jones 5. The details about the film are sparse, but we do know that Harrison Ford will be reprising his iconic role — and that Spielberg has assured fans they shouldn't worry about his aging. 
The new movie is expected sometime in 2022, and it might offer even more opportunities for crossover content and Easter eggs to the delight of sleuthing fans.