George Michael Green Lit Paul Feig's 'Last Christmas' but on 1 Condition
It's hard to deny that George Michael's Christmas tune "Last Christmas" is a holiday classic. However, if you don't like it, at least one good thing came out of it; a film, which takes the song's name and its lyrics "Last Christmas, I gave you my heart" literally.
Paul Feig's 2019 film, Last Christmas, starring Henry Golding, Emilia Clarke, and Emma Thompson, has become just as much as classic as its namesake. But there was as big a twist to the film's initial beginnings as its plot.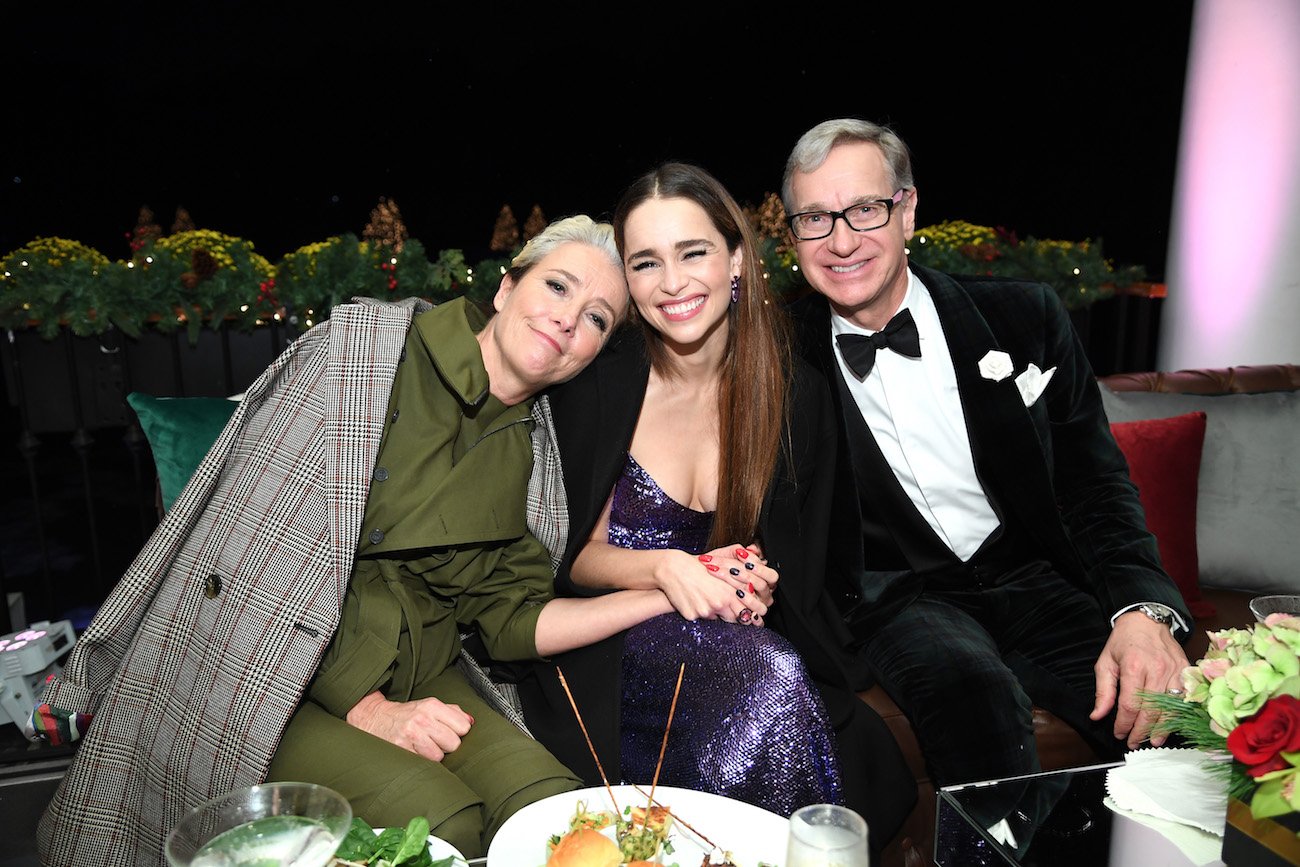 George Michael gave his blessing for 'Last Christmas' but on one condition
When producer David Livingstone thought of doing a film centered around Michael's "Last Christmas," he knew he had to get the pop stars blessing. Thankfully for him, the film was in its infancy while Michael was still alive.
According to Mental Floss, Livingstone pitched it to the singer, and Michael immediately gave the green light on the project. However, he had one condition.
Michael wanted actor and author Emma Thompson to write the movie. He got his wish. Thompson co-authored the story and the screenplay and played a supporting role, the mother of leading lady Emilia Clarke's character.
"I had worked in a different capacity on 'Nanny McPhee' and 'Love Actually,' so I knew Emma," Livingstone told the New York Post. "I sent her a note, and she said, 'I never get offered material like this. I'd love to do it!'"
Later, Thompson met with the Wham! frontman himself to get his official stamp of approval. He requested another thing from her, though; he wanted a homeless element in the film.
"When Emma had filled [George] in on what she was doing… he asked her if she could put in a homeless element because that was such an important cause to him," said Feig. "So it really is nice to have that in there because it's something that he wanted."
RELATED: Is Emilia Clarke Singing In the 'Last Christmas' Trailer? Here's Our Look Into the Movie's Soundtrack
Livingstone delayed the film after Michael died
Michael never got to see the final product of Last Christmas. He died on Christmas in 2016. So, Livingstone halted the project out of respect to Michael's family.
"There was nothing specific holding us up except respect," said Livingstone. "I was not looking forward to the moment when I sent the script over [to Michael's family] because I just thought, 'Are they ready?' Then George's manager [David Austin], with the blessing of the family, came back to us and said, 'What happened to that film?'"
Michael's manager even offered a previously unreleased Michael song, "This Is How (We Want You To Get High)," which Michael completed during his final recording sessions in 2015. Emma played it for Livingstone, and they decided to add it to the film's credits.
RELATED: Emilia Clarke Is Frustrated About People Spoiling 'Last Christmas' and Relates It to 'Game of Thrones'
Feig wanted to use more of Michael's songs in the film
When Thompson sent the script to Feig, he knew he was in on the project. Initially, the Last Christmas was only supposed to feature Wham!'s "Last Christmas," and Michael's solo hit "Faith." However, Feig wanted to add more of Michael's material after seeing the 2017 documentary George Michael: Freedom.
"I went from being a casual fan of the hits to going like, 'Oh, my gosh, he's done all these other songs that I'd never heard that just sounded so amazing,'" Feig said. "So I got all the albums and just started going through them track by track."
Coming across "Heal the Pain," from Michael's 1990 album Listen Without Prejudice, Vol. 1, Feig thought, "This is our movie. It really talks about all the themes."
The film eventually included 15 of Michael's songs, and his "Last Christmas" was the crowning jewel at the end of the film. If he'd been able to see Last Christmas, it's safe to say that Michael would have enjoyed it immensely.
RELATED: Emilia Clarke Drew From Personal Experience For Her 'Last Christmas' Role