'Ghostbusters: Afterlife': Mini Marshmallow Men 'Watch the World Burn' Says Jason Reitman
Ghostbusters: Afterlife promises to honor its 1984 predecessor with more than a story centered on Harold Ramis' Egon. Fans are excited to see his grandchildren pick up the mantle and ride through town in the Ecto-1. In a cool twist, the latest trailer reveals odes to the terror dogs and itty bitty Stay Puft Marshmallow Men wreaking havoc in a Walmart.
Yes, the iconic Stay Puft villain is back in effect. Director Jason Reitman has a one-of-a-kind childhood memento that inspired him to resurrect the giant monster. However, there's a reason they're so tiny in this movie.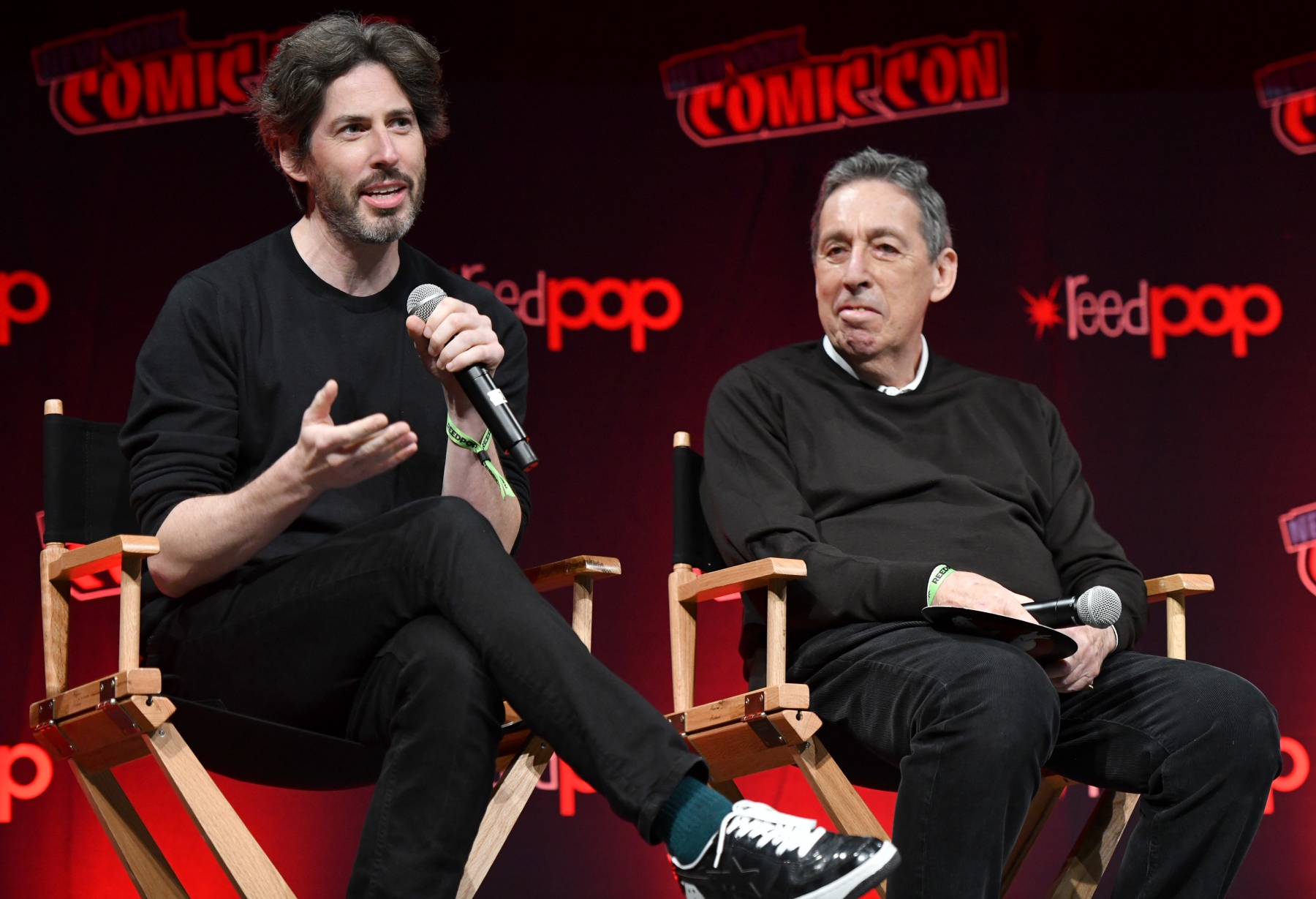 Jason Reitman kept a piece of 'dead Marshmallow Man' from original 'Ghostbusters'
As many fans know, Ivan Reitman directed the classic Ghostbusters film in the '80s, kicking off a franchise, cartoon, and line of awesome merch. He signed on as a producer for son Jason's revival, and the pair feature in the November issue of Empire magazine.
During a sit-down with the outlet, they reminisced about Jason's frequent visits to the set while filming parts 1 and 2. He even kept a souvenir from the inaugural movie — Stay Puft flesh — and it inspired the rascally mini Marshmallow bandits in Ghostbusters: Afterlife.
Jason Reitman recalled when William Atherton's character got covered in goop. Atherton played the EPA inspector who demanded the Ghostbusters shut their containment unit down. He received a comeuppance in the form of a marshmallow blast. Reitman was present when they filmed those scenes.
"They emptied a giant garbage bag filled with shaving cream. I kept this little white piece of foam, a piece of dead Marshmallow Man, for years after in my bedroom. I wish I still had it. I remember Gil [Kenan] and I sitting there going, 'Alright, well, the end of the first one has the Marshmallow Man, the second one has a Statue of Liberty,'" he said.
Reitman calls tiny Marshmallow Men world-burning toddlers
Looking back, we remember how Stay Puft terrorized Manhattan. He went from a cute and cuddly mascot to an overgrown baddie, and it was both scary and hilarious. Ghostbusters 2 used the Statue of Liberty to save the day.
Reitman acknowledged the pattern and deliberately wanted to flip it for Afterlife.
"There's this theme of something giant showing up at the end," Reitman told Empire. "And we just went, 'Well, what if we went the opposite direction? What if they were tiny?' And the moment we said that, we had the idea of these little Marshmallow Men who acted like toddlers and just wanted to break things and watch the world burn. It was just so much delight, they became such easy characters to write for."
How to watch 'Ghostbusters: Afterlife'
The new adventure film lands in theaters on Nov. 19 and will not be available for immediate streaming. Dan Aykroyd, Bill Murray, Ernie Hudson, and Sigourney Weaver all reprise their roles in the highly anticipated nostalgia trip.
With terror dogs and a Gozer reference in the trailer, some fans hope that Rick Moranis makes a surprise cameo in a movie that's dedicated to Harold Ramis' memory. Prepare to see some marshmallows roast in November.