'Ghostbusters' Documentary Has New Surprises About the Classic Comedy and You Can Watch It for Free
Ghostbusters must be one of the most widely reported on movies in history. Between DVD and Blu-ray releases, anniversary retrospectives at 20, 25 and 30 years, plus a Movies That Made Us episode, one would think there's nothing new to reveal about the original film. However, Cleanin' Up the Town: Remembering Ghosbusters still found a few new tidbits. 
RELATED: The 'Ghostbusters' Scene That Convinced Bill Murray the Movie Would Be Huge
Plus, you can watch Cleanin' Up the Town free. The Ghostbusters retrospective is now available on the Crackle website or app, free with periodic ads. Here are some of the new things you'll learn.
Animated renderings of the original 'Ghostbusters' script
Dan Aykroyd often talks about his unwieldy original script to Ghostbusters. His original vision sent the ghostbusters into hell and included a lot of details about how the paranormal science actually worked. Even Aykroyd admits its for the better that the film focused on modern day ghostbusters experiencing this for the first time.
However, as curiosity piques for Aykroyd's original draft, Cleanin' Up the Town renders some of Aykroyd's original scenes in animated form. They also render his original vision to cast John Belushi. Since Belushi passed away in 1982, animation is really the only way to envision him as a ghostbuster now.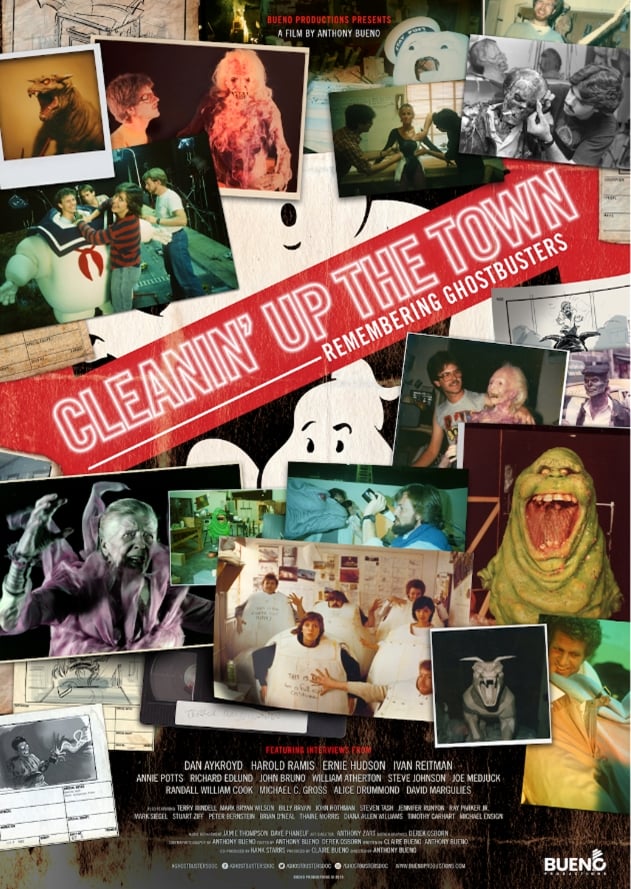 RELATED: Dan Aykroyd Hints At a 'Ghostbusters: Afterlife' Reunion with Bill Murray
They also include some original R-rated language, like Venkman (Bill Murray) saying "F*** off man, I'm a scientist" instead of "back off." They have a deleted scene of Murray, Aykroyd and Harold Ramis saying "Ghost Breakers" and "Ghost Blasters" in case they couldn't clear the title. If those have leaked before, they still feel new.
New interviews with ghostbusters who are no longer with us
Cleanin' Up the Town director Anthony Bueno and his sister, producer Claire Bueno have been gathering interviews for 10 years. They got Ramis, who passed away in 2014, so it's nice to see a new interview with him.
They also interviewed Jennifer Runyon and Steven Tash, who play Venkman's lab rats in his introduction scene. That's a major scene from the movie that we don't usually hear about in other documentaries. Alice Drummond, the librarian, appears too.
A different take on behind the scenes footage
A lot of DVD extras are kind of boring and mundane. They all do the same behind the scenes look at the special effects, which may be amazing and magical but they all boil down to "here's how we make it work."
Well, when the special effects are as memorable as Ghostbusters, seeing the incomplete elements is really something. Seeing background plates for the library ghost, including the actor performing the memorable action and seeing scary models, is a trip out of context. Likewise, the Marshmallow Man performer on a soundtstage is like experiencing the visual effect for the first time again.
RELATED: 'Ghostbusters: Afterlife' Trailer: Is Finn Wolfhard [SPOILER]'s Son?
Cleanin' Up the Town also includes snippets of Denise Crosby and Daryl Hannah's audition for the role of Dana. That's cool of them to allow that footage to be used. The fact that a lot of the crew's names were not included in the end credits seems like a big story that should have been rectified long before now. 
So that is just a taste of some of the new Ghostbusters stories you'll hear in 90 minutes of Cleanin' Up the Town. Even if you knew all of this before, it's a well made encapsulation of the Ghostbusters phenomenon.