'Ghosts' Episode 5: Halloween and Ghostbusters Spook the Woodstone Mansion Spirits
The CBS sitcom Ghosts already comes equipped for Halloween hijinx. However, in Ghosts Episode 5, 'Halloween,' the Woodstone Mansion spirits reveal that they actually hate the spooky holiday. Some ghosts prepared for battle, while others took the chance to catch up on Ghostbusters for Halloween.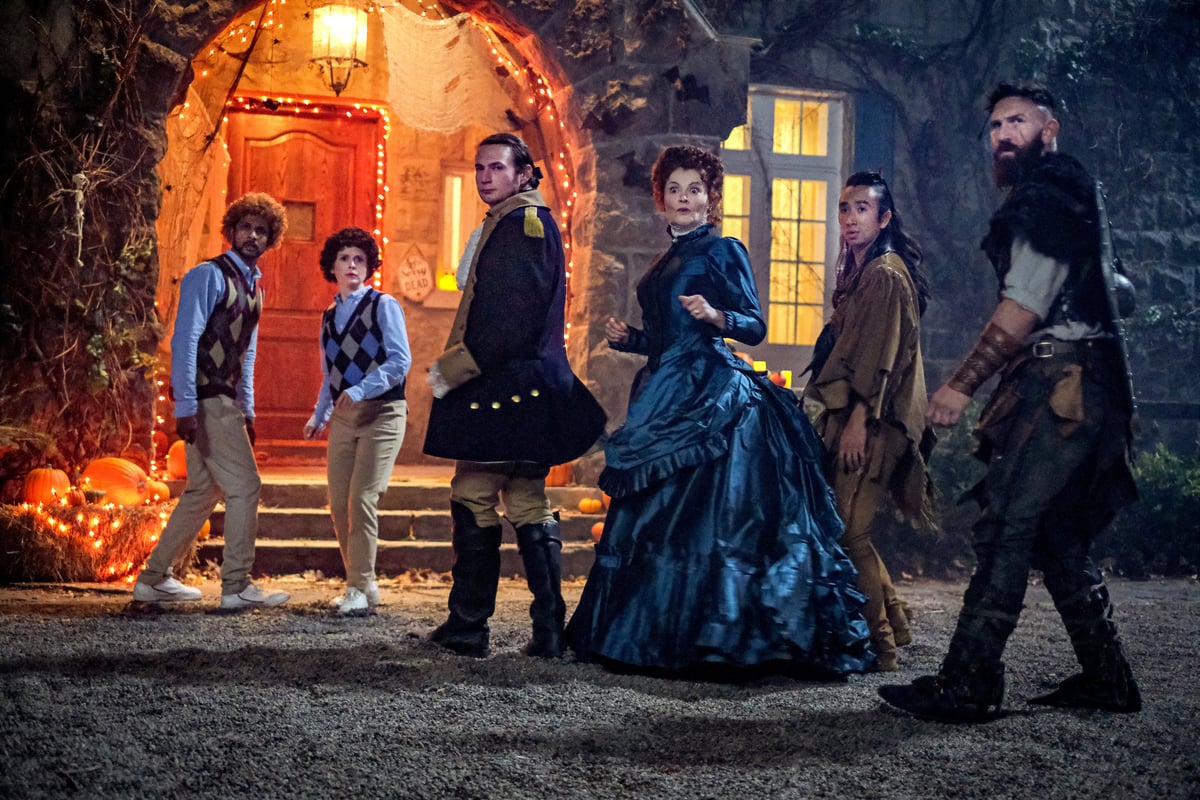 'Ghosts' Episode 5, 'Halloween' rattled the Woodstone Mansion residents with Ghostbusters
Utkarsh Ambudkar's Jay found it ironic when the ghosts said they disliked for the Halloween holiday. However, he soon learned why they hated it.
Every year, the Woodstone Mansion fell victim to the scariest Halloween terror of all: children.
The ghosts realized that with Rose McIver's Sam and Jay living there, they could finally stop the Halloween vandals. Some spirits had different ideas of how to deal with the kids than others.
Sam soundly shut down Thorfin's (Devan Chandler Long) suggestion to "bash their heads."
As trick-or-treaters stopped by, though, some of the ghosts made other plans apart from defending the house. Asher Grodman's Trevor, Richie Moriarty's Pete, and Danielle Pinnock's Alberta decide to watch Ghostbusters.
The ghosts manage to cause more damage to Woodstone Mansion than the kids
As the fateful Halloween night approached for the ghosts, Sam and Jay readied themselves (sporting a hilarious Step Brothers couple's costume). When a trick-or-treater came by dressed as a Ghostbuster, Trevor took the chance to show some of the others the classic Bill Murray flick.
However, Trevor realized that Bill Murray's comedic romp as Peter Venkman seems a lot more disturbing as a ghost.
While Trevor, Pete, and Alberta catch up on Bill Murray's Peter Venkman, the other ghosts looked out for the vandals. However, the kids lure Sam and Jay and egg the house anyway. Even getting parents involved proved useless.
The ghosts tried to help, but they only managed to cause more damage — which they blamed on the kids. Alberta could tell that something odd was going on. The spirits split between those wanting to come clean and those wanting to dig deeper into the lie.
After 'Ghosts' Episode 5, 'Halloween,' Richie Moriarty's Pete looks to take the focus
While the ghosts faced a collective issue in episode 5 for Halloween, Pete looks to tackle his own problems in episode 6.
The Futon Critic listed the official synopsis for Ghosts Episode 6 as: "Pete convinces Sam to invite his living wife to the mansion, only to discover she's been keeping a dark secret from him for many years."
The synopsis continues to say that "Sassapis gets angry with Thorfinn for binge-cheating their favorite show without him, and Trevor learns he may have a daughter." While Pete and the living residents of Woodstone Mansion deal with his wife, the other ghosts are no less busy in episode 6.
The CBS sitcom returns on November 4, 2021.