Giada De Laurentiis Always Has These 6 Italian Staples In Her Pantry
Giada De Laurentiis is very particular about what Italian groceries she keeps tucked away in her pantry. The Giada at Home star has stores of the best pasta, olive oil, condiments, and ingredients the world has to offer, just in case she needs to make a quick meal. While her pantry contains ingredients that could make dozens of recipes on a whim, there are only six things she keeps stocked in her pantry at all times.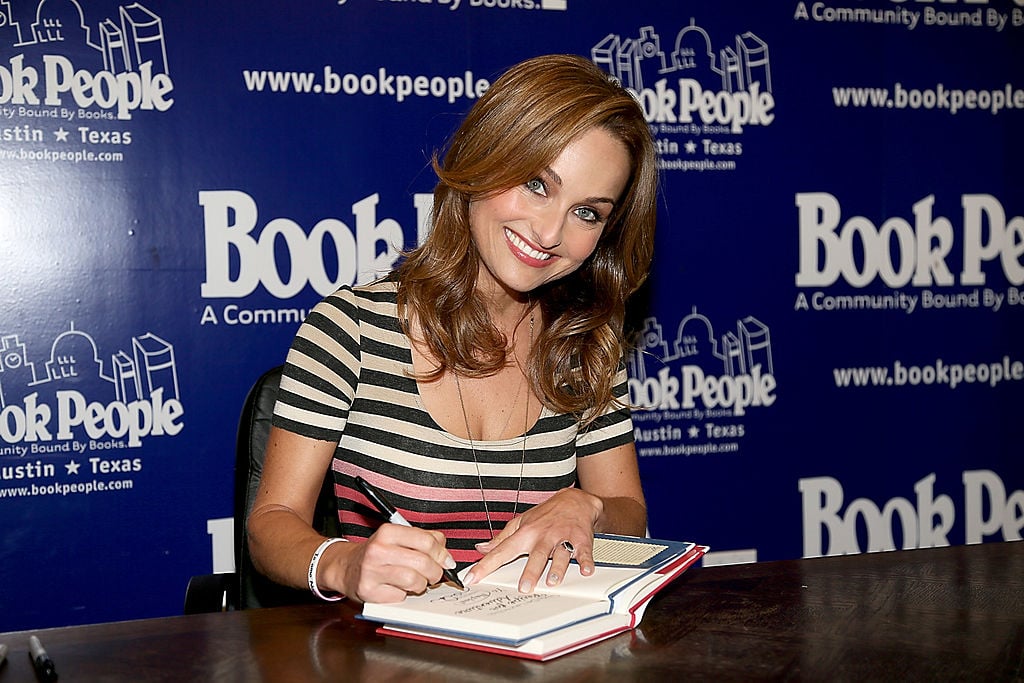 6. Setaro Dried Pasta
According to Bon Appetit, De Laurentiis turns to Setaro's dried pasta whenever she does not feel like making her own pasta from scratch. The chef believes this brand makes some of the best dried pasta in stores and always keeps some on hand in her pantry.
"It has the perfect chewiness and, when cooked al dente, tastes just like fresh pasta," she explained.
When it comes to different types of Setaro pasta, Giada De Laurentiis says that it all depends on what she is making. Pappardelle, for instance, is great for hearty dishes like lamb ragu, while something like small orzo is good to mix with a dish for a more flavorful meal.
5. Castelvetrano Olives
The Food Network star loves eating these delicious olives, mainly because they are more sweet to the taste than briny. Hailing from Italy, these olives make the perfect snack in-between meals.
They can also be incorporated into salads and sauces, or chopped up into a rosemary-olive tapenade for fried potatoes and a little bit of goat cheese.
4. Amore Anchovy Paste
There is no denying that there are a lot of anchovy haters out there. But for Giada De Laurentiis, you can easily get around an anchovy bias by using a bit of paste — and her favorite brand on that front is Amore.
The Food Network star dissolves the past in her favorite olive oil (more on that later), which she says takes the fishy flavor right out of it.
Better yet, using a paste requires very little effort and it can easily be turned into a sauce or creamy dressing on the fly. If you need a conversion from anchovy fillets to paste, a good rule of thumb is around half a teaspoon per fillet.
3. Mutti Cherry Tomatoes
Giada De Laurentiis' favorite brand of canned cherry tomatoes is Mutti. She prefers the cherry variety over a canned tomato sauce because they pack more punch in the flavor department. They add a pinch of sweetness that De Laurentiis loves as well.
For recipes, De Laurentiis uses cherry tomatoes for her farro and white bean minestrone. This dish is usually made with whole tomatoes, but she uses the smaller ones to save some time in the kitchen.
As a side note, Mutti also makes a tomato puree that De Laurentiis usually keeps on hand.
2. Tutto Calabrian Chili Paste
The only thing better than straight olive oil is when it is combined with dried chiles. Giada De Laurentiis using this concoction in just about all of her recipes, from stews and dressings to sauces and pasta.
While using some of the paste will add an extra kick to any dish, De Laurentiis appreciates how one jar keeps her going for quite a while.
One of her favorite chili paste recipes is her shrimp cocktail. All that is needed for this delicious meal is olive oil, chili paste, lemon zest, salt, dried oregano, chopped basil, Parmigiano Reggiano cheese, and shrimp.
1. Lucini Extra-Virgin Olive Oil
What else would be at number one in Giada De Laurentiis' pantry list than the revered olive oil? As fans are well aware, De Laurentiis uses olive oil in just about everything she makes — even her oatmeal.
"I eat olive oil with almost everything—from my oatmeal in the morning to salads to cooking with it, there's no such thing as too much olive oil," she stated.
While there are so many olive oil brands on the market, De Laurentiis' go-to is Lucini extra-virgin olive oil. This type of olive oil is easy to use and packs plenty of flavor.
De Laurentiis uses it on a bunch of her recipes, including dressings and pasta. And if it has De Laurentiis' seal of approval it is probably worth a try.
Fans can read more about what Giada De Laurentiis keeps in her pantry by picking up her latest cookbook, Giada's Italy, which is currently available in stores.