Giada De Laurentiis' Heart Ravioli Are a 'Surprisingly Easy to Make' Valentine's Day Dish, According to the Food Network Star
Put more heart into a Valentine's Day meal with Giada De Laurentiis' heart ravioli. Filled with cheese, the Food Network star's ravioli are made using a cookie cutter.
Celebrate Valentine's Day with a pasta dish. But not just any pasta dish. Giada De Laurentiis' heart ravioli. According to the celebrity chef, they're easier to make than they appear. Plus, what's says Valentine's Day more than hearts? 
Giada De Laurentiis' heart ravioli are made with a cookie cutter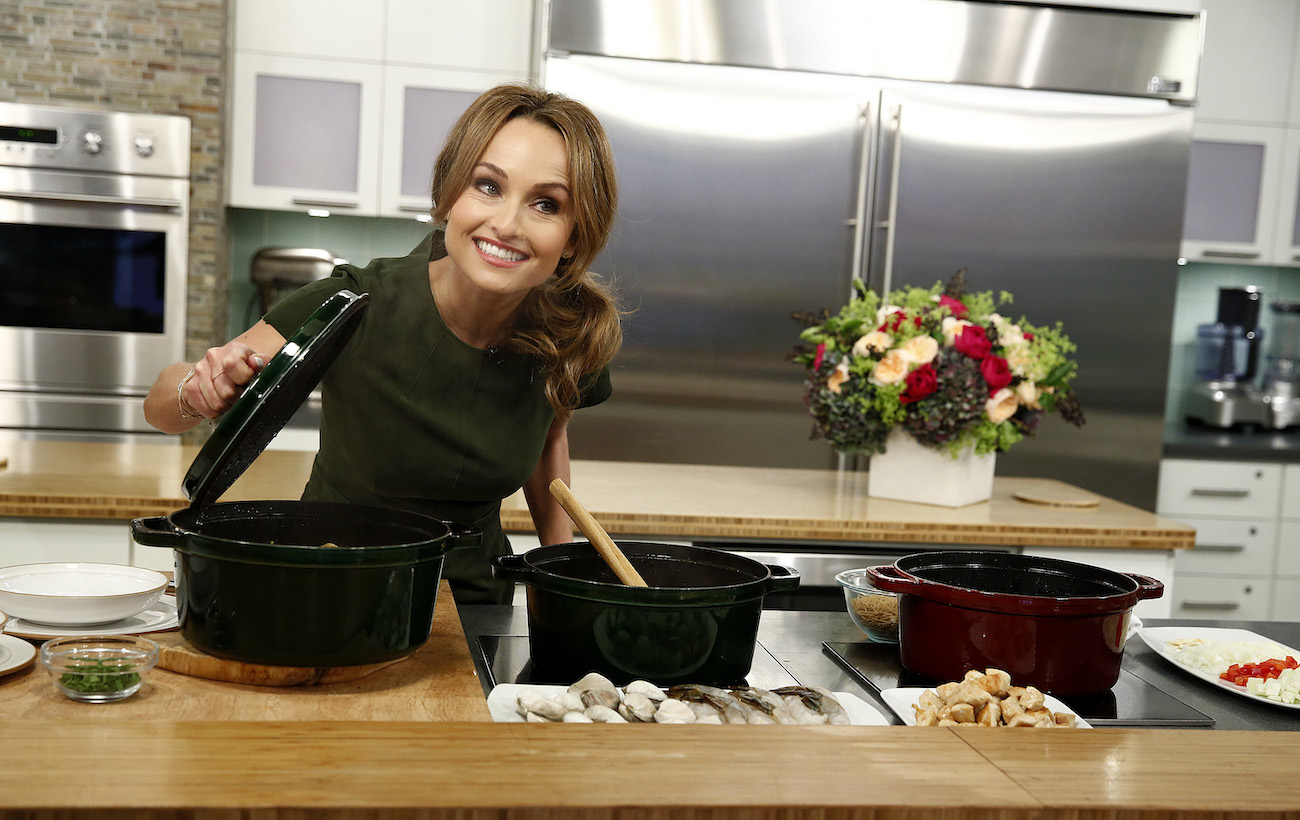 De Laurentiis' trick to making uniform Heart-Shaped Cheese Ravioli is using a cookie cutter. As she explained on Giadzy, they look festive and are actually easy to make.
"What could be more festive for Valentine's Day? These delicious cheese ravioli are surprisingly easy to make especially when you have a loved one to help you assemble them," she said. 
As for the size of the cookie cutter, the Le Cordon Bleu-trained chef said any size will do. Although it's important to note the cookie cutter's size could impact how much of the filling goes in each ravioli.
"You can use just about any size of a heart-shaped cookie cutter," she said. "But you might need to adjust the amount of filling you use." 
Essentially, De Laurentiis heart ravioli are created when the pasta dough is stamped with the heart cookie cutter. 
The Food Network star's heart ravioli can be made ahead
Carving out two hours to make De Laurentiis' heart ravioli from start to finish doesn't necessarily have to be the case. Per the Giada Entertains host, the heart ravioli can be prepared in advance. 
How far in advance? The day of, according to De Laurentiis. 
"The great thing about this recipe is you can assemble all of the ravioli a few hours before you need to cook them – even the morning of," she said.
The Eat Better, Feel Better cookbook author continued, saying that it can be as simple as making the ravioli and leaving them to chill.
"Just place them on the sheet pan with plenty of semolina flour and set in the fridge uncovered until it's time to cook," she said. 
A tip from De Laurentiis on making the heart ravioli ahead of time. When she says to use "plenty of semolina flour" she means it. It's "so that nothing sticks," she said before suggesting to "sprinkle it on any pieces that might overlap"
How to make De Laurentiis' Heart-Shaped Cheese Ravioli
De Laurentiis' heart ravioli are comprised of three parts, the pasta dough, filling, and sauce. She starts with what is perhaps the easiest of the three, the filling. All the Food Network star has to do is combine an egg, cheese, salt, and oregano in a bowl. That's the filling done.
Then comes the pasta dough. De Laurentiis sprinkles a generous amount of semolina flour on a baking sheet. As she notes in her recipe this is where the assembled raviolo will go before cooking. Nearby she has a small bowl of water. 
Now that her pasta station's set up De Laurentiis makes the pasta dough and proceeds to roll it out into thin sheets. After cutting the sheets to her preferred dimensions she puts scoops of filling on top of the dough. 
Next, she uses dips her finger in the water and traces each mound of filling. Then she drapes a sheet of pasta dough over it using her fingers to seal the edges. Finally, she uses a heart-shaped cookie cutter to cut out ravioli and place them on the floured baking sheet. 
While the ravioli cook in a pot of boiling water she makes a quick pink sauce using olive oil, garlic, shallots, and salt. After a few minutes, she adds white wine and red pepper flakes. Once the liquid reduces the sauce is done. At that point, De Laurentiis' heart ravioli is ready to serve.