Giannina Gibelli Explains What She Was Doing for Work During 'Love Is Blind'
Giannina Gibelli was described as a 'Small Business Owner' on 'Love Is Blind.' Here's what that means.
Many of the Love Is Blind contestants have vague job descriptions when they're introduced to Netflix viewers. Damian Powers is described as a "General Manager." Giannina Gibelli is a "Small Business Owner." The job titles have fans wondering: general manager of what? What's the business?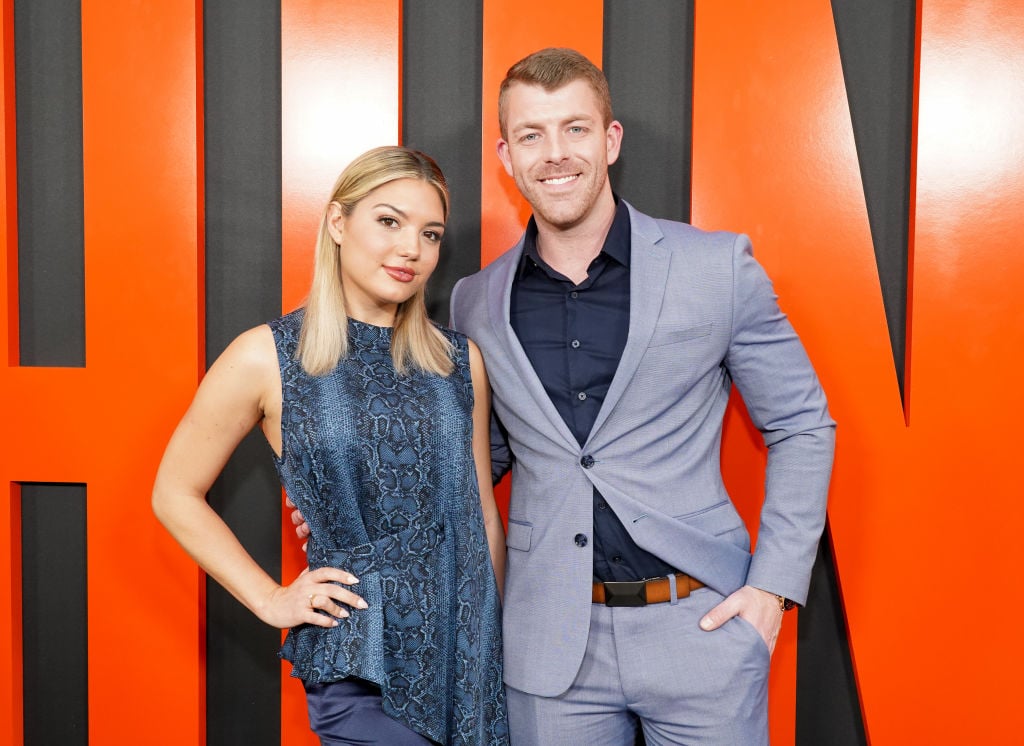 In response to the vague job titles, Giannina says she believes Netflix was "just trying to protect us."
'Love Is Blind' contestants don't have any contact with the outside world for nine days, and up to two weeks
"They tell you, 'You're gonna be gone for nine days. Tell your family. We're gonna take away all the devices. Here's an emergency contact number just in case. But if you don't come back in the next nine days it's because you got engaged,'" Giannina explained on a recent episode of "Love In Sight." 
As fans of the show know, once contestants get engaged, they head to Mexico. When they arrive back in Atlanta is when they get their devices back.
"After that we had Mexico. Then, you come back, you gather all your stuff, and you move in together. And that's another month. So after Mexico, we were able to have our devices back and just kind of like tune in. We actually didn't want to. We were like 'No, let's just kind of push it off.  It was so nice,'" said Giannina.
Giannina Gibelli the small business owner
The reality star also explained what she was doing for work at the time of filming Love Is Blind, and shared a bit of her work history.
"So a little background: I was actually at a corporate office for about a year. I've had many a career change. That's just because if I don't feel fulfilled or I feel like I've been mistreated, it's like, 'Cool, I learned what I need to do and then I move on.' So I was at this corporate job for about a year. I was hitting all my quotas and doing social media work. And they kept putting me down and putting me into an office and telling me how disappointed they were in me because I was five minutes late, two minutes late. Cool, it taught me how to be punctual but, at the end of the day, I wasn't valued. So I quit my job," she said of her last corporate job.
Then, Giannina was approached by one of her best friends to help her run a business.
"She was like, 'I want you to run this business with me,' which I had already had experience with two years prior. I kind of went into the office one day and was like, 'I'm done with you' and it caught them completely off guard. And that's what allowed me to really be on the show because it allowed me to have that time and have that confidence," she said.
The reality star says, at the time of filming, she was managing 12 people and three different locations.
"So at the time of the show, I was managing three different locations in Atlanta where we would sell and consult on hair products. Hair straighteners, wands … So I managed around 12 people. I was the therapist, the mom, the sales consultant, I was literally every single thing to these people, and I managed them all throughout three different locations. It was another family," she said.
G continued: "They all looked at me like I was their mom. I would bring them coffee, all the fun stuff. So I was very much running this business, which I was there at 24 hours pretty much a day. If you're not plugged in at the location, you're on your phone just hyping these people up, giving them advice, telling them, 'No, keep going. Don't stop.'"
When Giannina told her friend and business partner that she'd be leaving for nine days and maybe longer, she "kind of freaked out," but was ultimately "very supportive." 
Today, it seems Giannina is her own boss.
"I was working so, so much as a retail business owner, and I stopped doing that the beginning of last year and I went through quite a few career changes," she said in an interview with Esquire on March 5. "But it was amazing because I was able to take time off and recollect and do so much soul-searching. I dabbled in being creative again, which makes me the happiest."
Read more: Even Colton Underwood Wants Hannah Brown and Tyler Cameron to Get Together