'Gilmore Girls' Fans Have Seen Rory Gilmore's 'You Jump, I Jump, Jack' Dress Before
Rory Gilmore's (Alexis Bledel) not as fashion-obsessed as her mother, Lorelai Gilmore (Lauren Graham). In the early seasons of Gilmore Girls, Rory's wardrobe mostly consists of her Chilton uniform, Converse shoes, and cable-knit sweaters. 
Rory's style evolves as the TV show progresses. Sure, she's still more concerned about what books she's reading than the latest fashion trends but Rory has some memorable outfits. One of them being the blue gown she wears to a Life and Death Brigade event with Logan Huntzberger (Matt Czuchry). 
Rory Gilmore wore a blue gown at a Life and Death Brigade event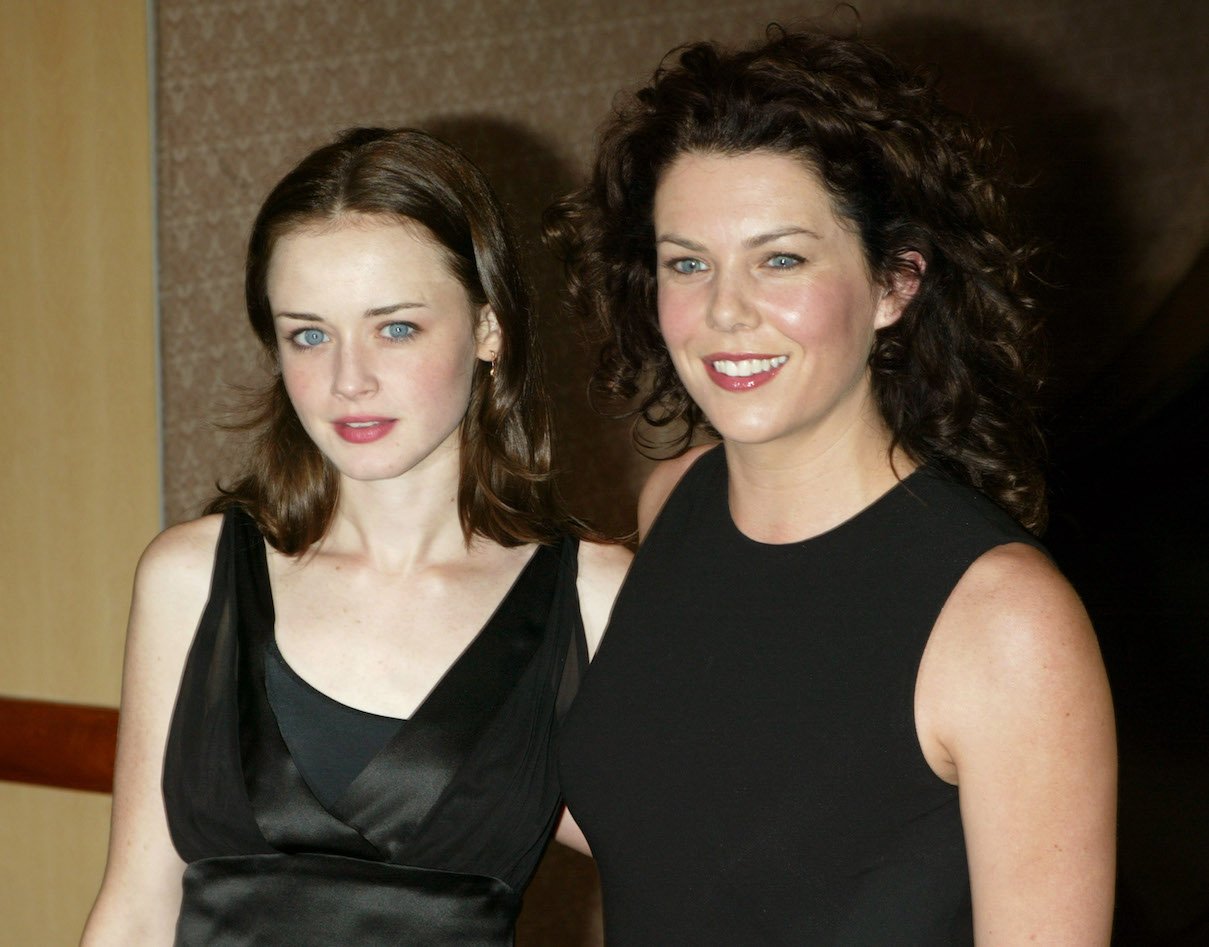 After witnessing something weird on Yale's campus, Rory starts investigating one of the university's oldest secret societies known as the Life and Death Brigade. In her research, she discovers Logan has connections to the group going back generations. 
Along the way, Rory gets a mysterious invite from Logan to attend a Life and Death Brigade event. Suddenly she finds herself in the middle of nowhere with Logan and other members of the secret society. 
Wearing a blue ball gown Logan picked out for her — remember, he has an eye for dress sizes — Rory participates in the group's main event. She jumps off of a platform with Logan after he suggests she's a little too timid. After all, the Life and Death Brigade's motto is in omnia paratus, or ready for anything. 
So, Rory climbs a ladder in a ball gown and sort of parachutes off with an umbrella. But not before telling Logan, "You jump, I jump, Jack," a reference to Titanic. 
Gilmore Girls Season 5 Episode 7: "You Jump, I Jump, Jack" originally aired on November 2, 2004, according to IMDb. Directed by Kenny Ortega (High School Musical and Hocus Pocus), it's a fan favorite. "You jump, I jump, Jack" is on t-shirts, posters, coffee mugs, and more. 
The same gowns were used in the 'Gilmore Girls' cotillion episode
Did Rory's dress and the rest of the gowns in the "You Jump, I Jump, Jack" episode look familiar? That's because they've been on Gilmore Girls before. 
It's one of the facts fans learned at the Gilmore Girls Fan Fest in 2016, according to Teen Vogue. All the dresses seen throughout the episode were the same ones from Rory's cotillion. 
In Gilmore Girls Season 2 Episode 6 "Presenting Lorelai Gilmore" Rory came out at a debutante ball wearing a fluffy white dress. Her then-boyfriend, Dean Forester (Jared Padalecki), called her a "cute cotton ball." Turns out, Rory's dress and the rest of them seen in the episode were saved and reused in season 5. 
Other memorable outfits on 'Gilmore Girls'
Rory's blue gown and her original debutante ball outfit aren't the show's only memorable outfits. Rory's yellow backpack and her Chilton uniform were staples in the show's first three seasons.
And fans can't forget about Lorelai's most famous looks. Among them, the tie-dye shirt and jean short ensemble she wore to Rory's first day at Chilton, her wedding gown, and her dance-a-thon dress. Then, of course, there's the pink coat she wore regularly in later seasons. 
Watch Gilmore Girls and Gilmore Girls: A Year in the Life on Netflix.