'Gilmore Girls': How Many Halloween Specials Did the Show Have?
Gilmore Girls is a truly binge-worthy series. Since it went off the air in 2007, it has gained more and more fans. While the antics of Lorelai Gilmore and Rory Gilmore keep fans coming back for more, there is one festive event that the show almost completely missed. Gilmore Girls has just a single Halloween episode, and even that episode doesn't feel particularly Halloween-heavy. 
The show only featured one Halloween special 
Gilmore Girls fans who are also into Halloween, unfortunately, are out of luck. The series only aired one Halloween special, even though Rory was born in October. That special came in season 6 of the show but was more about Rory's 21st birthday than Halloween per se. 
In the episode, "21 is the Loneliest Number", Emily Gilmore busies herself with planning Rory's birthday party while they are on the outs with Lorelai. Rory, seeing an opportunity to reconcile with her mother, agrees to invite Lorelai to the soiree. Back in Stars Hollow, Babette and Morey eagerly prepare their front yard for an influx of trick-or-treaters. Lorelai, feeling blue about Rory's impending birthday and their argument, hatches a plan to get Luke to participate in an elaborate Halloween production. 
Gilmore Girls: A Year in the Life offers a Halloween theme 
Gilmore Girls: A Year in the Life isn't part of the original series, but the revival does offer fans a little Halloween fun. In the "Fall" episode, Rory is swept away by her ex, Logan Huntzberger, and her pals for one last big hurrah before life changes drastically. Costumes are involved, which makes the episode feel like Halloween, even if the group isn't explicitly celebrating the holiday.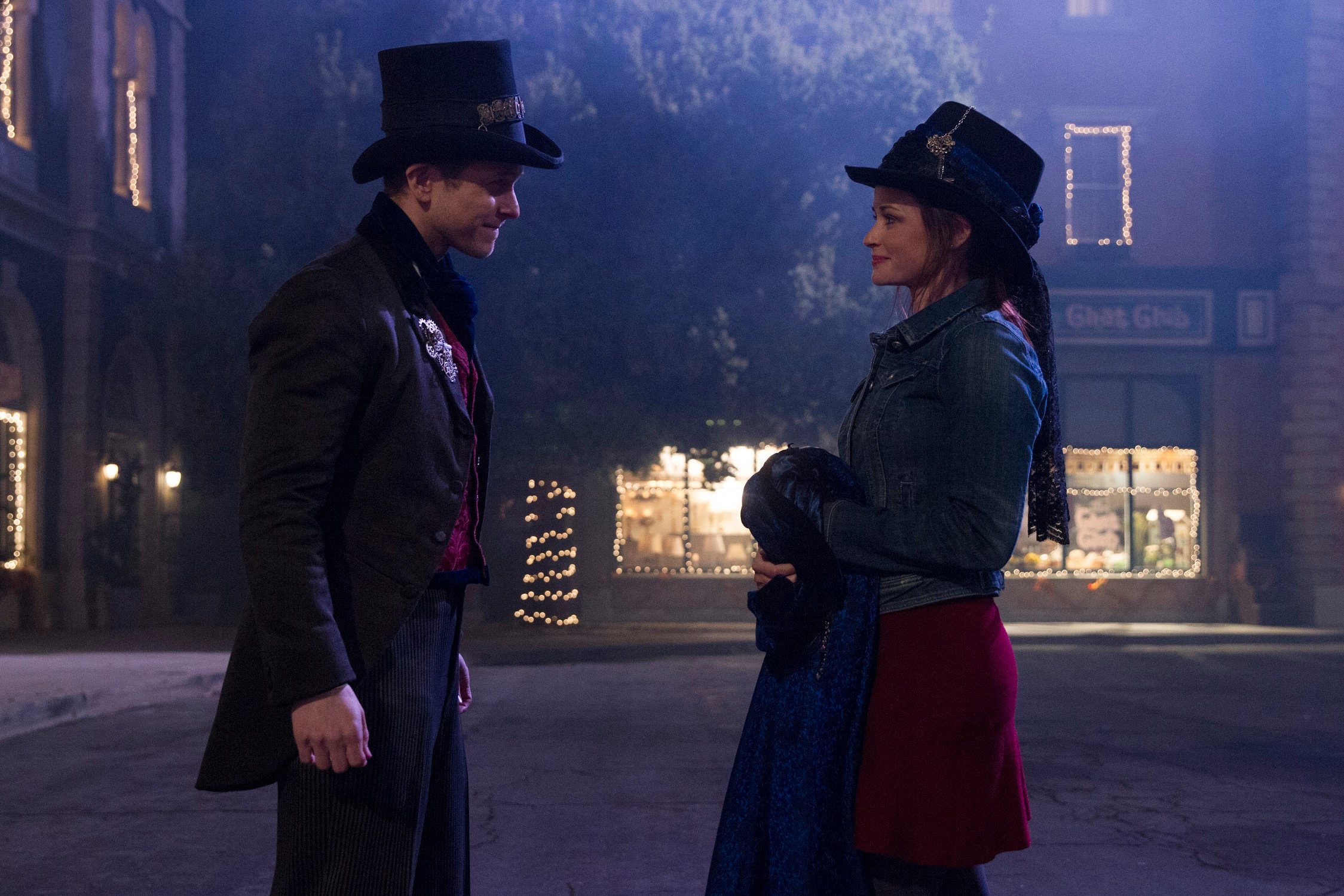 Eagle-eyed fans have also suggested that the elaborate outing appears to be where Rory conceived, as she announced her pregnancy to Lorelai the following month. If you follow that line of thinking, it's easy to ascertain that Logan is, in fact, the father of Rory's baby. 
If you are looking for Halloween fun from Gilmore Girls, a few other episodes might fit the bill
While the series never had a true, dedicated Halloween episode, there are a few episodes that can put you in the spooky spirit. "Pulp Fiction," which is the 17th episode of season 5, has some Halloween elements. At the very least, there is a costume party involved. In the episode, Rory agrees to attend a costume party with Robert. Logan, who is also at the party, gets incredibly jealous and attempts to get Rory to leave with him. 
Gilmore Girls fans also have the option to skip over Halloween entirely and enter the next holiday season. While the series is short on Halloween episodes, it has plenty of Thanksgiving-themed episodes to choose from. "A Deep-Fried Korean Thanksgiving," which is the third season's 9th episode, is especially beloved.