'Gilmore Girls': Kelly Bishop Used Her Own Family as Inspiration for Emily Gilmore
Gilmore Girls might have been presented as a story about Lorelai Gilmore and her young daughter, Rory Gilmore, but when all was said and done, the series was about so much more. The relationship dynamic between Lorelai and her own mother, Emily Gilmore, was of particular interest to fans. Kelly Bishop, who portrayed Emily for seven seasons, sat down for an interview in 2017 and explained exactly where she drew her inspiration from.
Kelly Bishop argued that Emily Gilmore isn't as strong as she came across
In 2017, Bishop sat down for an interview for Q on CBC. Interviewed by Tom Power, Bishop discussed her lengthy acting career and spent a fair amount of time discussing the role of Emily Gilmore, for which she is incredibly well known. Bishop's assessment of Emily may come as a bit of surprise, but when you think about it, it makes perfect sense.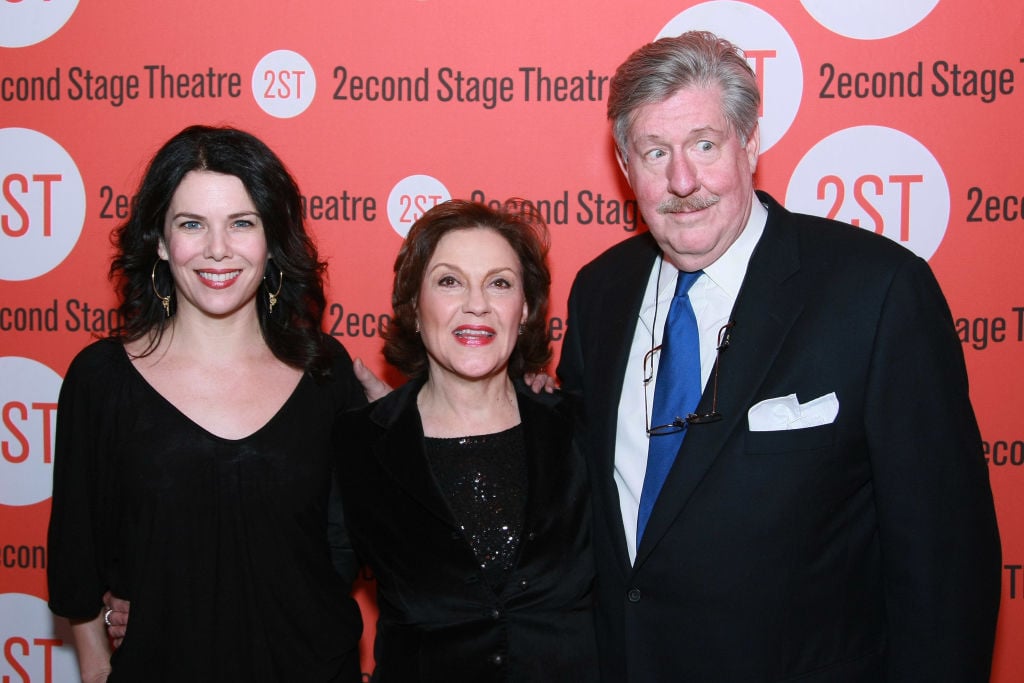 Emily may have come across as demanding, cold, and headstrong, but Bishop has an entirely different take on the character that she played for seven years. Bishop has suggested that Emily may have been overcompensating for deep-seated vulnerabilities by being particularly difficult. The assessment makes a lot of sense. There were moments were Emily's rough exterior cracked, and it was obvious that she was profoundly insecure.
Emily's meltdown in the department store, after Richard refused to shave his mustache, is one example. Her attempt to buy a plane after Rory moved out of the pool house is another. There are moments where it is clear that, despite her constant nitpicking, she really did admire Lorelai and the way she carved out her own independent path in life. Perhaps Emily even felt like she was less important than the fiercely independent Lorelai.
Kelly Bishop used her own family as inspiration when she was cast of Emily Gilmore
Bishop, who had played several mother roles prior to being cast in Gilmore Girls, has spoken extensively about her time on the series. Perhaps one of the most surprising revelations is that Bishop's own family dynamic somewhat mimicked the dynamic that was seen on the show. During the interview, Bishop told Power that she pulled much of her inspiration from her very own grandmother. She explained that her grandmother, who she called Louise instead of Grandma, was very much like Emily.
Bishop went on to explain that her grandmother treated her mother, much like Emily treated Lorelai Gilmore. The similarities didn't end there; Bishop also revealed that she enjoyed a close friendship with her mother. She stated that her own mother-daughter relationship was strikingly similar to the relationship that Rory and Lorelai enjoyed.
Would Kelly Bishop return for a second revival of Gilmore Girls?
Bishop's character of Emily was one of the bright spots in Gilmore Girls: A Year in the Life. While fans were largely disappointed by Rory's character development and felt lukewarm about Lorelai's storyline, most fans truly loved the way Emily's character changed in the nine years that transpired between the show's final episode and the revival. Still a bit rough around the edges, Emily was particularly vulnerable in the revival, and fans absolutely adored the change. Would she return for a second revival, though?
RELATED: 'Gilmore Girls: A Year in the Life' Contradicted Everything We Thought We Knew About 'Gilmore Girls'
Bishop has not spoken publicly about the possibility, but it seems like that any revival would include Bishop. She played such a pivotal role in the show, that a revival season without her would seem totally incomplete. Bishop has spoken lovingly about her time on the series and seems to remain connected to it, years after the fact, so it seems likely she'd jump at the option if it were to arise. As of now, there is no official word on whether fans will get to return to Stars Hollow again.