'Gilmore Girls': Some Fans Are Still Confused About Luke's Diner Operations
Many Gilmore Girls fans can't think of the show without Luke's Diner coming to mind. The popular Stars Hollow, Connecticut, restaurant, owned by the grumpy but lovable Luke Danes (Scott Patterson), appears in nearly every episode. As coffee lovers, Lorelai (Lauren Graham) and Rory Gilmore (Alexis Bledel) visit the diner most mornings. Plus, the mother-daughter duo stop by any time they want a bite to eat — which is almost all the time.
Viewers see quite a lot of Luke's Diner in Gilmore Girls' seven seasons and the revival, but something about the restaurant never makes sense to some. How does Luke keep the place running on his own for so long?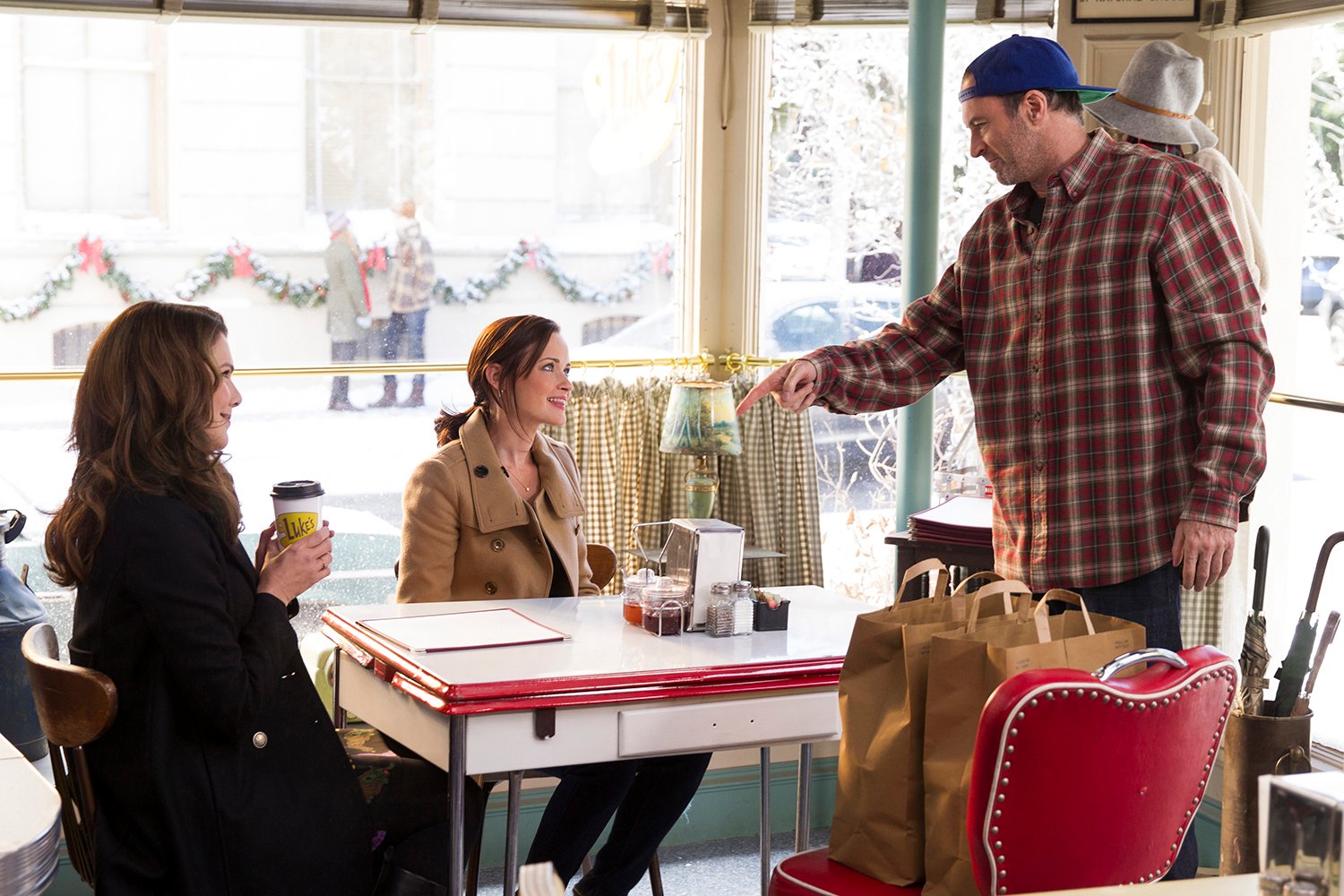 Luke Danes runs a popular diner in 'Gilmore Girls'
Although Gilmore Girls never reveals the exact year Luke opened his restaurant, the show does provide some backstory. The place used to be Luke's father's hardware store, but Luke turned it into a diner after his dad died. The Stars Hollow native didn't have formal business training, so he did feel nervous when he first opened the restaurant. However, he figured things out along the way and turned the business into one of Stars Hollow's best places to eat.
Luke's Diner is not only a favorite hangout spot for Lorelai and Rory, but also pretty much the entire town. Residents and visitors alike can be seen dining at Luke's in every Gilmore Girls episode. Luke might not always have the friendliest attitude when it comes to his customers, but it's clear that everyone keeps coming back for that delicious-looking Luke's Diner food.
Luke's Diner hours are unclear to some fans
While Luke's dedication to his business is admirable, some fans wonder if he spends too much time there. For the most part, it seems he never leaves.
Viewers learn that Luke wakes up before 5 a.m. every morning. The diner must be open by 6 a.m. because Lorelai and Rory stop by at that time after Rory's breakup with Dean (Jared Padalecki) and meet the "6 a.m. crowd." However, Luke's closing hours are somewhat unclear, as discussed by fans in a Reddit thread.
"I think it's 6:30 – 7 with extended hours to 9:30 or so on Friday and Saturday. I think he closes as the last customer leaves near the end time, and if he's dead, he just closes early," one fan wrote. "He lives there, so if Lorelai pops in, he just serves her. Same for Kirk. It always seems to be Lorelai and Kirk after hours."
A 7 p.m. closing time would make sense for a small town, but in some instances, Luke's Diner seems to stay open much later than that. He's usually open after Town Hall meetings and Lorelai and Rory's Friday Night Dinners. Another fan wrote:
It's weird. On his first date with Nicole, they come back at 11:30, and the diner is still open with customers (granted one of them was Kirk and he has weird hours). That is absurdly late for a small town like Stars Hollow, even if Jess wanted to stay open to make extra tips while Luke was away. I'd say it probably depends on his delivery schedule. Some days he has early deliveries, so maybe the night before he closes at 8. Other days (like Friday) maybe 9. But like others have said, it probably has a lot to do with the ebb and flow of people. Kitchen probably closes at the aforementioned 8 and 9, but he'll stay open until the last customer leaves.
In some cases, Luke's Diner appears to be closed even before Doose's Market. Does he make the hours up as he goes?
Does Luke run the restaurant on his own?
Another common question about Luke's Diner is whether he has the help he needs. As mentioned, Luke seems to spend almost every hour at the diner. However, he somehow also has time to visit his friends weekly at Sniffy's Tavern, as revealed during his and Lorelai's first date. If he is open late most nights, that must mean he has other people running the diner while he's away. But who?
"There will often be peak meal times where the place is packed, and it's just him as the only person serving every table in the place, yet he still has the time to hold an entire conversation with someone on the side," one fan wrote in another Reddit thread.
The diner is a relatively small space, so he may not need too much help. Thankfully, Luke is not entirely on his own; his cook, Caesar (Aris Alvarado), appears in most Gilmore Girls seasons. Additionally, he gets help from his nephew, Jess Mariano (Milo Ventimiglia), and Lane Kim (Keiko Agena).
Luke's Diner operations might be iffy at times, but his loyal patrons certainly don't seem to mind.