'Gilmore Girls': Rory Gilmore Referenced Serious Issues in Gwen Stefani and Gavin Rossdale's Relationship Years Before They Divorced
Amy Sherman-Palladino is known for fitting obscure pop culture references into her shows. Gilmore Girls is no exception. During the show's seven-season run, Rory and Lorelai make numerous pop culture references and discuss the demise of celebrity relationships fairly often. In one episode, Rory mentions that Gwen Stefani and Gavin Rossdale worked through some relationship issues. The now-divorce couple did weather a few dramatic moments. Was Rory correct about what happened between them? 
Rory Gilmore claimed Gwen Stefani and Gavin Rossdale Worked out their relationship after he found out he had another child
In Season 6 of Gilmore Girls, Lorelai finds out her fiancé, Luke Danes, has a child he didn't know about. In the episod, "Just Like Gwen and Gavin", Lorelai confides in Rory about Luke's big news. To make her mother feel better about the situation, Rory suggests that Stefani and Rossdale had dealt with a similar issue and, somehow, managed to make their marriage work. She theorized that if it worked for the famous couple, that, surely, Luke and Lorelai could work things out, too. 
So, was Rory right about Stefani and Rossdale? Absolutely. According to Hello!, Rossdale found out that he had fathered a child with Pearl Lowe in 2004, 14 years after the young girl was born. Rossdale reportedly believed Lowe's former partner, Bronner Handwerger, was the biological father of the child. Stefani and Rossdale's marriage eventually fell apart, but it had little to do with this secret child. 
Gwen and Gavin divorced in 2015 
Stefani and Rossdale eventually divorced, but it had little to do with his love child. The pair reportedly worked through the drama of Daisy Lowe re-entering Gavin's life, but their union wasn't meant to be. So, what led to their divorce? 
According to Harper's Bazaar, the marriage crumbled when Stefani found out Rossdale had been cheating on her with her children's nanny. In a candid interview, Stefani noted that the divorce was embarrassing, but figuring out Rossdale was cheating was torture. She said, "It was the beginning of hell. Like six, seven, eight months of torture, trying to figure out this big secret."
Stefani and Rossdale share three children. Their eldest child, Kingston, was born in 2006. The couple welcomed their second child, Zuma, in 2008 and their third child, Apollo, in 2014. While Stefani was reportedly devastated by the end of her marriage, she rebounded quickly. She publicly acknowledged that she was dating Blake Shelton in November 2015, months before her divorce was finalized. The couple announced their engagement in October 2020. 
Gilmore Girls references other famous relationships, too 
The state of Stefani and Rossdale's relationship was prominently featured in one episode of Gilmore Girls, but the couple wasn't particularly special. Showrunner, Amy Sherman-Palladino, made it a habit to name drop famous couples during the show's seven-season run, of which she wrote six. In one episode, Rory suggested Jennifer Aniston and Brad Pitt were headed for divorce. The prediction occurred years before the pair announced their split. In a different episode, Sookie St. James cries over the end of Hugh Grant and Elizabeth Hurley's relationship.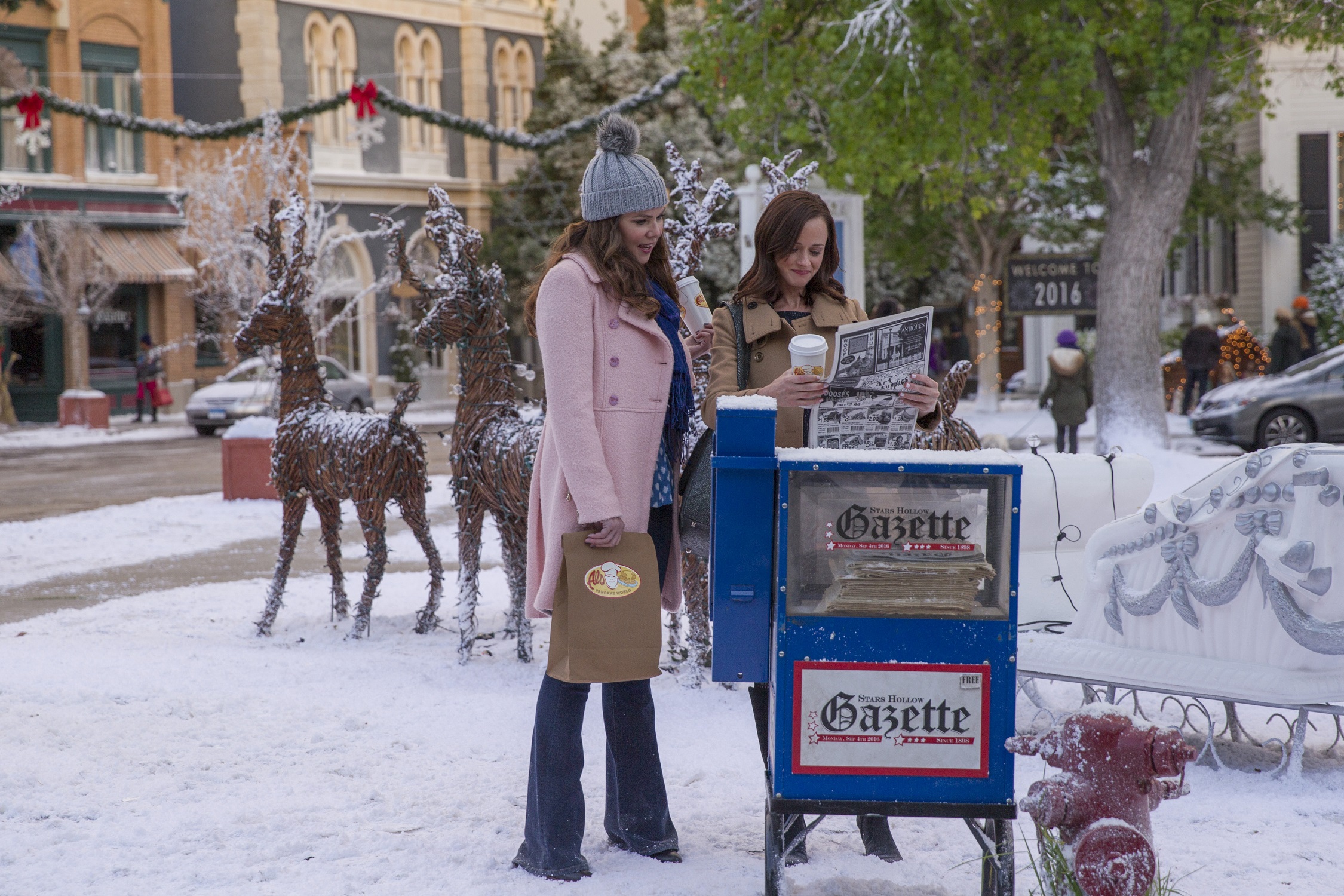 Pop culture references, in a more general sense, were common during the show, too. A variety of films, television shows, plays, and obscure musical artists were referenced during the show's seven seasons and its 2016 Netflix revival. Fans are hoping more pop culture moments are on the way in the form of a second revival, but no official announcement has been made.