'Gilmore Girls': Why Scott Patterson Wants Logan to Be the Father of Rory's Baby
'Gilmore Girls' star Scott Patterson wants Logan Huntzberger to be the father of Rory Gilmore's baby so Jess Mariano will "enter the fray to defend and support Rory."
It's been five years since the Gilmore Girls revival debuted on Netflix and fans are still asking one question. Who is the father of Rory Gilmore's (Alexis Bledel) baby? The Gilmore Girls cast has weighed in including Scott Patterson, the actor known for his role as Luke Danes. Patterson once shared that he'd like the father to be Logan Huntzberger (Matt Czuchry) as opposed to his on-screen nephew, Jess Mariano (Milo Ventimiglia). 
'Gilmore Girls: A Year in the Life' ended with Rory revealing pregnancy to Lorelai
The revival ended with the final four words Gilmore Girls creator Amy Sherman-Palladino set out to close the original series with. However, it took a while to get there. Sherman-Palladino left Gilmore Girls after season 6 along with her husband, producer Dan Palladino. The seventh and final season of Gilmore Girls, which aired in 2007, ended with Rory getting her first job out of college. Meanwhile, fans were left wondering about Sherman-Palladino's plans for the ending. 
Then came Netflix's Gilmore Girls: A Year in the Life. Much of the original cast returned and so did Sherman-Palladino and Palladino. That meant the Gilmore Girls creator got to share those final four words with fans nearly a decade after the original show went off the air. 
In the final scene of the revival, Lorelai and Rory were talking and fans finally learned the last four words. "Mom?" Rory said, to which Lorelai replied, "Yeah?" "I'm pregnant," Rory revealed. Just as Lorelai became pregnant with Rory at a young age — she was 16 when she became a mother — it was now Rory's turn to navigate motherhood.
Scott Patterson wants Logan to be the father of Rory's baby for the 'dramatic tension'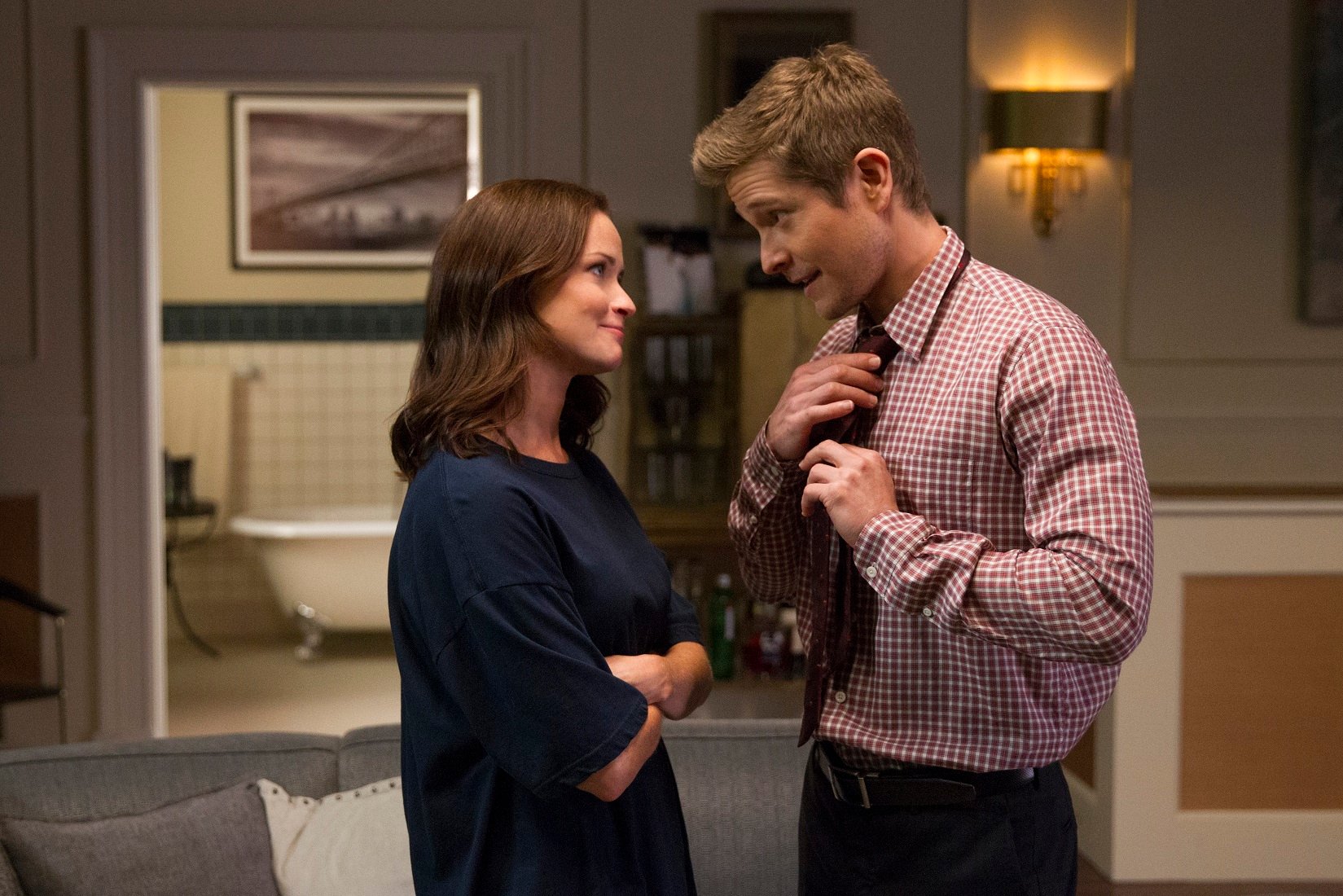 In a December 2016 Starry Mag interview shortly after the release of Gilmore Girls: A Year in the Life, Patterson shared who he'd like the father of Rory's baby to be. 
"I think that I kind of want it to be a Logan baby because that will increase the dramatic tension in that Jess may be forced to come out of his circumstances to enter the fray to defend and support Rory to the face of schmucky Logan – which would probably happen," he said.
Whereas if Jess were the father of Rory's baby, Patterson says things would probably play out differently. 
"As opposed to a Jess baby … Because if Jess is acting like a schmuck I don't know if Logan would rise up and come to her aid," he said. "I would rather see it as a Logan baby with Jess riding into the rescue. But Amy is known for twists and turns that are very surprising and very subtle. You just never know." 
Matt Czuchry knows who the father of Rory's baby is and Milo Ventimiglia doesn't 
There are a few people in the world who know the identity of the person having a baby with Rory. One of them is Czuchry. The actor, who plays a longtime love interest of Rory's, revealed in 2021 that he was told by Sherman-Palladino and Palladino who the father of Rory's baby is and he's not telling. As for Ventimiglia, the actor who plays Jess, he doesn't know who is having a baby with Rory. 
Fans are left wondering if another revival will happen while the question goes on unanswered. Multiple Gilmore Girls cast members are optimistic about returning for a sequel and seeing what's next for Rory and Lorelai. Theories about Rory's baby continue while Gilmore Girls and Gilmore Girls: A Year in the Life are streaming on Netflix.