'Gilmore Girls' Star Kelly Bishop Says Emily 'Actually Adores' Lorelai
Kelly Bishop, aka Emily Gilmore 'on Gilmore Girls', says the matriarch of the Gilmore family "actually adores" her daughter, Lorelai Gilmore (Lauren Graham). "In fact, she actually adores her daughter, but she just can't let go of this very stiff cultural life that she had and she expects everyone else to have," Bishop said in a May 2021 interview.
However mean Emily Gilmore's been to Lorelai Gilmore, original Gilmore Girls cast member, Kelly Bishop, feels her on-screen daughter, played by Lauren Graham, is "actually adored" by the matriarch of the Gilmore family. 
Emily Gilmore and Lorelai Gilmore have a complicated relationship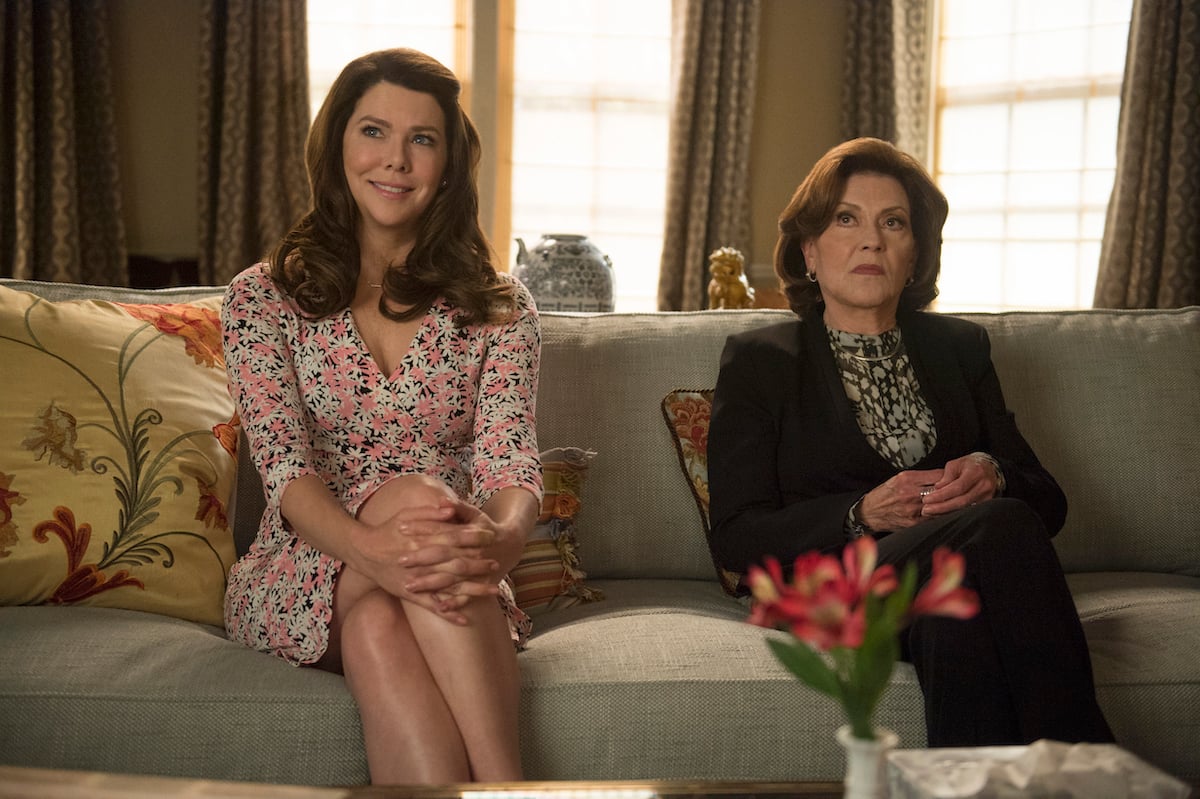 Bishop played Lorelai's mother and Rory Gilmore's (Alexis Bledel) grandmother during Gilmore Girls' original run in the 2000s. Almost a decade after the show went off the air the Tony Award winner reprised her role in 2016's Gilmore Girls: A Year in the Life.
As fans wonder whether or not the show will get a follow-up after the Netflix revival's jaw-dropping cliffhanger, Emily and Lorelai's relationship is still as complicated as ever. From the start of the series — the Gilmore Girls pilot aired in 2000 — it became clear Lorelai's relationship with Emily stood in contrast to her relationship with Rory.
For seven seasons Lorelai and her mother spent nearly every Friday night dinner making subtle digs at each other. Only on rare occasions did they have a fleeting heartfelt moment. Arguments aside, Lorelai (almost) always showed up at dinner. And when Rory embarked on her first job after college, she told Emily she'd still be there at 7 o'clock every Friday night to share a meal with her parents. 
Fast-forward to Gilmore Girls: A Year in the Life and the mother-daughter relationship is still complicated. They go to therapy together where Emily thinks Lorelai wrote her a mean letter. Meanwhile, they're both grieving over the death of Richard Gilmore, as played by Edward Herrmann. 
Kelly Bishop says her 'Gilmore Girls' character 'actually adores' Lorelai
Emily's mean to her daughter but, Bishop says, that doesn't mean she doesn't love her. During a May 2021 interview with Town & Country, the actor discussed Gilmore Girls while promoting her latest role in Netflix's Halston. 
"She's got her standards and of course she's so hard on her daughter, which is terribly unfair at times, but then adores her granddaughter," Bishop said of Emily. "And in fact, she actually adores her daughter, but she just can't let go of this very stiff cultural life that she had and she expects everyone else to have." 
Kelly Bishop thinks it's 'very unlikely' she'll ever play Emily Gilmore again
In the same interview, Bishop addressed reprising her role in a possible Gilmore Girls: A Year in the Life 2. Unlike some of her other Gilmore Girls co-stars, Bishop isn't confident the cast will be able to do something similar again because of scheduling. 
"I honestly think it's very unlikely that kind of a situation could be pulled together because so many of the important actors in it, they've all gone their separate ways and have other projects and other things to do," Bishop said. "It would have to be like a continuation of those four extra episodes, but I just don't see it happening." 
Bishop continued, saying Gilmore Girls creator, Amy Sherman-Palladino, probably wants to focus on her current show, The Marvelous Mrs. Maisel.
"I don't see Amy being interested in it, because Mrs. Maisel is such a huge hit and deservedly so," she added. "I just don't see her wanting to go back and revisit it. We all loved it, and there might be some opportunity, but it doesn't seem too likely. But sure, I'd play her again. I'd love to."
For now, many Gilmore Girls fans continue to wonder who is the father of Rory's baby.